Dec
8
I was reading the powerpoints that came with a textbook, you know, in the instructor's packet, and I was already thinking this book was a little more focused on computation over comprehension for my liking when I came to the following learning objective:
"Compute an Analysis of Variance by hand."
Are you fucking kidding me? I have given this a lot of thought and I have come to the conclusion, "Just, no".
You know why? Because this is the year 2013 and we have computers. Now, I'm not saying you cannot compute an ANOVA by hand if that makes you happy. I'm also not saying you should be like my friend from graduate school who answered the question on her comps
"What is the multiple R-squared and how do you get it?"
With
"The multiple R-squared is the square of the multiple R and the computer gives it to you."
I can tease her about this now because she passed her exams the second time around and earned tenure over a decade ago. Contrary to what you think at moments like that, not only WILL you live it down, you will go on to laugh about it.
There will be those who say, "What if your computer doesn't work?" In that case, I think I'd have more pressing issues on my mind, like getting my computer to work. For one thing, I'm going to assume that you are not just finding sums of squares due to your complete absence of a social life but rather are part of some organization that has an interest in sums of squares, and also probably has more than one piece of hardware. In my case, if one computer doesn't work, I have two more in my office and four more upstairs. Of course, one each is currently occupied by The Spoiled One and The Invisible Developer, but I'm pretty certain if it came right down to it, I could wrestle a computer away from almost anyone in this group and that includes the dog. (She's a Dogo Argentino, in case you wondered.)
Take tonight, for example. I am very, very annoyed because my class is using the SAS Web Editor and for some unknown reason the site has been down for the past 10 hours. Apparently, SAS has concluded that no one would ever do homework late at night or on weekends so there is no point in having the On-Demand for Academics available.
I do have SAS on my desktop, but that would involve switching over to boot camp. I also have SPSS but again, that would require restarting in Windows which I don't feel like doing because I'm in the middle of writing a lecture. I installed Office 2010 on my laptop, was dismayed to find that there is no longer a data analysis tool pack for the Mac – yes, I do know it quit shipping with VBA at 2008 – and the third-part stat pack doesn't do much.
So, what is the conclusion? Well, I guess I'll see if the SAS Web Editor is up tomorrow. If not, I'll finish the class that ends this month and go on to finally learn R. I thought the Web Editor was a great idea but you can't run a program in the cloud that goes down for 14 hours and no one in your organization seems to notice. One of the reasons I have stuck with SAS is that they do have really cool statistical procedures, their model selection procedures are a neat idea and there is generally an enormous legacy of good stuff. I thought perhaps by moving to a web-based model SAS could recover some of the market share it has been losing, maybe even have both something students could use while in school and a product they could use once they graduated by paying a monthly use fee like Adobe has for its Creative Suite.
Contrast this with pair.com which we use for things like email, our MySQL databases, running our PHP scripts. I love pair. They have 24/7 support and not by some person reading out of a manual, but a person who can actually help you. Downtime on pair over the last several years (that we've noticed), hasn't been more than two hours, total, and when we called them, they were already aware of it and able to fix it in under 30 minutes.
In fact, we're already migrating away from SAS and for small clients that can't afford a SAS license and require basic statistics, writing their applications in PHP and MySQL.
There are two points here.
First, nowhere in this situation did I think,
"You know what I need to do? I need to start computing statistics by hand, using a pencil and a piece of paper, like I did when I was in graduation school in 1978."
Second, using SAS is becoming as laborious as computing statistics by hand.  Yes, it's great if you have it installed on your desktop (and that is often a whole kettle of fish in itself), but that is often thousands of dollars per seat. The Web Editor is a great idea but if it isn't available, it's not so great.
Here are your choices – using something that's thousands of dollars, use something that's free but doesn't always work when you need it or use something that's free and you can download on your desktop. I don't know that I'm ready to give up on SAS completely let but I have to admit that I see why so many universities have gone to R.
Dec
1
This month, I'm teaching biostatistics for National University, and so far I am really enjoying it. There is just a really minor problem, though. While I received a copy of the textbook, I did not receive a copy of the instructor's manual with answers to the homework problems. Since I am going to grade 20 people based on whatever I get, I need to be 100% correct in everything and it is taking up my time to computer Cumulative Incidence for the population, cumulative incidence for people with hypertension, population attributable risk -  and I am busy.
So, check this out, and all of you epidemiologists, I am sure this is old hat to you …. I had a table that gave me the number of people who were and were not hypertensive and whether or not they had a stroke in the five years they were followed. I wanted cumulative incidence for those with hypertension, those without and the population attributable risk.
And here we go …..
DATA stroke ;
INPUT  Event_E Count_E Event_NE Count_NE;
DATALINES ;
18  252  46  998
;
proc stdrate data=stroke
refdata=stroke
method=indirect(af)
stat=risk
;
population event=Event_E  total=Count_E;
reference  event=Event_NE total=Count_NE;
run;
All I need to do is create a data set where I give the number of people who were exposed, (in this case, who had hypertension) who had the event,  a stroke, in my example, and the total number of exposed people. Then, the number not exposed (that is, not hypertensive) who had the event, and the total number not exposed.
I just invoke the PROC STDRATE giving it the name of my dataset and specifying that I wanted risk as the statistics.
In my POPULATION statement, I specify that for the population of interest, people with hypertension, the number who had the event was found in the variable Event_E and the total number was in Count_E .
In my REFERENCE statement, I give the number who had the event and the total number for people who were not exposed to the risk factor.
That's it.
Nov
27
After a fine, productive evening of coding PHP and javascript respectively, The Invisible Developer and I were discussing how to find a developer. We're making good progress on 7 Generation Games and we're pretty happy coding our own stunts. We did have someone come in to pinch hit last year when we were running behind schedule and he was great (thanks, Eric Gebhart).
A lot of start-ups we know are not as fortunate as we are and they are looking for developers and having trouble finding them. Some have even tried to poach The Invisible Developer away from me, but they have found it impossible to compete with my offer of paying him six figures, letting him work at home in his underwear and having sex with him. (Every time I say this, The Spoiled One puts her fingers in her ears and chants, "La la la, I can't hear you!" )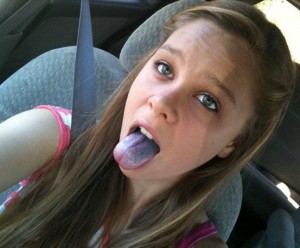 If you are looking for a software developer of your very own, here are a few suggestions from me and additions from The I.D. Stop thinking about what YOU need and start thinking what you might offer. Yes, you might be able to go on some random website and find someone willing to code for minimum wage. I guarantee you that the best people (isn't that who you want by your side to change the world?) are not there. They already are working on other projects.
1. Pay decent money: I don't care WHAT stupid article you read that said technical people are motivated by more than salary. Yes, there are is a threshold. If you came in and offered us each a million dollars to work for you today doing something like creating a replacement for SQL or a new operating system, neither of us would be interested. The key point is, though, we are already making enough money to live by the beach and shop at Bloomingdales with The Spoiled One. If people can't pay their bills on what you are paying they will either:
Quit your project for one that does pay enough that they can afford housing, food, clothes and Chardonnay, or
Take another job to pay the bills and work on yours in their spare time, which will be very limited.
2. Have interesting work: The definition of 'interesting' is a personal one but anyone who is really good got that way because they were continually learning. In selling your potential developers, talk about how they will have the opportunity to choose the language, IDE, libraries, hardware, etc. they use to develop. Talk about the new things they could learn. Certainly, there will be some limits. At the moment we don't develop for Linux, although we'd love to, because it's not compatible with Unity. Both the I.D. and I have left six-figure jobs for other jobs because they weren't fun. Note that I did not say we left to work for free. Fun only matters after the rent and kids' tuition are paid (see #1).
3. Have perks: Like interesting, this is a personal definition. For some people, it is having flexible hours so they can spend time with their children. For others, it might be telecommuting. At The Julia Group, we know we can't match Microsoft or Google in salaries and other financial incentives. We can offer you the flexibility to set your own hours, work from home, maybe buy you the exact hardware and software to your specifications.
4. Address a need the developer is passionate about:  It seems most start-ups looking for a developer start here but I don't know a lot of developers who do. This isn't to say that I don't know some great people who would like to have an impact on the world, but they first would like to pay the rent (Maslow's hierarchy, anyone?). I know developers who are passionate about climate change, education, inequality – but really not all that many. I mean, they do care about those things but they aren't any more likely to quit their day jobs and devote their lives to them than the guy who runs the car lot down the street from me. Your mileage may vary. I'm sure people I know personally are not a representative, random sample.
The Invisible Developer added this:
5. Hang out where the developers hang out: If you are looking for someone to create iphone apps, there are iphone developer forums. Lurk there and see who is asking beginner questions and who is answering them. In many forums, people will post if they are available and looking for work. If you've read a number of their posts, you might have an idea if you want to contact them or not.
6. Learn to code or at least a little bit about coding: I'm not saying you need to create your own operating system from scratch, but you ought to know the difference between a jpeg file and a website design, have some idea about how long it should take to code a web form (not very) versus a really good 3-D adventure game (the rest of your natural life – just kidding, sort of).
Nov
25
I was wrong.
Somewhere along the line, I got the idea that women did CSS and HTML and men did "real" coding like PHP, SQL, Python, Perl, javascript etc. Since life had taught me that predominantly male fields always paid better than female ones (construction workers get paid more than licensed practical nurses, for example), I decided to ignore CSS beyond the minimal amount to get by because seriously, real programming has arrays and functions.
Getting the pages in the game to all look alike was one of those tasks I put off until later, and maybe we would just hire someone to do it. Well, guess what, later has arrived. So, I spent a day reading Stylin' with CSS (which rocks, by the way) . The main motivating factor was that I had to do some test questions for our game that match up to the type of items on the new computerized exams testing the Common Core curriculum. This means that I needed things draggable and droppable – no problem with jquery – but I also needed them laid out very specifically on a number line. I could have done this with the canvas tag, but really, css proved the perfect solution.
Not only was I able to use margins, relative positioning and float to get my objects on the page to show up exactly how I wanted them, but I was also able to do it so that I am pretty sure it will look the same in most browsers on most computers and not just my lovely cinema display using Firefox.
On top of this, I learned about the acronym tag which I could not believe I did not know existed before now. (Yes, I know it is an HTML tag but it was in a book on CSS I happened to be reading.)
In short, you do this

<acronym title="What you want to show up when you hover">The thing you hover over</acronym>
In our games, we use many words from the students' tribal language. For example, for the game we are going to be piloting on the Turtle Mountain reservation this spring,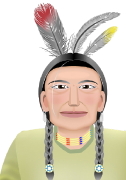 Nookomis says …
and in 100 places in the past, I had used javascript so that if you clicked on or hovered over something it would show the word and here there was a simple little tag all along.
How was it possible I did not know this? Because I had the stupid idea that CSS was a woman thing and if you want to make money in life and be taken seriously you hire someone at a low salary to do the things that women do and you concentrate in other areas.
I was wrong about CSS and that was the second thing involving stereotypes about women that I was completely wrong about this week. The other one was a book on women in fitness. You can read about that here.
Nov
20
I am old. I remember punched cards, COBOL, dumb terminals and having to walk over to the computer center and load tapes on to the drive if I wanted to use large data sets – large back then meaning 100,000 records or more with a few hundred variables. We thought that was pretty big data.
By the time I finished graduate school in 1990, almost everyone I knew who still programmed using COBOL was over 40. They had learned it in college, or picked it up somewhere along the line and stuck with it. I didn't know anyone who was learning COBOL. It was pretty clearly on the way out. Java, C++ , PHP, Perl and javascript were all taking up the attention of the cool kids on the block. SAS was a relatively new, cool thing if you were into statistics, while BMDP was on the way out. BMDP – that was another thing no one under 40 seemed to use.
So …. when I went to the Western Users of SAS Software conference this year, I was struck by the fact that I seemed to be about the median age. There were A LOT of people older than me. Most of the younger people were the student scholarship winners and junior professional award winners.
This does not bode well for SAS, and it made me a bit sad, because as I said in a prior post, the model selection procedures were cool, from a statistical perspective, there is a lot of good stuff from SAS.
I used to go to the user group meetings and they would give you a book (yes, on paper, children) that had macros written by SAS users. I think that was the first time I saw the parallel analysis criterion code for factor analysis – a macro I used in my dissertation and in one of the first articles I published.
Tonight, I was looking for a way to do power analysis for a repeated measures ANCOVA and I could not find it for SAS, neither using PROC POWER, PROC GLMPOWER nor any user-written macros. It may exist – I looked several other places as well, found a paper on how to do it using SPSS syntax (although that code did not work!) and someone else wrote a procedure in R that I didn't try.
SAS used to be the place for the cutting edge. What happened?
One reason is that everyone used to use either SAS or SPSS at universities and that isn't the case any more. A second is that SAS is really expensive, so universities who do not have a license aren't inclined to get one.
This all sounds like the death knell is tolling for SAS and it is just a matter of time until it follows COBOL and Blackberry as one of those things that people ask, "Why are you using that?"
I think there is still some possibility for SAS to turn things around – although whether they will or not remains to be seen.
The smartest thing SAS has done in years is to come out with SAS On-Demand for Academics. This makes SAS free for university students and professors. It's perfect for on-line courses because you can upload your data to the class website and all of your students can access it.
Now the next thing SAS needs to do is start making that available at a reasonable cost once students graduate. Instead of charging them thousands of dollars a year for a license, they can charge $50 a month like Adobe does for its design package or Google does for its apps. (Yes, Google apps for business are cheaper than $50 a month but they don't do all that much.)
New graduates aren't going to pay several thousand dollars for a license because they don't have that kind of money. They might shell out $50 plus occasional extra charges to access some high performance computing capabilities.
SAS already has millions of lines of code and tens of thousands of pages of good documentation. It's some good stuff.
Think about this – years ago, the Mac was considered a better computer than Windows but over-priced. Many people thought Apple would go under. Instead, they came out with the iPhone and the iPad and they are wildly successful.
The Web Editor and other cloud products could become the SAS version of the iPad.
Here's to hoping they don't fuck it up.
Nov
17
What the hell is WUSS? Why would *I* ever go to anything with the name WUSS?
It's not just so you can get the cool hats which double as lunch bags, although that's one possible incentive.
It's also not just so you can get your own original, signed illustration of the difference between ordinary least squares and maximum entropy methods from Don from SAS,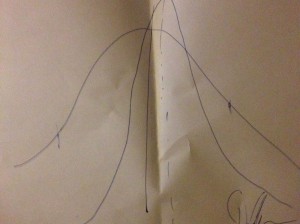 Although if you are lucky, that is an added bonus.
I was very pleasantly surprised to learn more than I expected at WUSS this year. I was aware of the GLMSELECT procedure available to select the best-fitting model, but I have not actually used it. Funda Gunes, from SAS, gave a great talk on model selection methods. To summarize the last hour – you create 1,000 or so bootstrapped samples, then run models with those each of those and select the average coefficient estimates from the 1,000 models. This is the best model not in the stepwise regression sense of giving you the highest explained variance, but as in most likely to correctly reflect the population values. That is a GROSS over-simplification but I highly recommend if you have any interest in model selection techniques, you download and read her paper which should be available from the conference proceedings, which will be published on the WUSS site eventually.
A second good paper on model selection was by Scott Leslie, pretty much on the polar opposite on the technical side from Funda's, where he showed a series of ROC curves to illustrate the gradual (or sometimes substantial) improvement in a model as new predictors were added. He ended with a discussion of what might be better predictors of adherence to a prescribed medication regimen and how would you get that data.
In Kechen Zhao's presentation, I learned about using PROC GENMOD to compare four different model types – logistic, log-binomial, Poisson and modified Poisson.  He discussed relative risk as a variable of interest versus odds ratios, and the fact that logistic regression in particular can produce substantially different estimates then the other models. This is worth a whole post in itself that I will try to get to next week.
As an added icing on the cake, in a session by Marie Bowman-Davis I learned about a public use data set, the California Health Interview Survey. (I did not know these data were available for public use and they are obviously a great resource for teaching.)
Despite all of these good things, I left the conference a bit concerned about the future of SAS – the average age of attendees at the conference was probably over 50. More about why that is and why that's a problem later, since this post is already long enough and I have actual work to do.
Nov
13
If you have a problem here are the 3 most likely suspects
1. You're a professor and uploading a file. Connect using FTP.  It seems like every program I have on my computer is set at SFTP.  Change that.
2. Trying to log into the web editor with your email address. You have a user name. It is not an email address. It doesn't have any @xxx.edu  It's just something like bozoclown
3. You have a data set for your class, you are sure it was uploaded, but you can't find it. Even though your data was successfully uploaded to the class directory, it is not going to show up under libraries unless your program includes a LIBNAME statement. Then, you need to run that program. Now you should see it under LIBRARIES
If you're interested in learning more about the SAS Web editor,
Here is a bit about uploading files and a caveat on working with open data at the last minute
 Here is where you find what your LIBNAME is. If you're a professor, be sure to send your students an email with this information if you want them to access data you upload for your class.
Here is some more about using PROC CPORT/CIMPORT if you are uploading data in an older SAS format
And that's my tips for early morning in Las Vegas. Now I'm headed downstairs to teach a class on categorical data analysis and attend WUSS13. If you're here, be sure to say hi.
Nov
8
if you read yesterday's post (and how could you not!) You were treated to my scintillating tale of my experience with Microsoft customer support where I called five people and got five different answers to the question about upgrading to Windows 8.1 Pro. Although two people did give me the same answer, one person gave me two different answers, so it cancelled out.
I said I would let you know which story turned out to be true once I got home and opened the package from Microsoft  ….
And the answer is ….. NONE OF THE ABOVE !
When I got home, there was a box with no DVD despite the fact that the website and the receipt both said DVD – English. The box contained a product key and correct instructions.
Go to the Windows start screen
Type in Add features to Windows 8.1. Then click SETTINGS.
Click Add features to Windows 8.1  then click I already have a product key
Enter the product key and click next.
There is no DVD.
Nov
7
We're out at the USDA Small Business Innovation Research commercialization training workshop and one of the presenters said,
"You as a small business owner, have a great advantage over the larger companies. You think they have an advantage but you're wrong. Customer service in this country is TERRIBLE. You only need to not suck to be better than the large companies."
Thinking about an experience I had with Budget Rental Car lately, I found myself nodding in agreement. In short, I waited two hours in the parking lot despite having a pre-paid reservation. They had rented the same car to two people. Then, after I mentioned on twitter and my blog that I never wanted do business with them again, to make up, they sent me a $25 off coupon on my next visit. I'm going to give it to somebody I don't like so they can have a terrible experience too.
This week was another experience, this time with Microsoft.
1.  Last night, I got on the Microsoft site and asked using the chat whether the upgrade from Windows 8.1 to 8.1 pro was a download with a DVD as a back-up. I was told, "Yes", so I bought it.
2. I never got the download key, so I called the number for the Microsoft store tonight and was told that there was no download, you needed a DVD to install Windows 8.1 Pro. Since I am using a Mac with boot camp and it has no optical drive, I was very unhappy to hear that. I asked was there no way at all to install from an iso file. I was told, "No. It can only be done with a DVD". Since we had installed it in the first place from an iso file, I asked "Are you sure?"  He transferred me to someone in technical support.
3. The nice man in technical support told me that it was possible to order a download but that would mean that I would need to go back to the Microsoft store, cancel my original order and pay $49 for a download. This was what I wanted to hear, but he said if the DVD that I had ordered based on incorrect information (see 1) had already shipped, I would need to pay the $49 then ship back the DVD to get my $99 back. I was very unhappy about this. It isn't that I don't have an extra $49 but it didn't seem right that I should take MY time to fix their mistake. If you check our home page, you will see that it says "The Julia Group is a group of three companies" – you will notice that none of the three are 'selling illegally acquired Microsoft upgrade licenses" but I guess they decided one can never be too sure.
4. Back to the Microsoft store where the next man tells me that the third man was incorrect, that yes, there is a way to upgrade via download but first you need find another computer – he actually said, "Go to the library or something" and burn the downloaded files to DVD and then make an iso file from that. That made no sense to me at all and I asked him several times, "Are you sure." He said he was positive and there was no point in talking to anyone else because they would just tell me the same thing. By this point, I was highly skeptical of THAT. As Maria, who was now rolling on the next bed in the hotel room laughing commented, "Being this bad takes effort!"  [It would have been better if he admitted, " I'm just fucking with you, I have no idea." Apparently, at Microsoft, honesty is not the best policy.]
5. At my insistence, I was transferred to a supervisor who initially told me that there was no way to upgrade other than using a DVD, that the second person was correct. So, now, I have gotten the same story from two people, and three different stories from two other people, HOWEVER ….
6. Amazingly, story #5 and story #6 were from the same person who five minutes later, after I ran down stories #1 through #4 said, well, he had just said that spontaneously but on further reflection, the box that was coming in the mail did not have a DVD (despite the fact that my order says (DVD ENGLISH) and includes only an activation key. He says that I can do the following (UPDATE: THIS TURNED OUT TO BE INCORRECT).
A. Click on the windows screen in the bottom left corner
B. Hover over the bottom right corner. A menu will come up on the right side.
C. Select the icon for settings (it's the bottom one)
D. Click change PC settings
E. In the menu that comes up on the right, select the last option PC info
That will allow you to enter an updated activation key and that will update my computer to Windows 8.1 Pro.
After all of this, Gentleman #5 and #6 asked me,
"Have I solved your problem?"
I told him "I don't know!"  He sounded believable, but so did person #3, so I guess I will find out when I get home.
The upshot of all of this is that I am feeling very optimistic about 7 Generation Games, our newest start-up. There is no way our customer service can be worse than Microsoft, and they are making money by the boatload.
——————-
ALL OF THIS TURNED OUT TO BE WRONG. SEE THE NEXT DAY'S BLOG FOR THE ANSWER.
Nov
5
Well, this morning started out annoying, and not just because I had to be at LAX at 8 a.m. I am sitting here trying to analyze an SPSS file someone sent me last night and I get this … Command: CORRELATIONS Incomplete (truncated) SPSS Statistics data file: /Users/annmaria/blahblah.sav Execution of this command stops. I tried the copy I had on a USB drive and my backup copy and got the same thing all over again. Grr. On a moment's reflection, though, it occurred to me that since SPSS had opened the file and there was just a problem with how the file had been saved – something was missing that identified the end of file, I am guessing – that perhaps it could be fixed by simply saving the file as something else and reading it back in. So … I saved the file as .csv, by just selecting SAVE AS from the FILE menu and selecting csv as the type. Then, I went to FILE and selected READ TEXT DATA,  opened the .csv file, accepted all of the defaults and was back in business to merrily analyze away. — all before I boarded my flight. Pretty productive considering that all of the coffee in Columbia could not make me a morning person.