May
20
So far, we have looked at
How to get the sample demographics and descriptive statistics for your dependent and independent variable.
Now it's time to dive into step 3, computing inferential statistics.
The code is quite simple. We need a LIBNAME statement. It will look something like this. The exact path to the data, which is between the quotation marks, will be different for every course. You get that path from your professor.
LIBNAME mydata "/courses/ab1234/c_0001/" access=readonly;
DATA example ;
SET mydata.coh602;
WHERE race ne "" ;
run ;
I'm creating a data set named example. The DATA statement does that.
It is being created as a subset from the coh602 dataset stored in the library referenced by mydata. The SET statement does that.
I'm only including those records where they have a non-missing value for race. The WHERE statement does that.
If you already did that earlier in your program, you don't need to do it again. However, remember, example is a temporary data set (you can tell because it doesn't have a two level name like mydata.example ) . It resides in working memory. Think of it as if you were working on a document and didn't save it. If you closed that application, your document would be gone.  Okay, so much for the data set. Now we are on to ….. ta da da
Inferential Statistics Using SAS
Let's start with Analysis of Variance.  We're going to do PROC GLM. GLM stands for General Linear Model. There is a PROC ANOVA also and it works pretty much the same.
PROC GLM DATA = example ;
CLASS race ;
MODEL bmi_p = race ;
MEANS race / TUKEY ;
The CLASS statement is used to identify any categorical variables. Since with Analysis of Variance you are comparing the means of multiple groups, you need at least one CLASS statement with at least one variable that has multiple groups – in this case, race.
MODEL dependent = independent ;
Our model is of bmi_p  – that is body mass index, being dependent on race. Your dependent variable MUST be a numeric variable.
The model statement above will result in a test of significance of difference among means and produce an F-statistic.
What does an F-test test?
It tests the null hypothesis that there is NO difference among the means of the groups, in this case, among the three groups – White, Black and Hispanic . If the null hypothesis is accepted, then all the group means are the same and you can stop.
However, if the null hypothesis is rejected, you certainly also want to know which groups are different from which other groups. After that significant F-test, you need a post hoc test (Latin for "after that". Never say all those years of Catholic school were wasted).
There are a lot to choose from but for this I used TUKEY. The last statement requests the post hoc test.
Let's take a look at our results.
I have an F-value of 300.10 with a probability < .0001 .
Assuming my alpha level was .o5 (or .01, or .001, or .ooo1) , this is statistically significant and I would reject my null hypothesis. The differences between means are probably not zero, based on my F-test, but are they anything substantial?
If I look at the R-square, and I should, it tells me that this model explains 1.55% of the variance in BMI – which is not a lot. The mean BMI for the whole sample is 27.56.
You can see complete results here. Also, that link will probably work better with screen readers, if you're visually impaired (Yeah, Tina, I put this here for you!).
Next, I want to look at the results of the TUKEY test.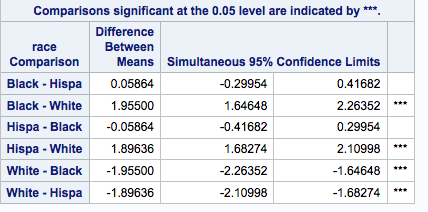 We can see that there was about a 2-point difference between Blacks and Whites, with the mean for Blacks 2 points higher. There was also about a 2-point difference between Whites and Hispanics. The difference in mean BMI between White and Black samples and White and Hispanic samples was statistically significant. The difference between Hispanic and Black sample means was near zero with the mean BMI for Blacks 0.06 points higher than for Hispanics.
This difference is not significant.
So …. we have looked at the difference in Body Mass Index, but is that the best indicator of obesity? According to the World Health Organization, who you'd think would know, obesity is defined as a BMI of greater than 30.
The next step we might want to take is examine our null hypothesis using categorical variable, obese or not obese. That, is our next analysis and next post.
May
18
In the last post, I posed the following null hypothesis as an example:
There is no difference in obesity among Caucasians, African-Americans and Latinos.
You can see the results from the statistical analyses here.
Since my question only pertains to those three groups, let's begin by creating a data set with just those subjects.
libname mydata "/courses/ab1234/c_0001/" access=readonly;
Data example ;
set mydata.coh602;
where race ne "" ;
Don't forget to run the program!
Now, let's do something new and use something relatively new, the tasks in SAS Studio. On the left screen, click on TASKS, then on STATISTICS, then click DATA EXPLORATION.
Once you click on DATA EXPLORATION, in the right window pane you'll see several boxes, but the first thing you need to do is select the correct data set. To do that, click on the thing that looks like a sort of spreadsheet.
When you do that, you'll see the list of libraries available to you. You need to scroll all the way down to the WORK library. This is where temporary data sets that you create are stored. Click on the WORK library to see the list of data sets in it.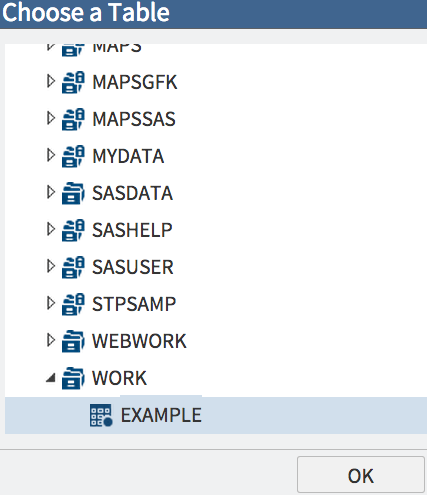 Select the EXAMPLE data set and click on OK. Now that you have your data set, it is time to select your variables.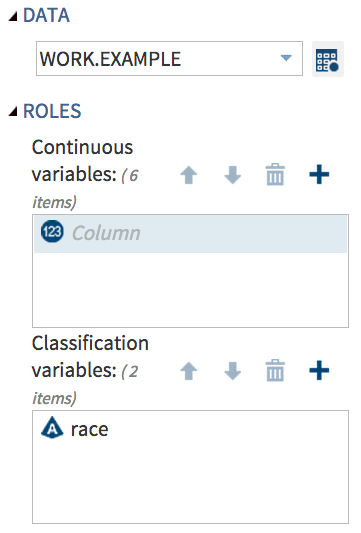 Click on the +  next to the variables and you'll get a list of variables from which you can select.  Scroll down and select the variable you want. First, as shown above, I selected RACE for the classification variable.
This gives me a chart, and it appears that whites have a lower body mass index than black or Latino respondents in this survey.
My next analysis is to do the summary statistics. I simply click on SUMMARY STATISTICS under the statistics tab (it's right under data exploration) and select the same two variables. You can click here to see the results. Mean BMI for both the black and Hispanic samples was 29, while for whites it was 27. Standard deviations for the three groups ranged from 5.7 to 6.9 which was actually less than I expected.
So, there are differences in body mass index by race/ ethnicity, but that leaves a few questions left:
Do those differences persist when you control for age and gender?
While there are differences in body mass index, that doesn't necessarily mean more people are obese. Maybe there are more underweight white people. Hey, it's possible.
Well, now you have a chart and a table to add to the table you created in the first analyses. In the next post, we can move on to those other questions.
May
15
I get asked this question fairly often so I thought I would do a few posts on it. The most common problem is that a student who is new to statistics has no idea where to even start.
These examples use SAS but you could use any package you like.
My recommendation to students beginning to learn statistics is to start with some type of publicly available data set, getting some experience with real data.
1. IDENTIFY THE VARIABLES YOU HAVE AVAILABLE
The first thing to do is examine the contents of the dataset. Look at the variables you have available. With SAS, you would do this with PROC CONTENTS.
Your program at this point is super simple
LIBNAME mydata "path to where your data are" ;
PROC CONTENTS DATA = mydata.datasetname ;
Normally, you would come up with a hypothesis first and then collect the data. The advantage of working with public use data sets is you don't have to go to the time and expense of interviewing 40,000 people. The disadvantage is that you are limited to the variables collected.
2. GENERATE A HYPOTHESIS
Looking at the California Health Interview Survey data, I came up with the following null hypothesis:
There is no difference in obesity among Caucasians, African-Americans and Latinos.
3. RUN DESCRIPTIVE STATISTICS
You need descriptive statistics for three reasons. First, if you don't have enough variance on the variables of interest, you can't test your null hypothesis. If everyone is white or no one is obese, you don't have the right dataset for your study. Second, you are going to need to include a table of sample statistics in your paper. This should include standard demographic variables – age, sex, education, income and race are the main ones. Last, and not necessarily least, descriptive statistics will give you some insight into how your data are coded and distributed.
proc freq data = mydata.coh602 ;
tables race obese srsex aheduc ;
where race ne "" ;
proc means data= mydata.coh602 ;
var ak22_p srage_p ;
where race ne "" ;
run ;
You can see the results from the code above here.
Notice something about the code above – the WHERE statement. My hypothesis only mentioned three groups – Caucasians, African-Americans and Latinos. Those were the only three groups that had a value for the race variable. (This example uses a modified subset of the CHIS , if you are really into that sort of thing and want to know.) Since that is the population I will be analyzing, I do not want to include people who don't fall into one of those three groups in my computation of the frequency distributions and means.
4. PUT TOGETHER YOUR FIRST TABLE
Using the results from your first analysis, you are all set to write up your sample section, like this
Subjects
The sample consisted of 38,081 adults who were part of the 2009 California Health Interview Survey. Sample demographics are shown in Table 1.
<Then you have a Table 1>
Variable …………N….     %
Race
Black 2,181 5.7
Hispanic ,4926 13.0
White 30,974 81.3
Gender
Male 15,751 41.4
Female 22,330 58.6
Variable ……N ….. Mean… SD
Age…………38,081 55.4 18.0
Income  37,686 $69,888  $63,586
I'll try to write more soon, but for now The Invisible Developer is pointing out that it is past 1 a.m. and I should get off my computer.
May
5
First off, the good news. You can find all of the papers from SAS Global Forum 2015 online.  This is good news if you are anything like me (and you should be, because, let's face it, I'm awesome) because even if you went to Dallas there were no doubt several papers you wanted to attend scheduled at the same time.
I liked everything I attended but there were two that stood out as really interesting. The first one was …
Taking the Path More Travelled – SAS Visual Analytics and Path Analysis
Falko Schulz
You can download it here
http://support.sas.com/resources/papers/proceedings15/SAS1444-2015.pdf
My idea of path analysis is a series of regression coefficients where you calculate direct and indirect effects. That is not the path analysis discussed in this paper.
He literally means what path did the customer (critter, whatever) take ?
For example, your path in using this website could be you went to the home page then blog page home then the previous entry on the blog.
While websites are an obvious use for this type of path analysis, there could be many others – customer experience in a call center, where people go in a huge department store, migration of humans or animals, path to achieving a job at a start-up.
Drop-off is often of interest in a path analysis – did they fall out of the path before the endpoint you wanted, e.g., sale, employment, customer support problem solved?
You can also look at weight in a path, not only whether they buy a widget but how much money did they spend?
Visual analytics allows for path segmentation. You can combine items or exclude items.
In the example, Schulz discussed using path analysis to see how effective your different online marketing methods are. Since many people will come from typing your name into a search engine, you may want to delete those paths and only include ads from Google adwords, blogher, your corporate website and other paid marketing efforts.
You can click on events and select Exclude to filter out all paths beginning with those events that are not of interest to you.
Sankey diagrams are available in visual analytics. Although these have their origin in uses like energy flow, they are now being applied all over the place.
Here is a sample from Schulz's paper
A Sankey diagram, FYI, shows the direction and quantity of the flow along a path. There is a blog devoted to Sankey diagrams here.
http://www.sankey-diagrams.com/sankey-definitions/
(This wasn't mentioned in the paper, I just found that interesting. I'm sure there's a blog out there devoted to Gantt charts that I could find if I looked, which I didn't.)
Once the path analysis roles of interest are defined:
… one of the first things to do would be drop the number of paths displayed. Just imagine the mess you would be looking at if you tried to visually display all of the paths someone took in navigating a website with even a few hundred pages.
You can edit the minimum path frequency, e.g., only show a path if at least 250 people took it.
This is just a brief, brief taste of what you can do with path analysis using SAS Visual Analytics and the coolness of SAS Global Forum. There was a lot, lot more and I'll try to post about the second paper I really liked this week,
but for now perhaps I should quit looking out the window and pay attention in this training session I'm sitting in at Fort Berthold (don't tell Bruce I wrote my blog during it).
If you missed out on SAS Global Forum, you don't need to wait until next year for your fix of networking, instruction (and possibly drinking). You can go to the Western Users of SAS Software conference in San Diego in September.
May
2
Great! You are using SAS Studio. It's free. Even greater. You cleaned your data, created subscales. You have this perfect dataset and now, you want to save that dataset to your desktop and maybe do some more work with it, or just open up and admire it – who am I to judge?
Follow these three easy steps:
1. Right-click on the data set.
2. Select Export and export it to one of your folders as, say, a .csv file.
3. Go to that file, select it, and click download.
Apr
24
Why?
Are you kidding me?
If you are a programmer, analyst, statistician, professor or student who uses SAS this is an opportunity to get to know your people and to get known.
I'm in Dallas for the SAS Global Forum, which I try to attend whenever I can. Yes, I could watch videos on the Internet, read books, read web pages, but I often don't because I have a to-do list a mile long.
By presenting at the conference, I have to review what I am doing in teaching with SAS Studio and why.
SHAMELESS PLUG: My session on Preparing Students for the Real World with SAS Studio is a good one for both anyone who teaches with SAS and for anyone who is new to the SAS world and wants a good introductory session.
Since I am at the conference, I have a little bit of downtime to look into SAS resources. My new favorite is SAS communities. It's a combination forum and free library. I must have looked into it at some point, because I had an account, but it seems to be more active now. I even submitted an article and poked around in the forum.
Then, of course, there are all of the sessions that I will attend, conversations  I will have with people, books I will hear about and buy, to read on the plane ride home.
It's a week of learning.
But , but, you stutter like a motor boat, it's expensive and far away. I can't afford it. Besides, I would feel uncomfortable presenting at the same conference with all of those people who wrote the books on SAS (literally).
The expensive part I get. The not feeling like you could present at the same conference part is just silly, so I'm going to pretend you didn't say that.
If travel and cost is an issue, present at your local conference. The call for papers for the Western Users of SAS Software (WUSS) is open. Do it now!
It is painless. You submit a 300-word abstract. You can submit a working draft of the paper at the same time. That's not mandatory but it improves your chances.
There is even a mentoring program where old people (like me), will help you revise your program and get ready to present.
Writing and presenting the paper will force you to think about what you are doing and why. You will likely make some contacts of people who will be potential employers, collaborators or drinking buddies.
What are you waiting for? A personal invitation?
Fine! Here you go.
Need a topic? Here are 10 I would like to see
The 25 functions I use most.
Uses of PROC FORMAT .
Multinomial logistic regression.
The many facets of PROC FREQ.
Factor analysis
SAS for basic biostatistics
Macro for data cleaning
Model selection procedures
Mixed models vs PROC GLM
SAS Graphs without SAS/Graph (because SAS/Graph appears to be written in Klingon)
My point is that if I sat here and thought of 10 off the top of my head after two glasses of Chardonnay and half a glass of the champagne someone who will remain nameless bought at Costco and brought here from a state in the WUSS region, then I'll bet you could come up with something really awesome stone-cold sober and given more than 60 seconds.
Let's recap what we have learned here, shall we?
Join SAS communities,
Attend conferences, whether national or global,
Don't be a wallflower – present!
Texas steak and wine is a good combination (not particularly related to SAS but true nonetheless)
Apr
14
It has been pretty well established that I am the worst soccer mom in the history of soccer moms. Most of the games I miss because I am somewhere else. My children have told me that my autobiography should be entitled, "I was out of town at the time" because most of the stories of their childhood begin this way.
Having come back in town shortly before the game this weekend, I was unaware that it was a two-day tournament 2 1/2 hours from home and that we were supposed to have reserved the hotel weeks ago. Hot tip: If you get your reservation last minute and have the choice of a close hotel or a nice hotel, get the nice one.
I fulfilled my obligation. I showed up. During the time The Spoiled One played, I watched. During half time and the breaks between the games I was able to write a couple of blog posts and test out SAS Studio.
If you look at the picture above you might see that I was working in a field surrounded by mountains. Not the best situation for Internet access, which I had via the hotspot on my iPhone.

I was able to log on to SAS Studio with no problem. When I logged in on my iPad I had the screen shown above where I could just start typing my program in the code window.
To see folders, libraries, etc. tap the BROWSE link in the top left corner, as shown
You can tap any of the categories to bring down the list of folders, libraries, etc. You can tap on a file to open it.
The one problem I did have, and depending on your situation, it may be a severe one, was that I could not get any of the libraries to open. I wanted to open the sashelp library and see if I could run some tasks using an open data set. This did not work. It is very possibly related to poor Internet due to laying in a soccer field ringed by mountains. I tried it last year in a movie theater and I was able to access the libraries. In this case, as you might guess from the top photo, the Internet was barely accessible.
Next, I tried simulating a homework problem a student might have, just typing in some data and running the program.
I have a bluetooth keyboard I use with my iPad and it all worked fine. I typed in data, tapped on the little running guy and my program ran fine. You can see the results below.
To save it, I held down the home button and the power button simultaneously, just like any time you take a screenshot on an iPad. Then, I emailed that screenshot to myself, so here you have results.
My point is that a student could do their homework using SAS Studio in the middle of a soccer field on an iPad, as long as it did not require external files, which most of the homework I assign does not. They could then email the results to their professor, still from the (dis)comfort of the field.
This is useful to know for three reasons:
I travel frequently to areas where there is very limited bandwidth,
Many of the students in my online courses live in areas with limited bandwidth,
The Spoiled One's team won their bracket in the State Cup, so it turns out that means they have more soccer games next weekend as they advanced in the tournament. This is not at the same field surrounded by mountains. It's at a different field at the edge of the desert. Sigh.
Take-away points:
Your students should be able to use SAS Studio almost anywhere, even if all they have is an iPad.
This is doubly true if you don't assign homework that requires accessing external datasets.
I'll be able to review homework assignments for the course I am teaching next during the soccer tournament this weekend. (I really AM the worst soccer mom in the history of ever.)
—————— SHAMELESS PLUG
Our Kickstarter campaign is still going on, making adventure games to make math (and history and English) awesome.
We are 84% of the way to our goal!
Show your "blog appreciation" and help us get the last few steps by backing us now. 
Mar
26
I'm giving a talk on Preparing Students for the Real World of Data at SAS Global Forum next month.
You'd think 50 minutes would be long enough for me to talk, but that just goes to show you don't know me as well as you think you do. One point made in the template for papers is that you should not try to tell every single thing you know about the DATA step, for example, because it will bore your audience to death.
Random Tips That Didn't Make it Into the Paper
1. CATS removes blanks and concatenates
While I did give a few shout outs to character functions, it was not possible to put in every function that is worth mentioning. One that didn't make the cut is the CATS function.
The CATS function concatenates strings, removing all leading and trailing blanks.
Let's say that I want to have each category renamed with a leading "F" to distinguish all of the variables from the Fish Lake game. I also want to add a '_' to problems 10-14 so that when I chart the variables 11 comes just before 12, not before 2 (which is what would happen in alphabetical order). So, I include these statements in my DATA step.
IF problem_num IN(11,10,12,13,14) THEN probname = CATS('F','_',probname);
ELSE probname = CATS(game,probname) ;
Now when I chart the results you can see the drop off in correct answers as the game gets more difficult.
2. Not all export files are created equal
Nine of the ten datasets I needed I was able to download as an EXCEL file and open up in SAS Enterprise Guide. It was a piece of cake, as I mentioned last time. Unfortunately, the third file was download from a different site and it had special characters in it, like division signs, and the data had commas in the middle of it. When I opened it up in SAS Studio it looked like this.
Fixing it was actually super simple. This was an Excel file. I simply did a Replace ALL and changed the division signs to "DIV" and the commas to spaces. The whole thing took FIVE lines to read in after that.
3. Listen to Michelle Homes and know your data
filename fred "/courses/abc123add/sgf15/sl_pretest.csv " ;
Data pretest keyed;
LENGTH item9 $ 38. ;
infile fred firstobs = 2 dlm=",";
input started $ ended $ username $ (item1 – item24) ($) ;
Thank you to the lovely  Michelle Homes for catching this! As she pointed out in the comments, the input statement assumes that the variables are 8 characters in length and character data. This is true for 26 of the 27 variables. However, ONE of the 24 items on the test is a question that can be answered with something like Four million, four thousand and twelve.
That, as you can see, is over 8 characters. So, I added a LENGTH statement. That brought up another issue, but that is the next post …
I'll have a lot more to talk about in Dallas. Hope to see you there.
============
Want to be even smarter? Back us on Kickstarter! We make games that make you smarter. The latest one, Forgotten Trail, is going to be great! You can get cool prizes and great karma.
Mar
19
If you came into my office and watched me work today, just before I had you arrested for stalking me, you might notice me doing some things that are the absolute opposite of best practices.
I need about 10 datasets for some analyses I'll be doing for my SAS Global Forum paper. I also want these data sets to be usable as examples of real data for courses I will teach in the future. While I'm at it, I could potentially use most of the same code for a research project.
The data are stored in an SQL database on our server. I could have accessed these in multiple ways but what I did was
1. Go into phpMyAdmin and chose EXPORT as ODS spreadsheet.
2. Opened the spreadsheet using Open Office, inserted a row at the top and manually typed the names of each variable.
Why the hell would I do that when there are a dozen more efficient ways to do it?
In the past, I have had problems with exporting files as CSV, even as Excel files. A lot of our data comes from children and adolescents who play our games in after-school programs. If they don't feel like entering something, they skip it. That missing data has wreaked havoc in the past, with all of the columns ended up shifted over by 1 after record 374 and shifted over again after record 9,433.  For whatever reason, Open Office does not have this problem and I've found that exporting the file as ODS, saving it as an xls file and then using the IMPORT DATA task or PROC IMPORT works flawlessly. The extra ODS > Excel step takes me about 30 seconds. I need to export an SQL database to SAS two or three times a year, so it is hard to justify trouble-shooting the issue to save myself 90 seconds.
IF YOU DIDN'T KNOW, NOW YOU KNOW
You can export your whole database as an ODS spreadsheet. It will open with each table as a separate sheet. When you save that as an XLS file, the structure is preserved with individual sheets.
You can import your data into SAS Enterprise Guide using the IMPORT DATA task and select which sheet you want to import. Doing this 2, 3 or however-many-sheets-you-have times will give you that number of data sets.
WHY TYPE IN THE VARIABLE NAMES?
Let me remind you of Eagleson's law
"Any code of your own that you haven't looked at for six or more months might as well have been written by someone else."
It has been a few months since I needed to look at the database structure. I don't remember the name of every table, what each one does or all of the variables. Going through each sheet and typing in variable names to match the ones in the table is far quicker than reading through a codebook and comparing it to each column. I'll also remember it better.
If I do this two or three times a year, though, wouldn't using a DATA step be a time saver in the long run? If you think that, back up a few lines and re-read Eagleson's law. I'll wait.
Reading and understanding a data step I'd written would probably only take me 30 seconds. Remembering what is in each of those tables and variables would take me a lot longer.
I've already found one table that I had completely forgotten. When a student reads the hint, the problem number, username and whether the problem was correctly answered is written to a table named learn. I can compare the percentage correct from this dataset with the rest of the total answers file, of which is a subset. Several other potential analyses spring to mind – on which questions are students most likely to use a hint? Do certain students ask for a hint every time while others never do?
Looking at the pretest for Fish Lake, I had forgotten that many of the problems are two-part answers, because the answer is a fraction, so the numerator and denominator are recorded separately. This can be useful in analyzing the types of incorrect answers that students make.
The whole point of going through these two steps is that they cause me to pause, look at the data and reflect a little on what is in the database and why I wanted each of these variables when I created these tables a year or two ago. Altogether, it takes me less time than driving five miles in Los Angeles during rush hour.
This wouldn't be a feasible method if I had 10,000,000 records in each table instead of 10,000 or 900 variables instead of 90, but I rather think if that was the case I'd be doing a whole heck of  a lot of things differently.
My points, and I do have two, are
Often when working with small and medium-sized data sets, which is what a lot of people do a lot of the time, we make things unnecessarily complicated
No time spent getting to know your data is ever wasted
Mar
10
Some people may have said that hackathons are a stupid ass idea where a bunch of people who have can't afford to buy their own pizza spend 48 hours with a bunch of strangers and no showers.
Okay, well, maybe that was me.
I take it all back.
We kicked off our hackathon at noon on Monday and wrapped up at 8 pm on Tuesday. The rules were simple – everyone who was working those days was to wipe their schedule completely for 8 hours each day and do nothing but work on the game. No emails, no blog posts, no meetings except for a kick off meeting each day to assign and review tasks. Jessica, Dennis, Samantha and I worked on the game for (at least) 16 hours. Any emails or interviews got done before the hackathon hours or after they were over. (I did pause for a brief interview with the Bismarck State College paper.)
Maria came in from maternity leave and worked 8 hours on Monday, baby in tow.
Gonzalo and Eric each worked their regular shifts on Monday and Tuesday, respectively, doing nothing but writing code, creating sprites and editing audio. Sam even pitched in a few hours early in the morning from Canada. Our massively talented artist, Justin, completed all of the new artwork before the meeting so we had it in hand to drop into all of the spots where there had been placeholders.
So, in two days a total of 100 hours were devoted just to game development. We made a giant leap forward.
The 3-D portion of the first level is nearly done.
The new characters are being dropped into each scene.
Why did it work so well? For one thing, we were all in the same spot for a long time. Although the original plan was to meet and then people would go there separate ways, on Monday, five of the six people working stayed at my house. Three of us even slept there. That had two positive impacts.
First of all, whenever anyone needed something, whether it was a piece of artwork modified or a question answered on whether we had a sound file of footsteps in the woods or to be shown how to do a voice over in iMovie, there was someone else to provide that assistance right on the spot. Very often, you can spend hours searching for something on Google, watching youtube videos, reading manuals trying to figure out how to do X when someone else can come up and say – Click on Window, pick record voiceover, click on the microphone in the middle of the left side of the window.
There are also those questions that CANNOT be found on Google, like where the hell was the new background image saved and what is it called.
The second positive impact was we got around to tasks that needed doing for a long time. While it may have seemed it kept us from getting real progress done on the game, the fifth time Sourcetree complained about not tracking those damned Dreamweaver .idea files, I HAD it and we removed those from the repository forever. When something bugs you every now and then you may think, "I'll do it later", but the fifth time it happens that day …
Anyway, I would share more of the awesomeness of the hackathon experience with you but it is now 9 pm and we are taking the team out for sushi.