Sep
28
I've decided on my new career after we get 7 Generation Games into the hands of millions of players. I'm going to take some time off and become a travel blogger.  I'm not going to be your typical travel blogger though. You won't be reading posts from me about backpacking because that involves sleeping in the dirt and not taking showers both of which, as The Invisible Developer frequently tells me, show great  lack of appreciation for  our ancestors hard work in creating a civilization where we have houses and running water.
I'm also not going to be one of those people writing about exotic, fantastically expensive vacations all around the world. For one reason, those vacations generally entail 20 hours or more of flying, which is only considered a good time if you're really, really into masochism.
Nope, Random Travel Blog is going to be just like this blog where I basically ramble on about whatever the hell I feel like that day. In practice for that, I thought today I would talk about what you got for a roughly 972% increase in hotel costs. Just randomly, I happen to have stayed in a lot of hotels lately that ranged in price from under $60 to nearly $600 a night. Those at both ends of the spectrum were less and more, respectively, than I would have chosen to pay but happened to be the only options available in the cities where I needed to be at the time. Having a lot of experience staying in hotels across the spectrum I got to thinking about what you get when you  pay one-third as much as usual or 3 times as much and whether it is worth it. So, here are my random observations.
If a hotel is really expensive you can bet  that the location has something to recommend it. It may be a beautiful place or in a place where you need to be to do business. I recently stayed in a hotel in San Jose and the area wasn't particularly beautiful but it was close to where it needed to be early in the morning.
The inverse isn't always true. For example, here is the view a few steps from the hotel I recently stayed at in Pierre, South Dakota.
 It was actually really beautiful. However, my guess is that Pierre  is not a major travel destination. The hotel was very cheap.
If you are staying at a very expensive hotel they will have room service and the food will be good. Is that worth an extra 400 or $500? Also, of course, you're paying $50 or $100 for the food on top of the hotel room cost. Well, since I like to work late and I eat food, being able to get room service late at night is worth something to me.
Interestingly, it's the cheaper  hotels that tend to offer free breakfast. Is that worth anything to you? It's not worth much to me because I don't usually get up early enough to eat breakfast and the cheaper the hotel is the worse the breakfast, so I often wouldn't eat it even if I did get up early.
A really expensive hotel will have good service. People at the front desk won't be rude. Your room will be clean. If you ask for anything within reason, whether it is to have someone bring you a toothbrush you forgot or extra peanuts for the minibar they will bring it to you, and pretty quickly too. Expensive hotels have good security. You won't get robbed or sexually harassed.
Here's a funny thing that I have found – the things that I want most are not correlated with price – except for the not getting robbed part.
For example, I want coffee in the morning. All the cheapest hotels where I have ever stayed had a coffee maker. Some of the really expensive hotels had really nice coffeemakers and really nice coffee and others did not because they expected you to use the restaurant order coffee from room service. I find that very annoying.
Another thing that I personally need to have is good Internet access. Cheaper hotels tend to provide pre-free Internet access and it is often not terrible. Expensive hotels often charge for Internet access, I guess because they figure if you're staying there you can afford an extra $15 or $25 a day to use the Internet. Whether it is free or paid, I've generally found that my personal hotspot on my phone is faster – and yes, that includes paying for the "premium" high-speed Internet in hotels.
So, am I saying that you should stay the cheapest hotel that you can find? No. Often, really cheap hotels are in really bad parts of town where you don't want to hang out. Someone suggested to me that at our last meeting where we had to stay at a hotel that was very expensive it would have been cheaper if we got a rental car and drove into our meetings.  I disagree with that there were 2 of us who would have spent an extra 2 hours each in traffic every day. Often, whether it is flights with 3 stops or hotel rooms an hour from your destination these things are only good deals if your time has no value.
If you stay at a nicer hotel you are pretty much guaranteed good service where the cheaper ones you take your chance. This might be why you find older people more likely to stay at the higher end hotels because they need more assistance with bags or getting around the city. Also older people have more money.
Personally, I like to have a nice view and I don't mind paying extra to have a view of the city or the Bay or whatever. Sometimes, though I'm getting in somewhere after midnight and have to be up before 9 AM to get to a meeting.   In that case, I may as well stay the cheapest hotel there is – and it's pretty certain to have coffee.
Based on a whole lot of experience, I see a very large difference between most hotels that cost under $100 and hotels that cost $200 and $300 I don't see a lot of difference between hotels that cost $300 and those that cost $600 other than the latter tend to be in higher-priced cities or during events when prices get jacked up.
In short, if you have spent every one of your vacations staying at the Hilton or the Marriott and you are wondering if you are really missing out not staying at some really high-end chic location, I think you can quit worrying.
–
Sep
20
You may not know, if you only read this blog for the statistics content or the snarky comments, but I was the first American to win the world judo championships.  I sometimes ponder the value of all of those years spent training on the mat and all of the years coaching after that. It's not as if judo brought me any great fame and fortune. When I think about it though,  I often see parallels  between sport and business – or life in general.
Today, The Invisible Developer and I were discussing employees. In a startup, you can't always hire highly paid experienced staff – the budget just isn't there. Here's one of the things I've learned from all those years of judo. It's not the kid who is winning the junior national championships who is always going to be your Olympic medalist. Look for the kid who is training harder, who is willing to learn and doesn't think that he or she knows it all already. Look for the kid who is willing to make mistakes and admit those mistakes. One person may be winning all of the trophies today but if some other kid is in the gym training harder and longer that kid will eventually catch up. Maybe not this year and maybe not next but as my lovely daughter Julia says,
Life is long.
The same thing applies now when I look at employees. Someone may not know every single programming language in which I would like him/her to be proficient  or how to code a macro or use some application. However, if that person is willing to admit ignorance and eager to learn, that's a good sign.
80% of success in life is just showing up
That's what Woody Allen said but I think it's an overestimate. I think half of success is just showing up  and 30% is 
being willing to admit what you don't know,  acknowledge your mistakes and learn from them. If you find people who are what some  term "un-coachable", is because they aren't willing to learn for one of 2 reasons.
 They think they already know it all and no one could tell them anything.
 It's just too much effort to be bothered. They just don't care about getting better.
You see the exact same 2 types in business. I've told this to students, colleagues and employees:
No matter how great you are at what you do, there is a line across which it is not worth the pain in the ass of putting up with you.
If you aren't a superstar at coding or whatever it is but I see you coming in day after day and trying your best, what I have learned from judo is you are going to come out ahead of the person who is too good to bother to consider anyone else's opinions and pass up sleeping Joe over there in the corner who is just doing the minimum to get by.
Sep
7
A couple of weeks ago, I wrote a post that showed student achievement was not what made a difference in whether students persisted in playing our games. With the exception of a few students who were very low achieving, e.g., non-readers in fourth-grade and up, there was little difference in the pretest scores of students who gave up at the first math problem and those who persisted.
What did make the difference, then? My next hypothesis was that it was the teacher that made a difference. To test this hypothesis, I did an Analysis of Variance with SAS using PROC GLM. The WHERE statement was used to eliminate extreme observations from the analysis – students who had attempted more than 50 problems. Complete code is shown below.
PROC GLM DATA= teach ;
CLASS teacher ;
MODEL prob_correct_N = teacher ;

LABEL prob_correct_N = "Problems Completed" ;
WHERE prob_correct_N < 50 ;
The teacher variable explained 22% of the variance (F = 9.79, p < .0001). When grade level (grades 4-7 were included in the analysis) was added to the model, the additional explained variance was trivial – about 0.5%.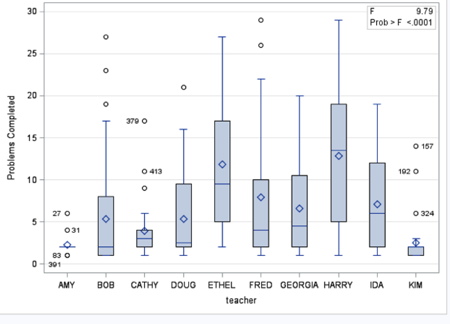 In the figure above, produced by default for this analysis when ODS GRAPHICS is on, a box and whisker plot is given for each teacher, showing mean, median and outliers (note the numbers on the plot are observation number for outliers and not a value for the dependent variable).  There are clear differences among the teachers in mean number of problems completed.
The next step (thank goodness this is a longitudinal study) is to see what those teachers are doing that explains persistence.
---
Shameless plug #1 :
I will be giving a talk at the Western Users of SAS Software conference tomorrow (Thursday, September 8, 2016) at the Grand Hyatt in San Francisco that includes a lot more detail about the use of SAS for program evaluation.
Shameless plug # 2:
You can buy the games that are the basis of these data here. Fun and educational. Run on Mac or Windows.
Sep
2
I was going to write more about graphics using SAS but I realized it was a Friday before a three-day weekend and most people don't want to think about work – and that is the point of this post.
Many of the people who I know have done a far better job planning for retirement financially than they have planning for anything in their life other than work. So yes I guess this is one more post about work-life balance, of which I personally have none. This is obvious by the fact that I am writing this blog using voice input software rather than sitting on the couch watching reality TV – or maybe by the fact that I took one day off to have an operation and was back working 10 hours a day pretty much as soon as the anesthesia wore off. But we're not here to talk about me, hypocrite that I may be.
Recently, "I ran into" three people who I have known for years. I put ran into in quotation marks because one of them was actually dead and I simply received the news from a mutual friend.
Let's call them all Bob(not their real names) and start with Bob number one(or should I call him Dead Bob). If you ever heard the song, Eleanor Rigby, that was kind of Dead Bob but with more money, which I'm sure you will agree is not much help to you if you are dead. Now, DB made a number of what I would consider ethical compromises in his career. He always used the excuse if I don't I'll lose my job. I never understood that because why would you want a job where you had to compromise your principles? Also, it wasn't even as if DB was making millions of dollars – not that that would make it okay, but it would maybe make it slightly understandable. So here you have it, someone who lived only to their 50s, had a middle management position, not a lot of respect from the people around them and that was it. When I look back on the times that DB overlooked sexual harassment or agreed to promote the boss's nephew who had no more qualifications than a drowned rat, I wonder what was the point? In the end, he had a mediocre life with no respect from the people around him. What a waste! Don't be a DB.
Bob number two, is 70 years old quite well-off financially and a pretty good guy. I asked him why he was still working when he didn't need the money and I know that he just likes his job kind of okay. I was a bit shocked by what he told me. He's been married forever and he said that he just couldn't take the idea of spending all that time with his wife! He said it's fine the way it is now, when they see each other at dinner time, maybe go out and try a nice restaurant. However, he said that when he takes a few days of vacation, or even on the weekends, she kind of drives him nuts. She does things like ask him to take out the trash and then two minutes later asking if you took out the trash. It's stuff like that multiplied 1000 times over. He says that it's much better to keep things the way they are because if he was home 24 – 7 he'd probably end up strangling her.
Bob number three is the most like me. He's 67 years old, owns his own business and could easily just shut the doors, go home and not work for the rest of his life. He still goes to work every day though, not because he likes his work so much, although I know that he does, but because he's never really done anything but work. Yes, like many people, he was into sports when he was young but that's been 40 years or more. He'll work 50 weeks a year and maybe going to vacation for two. In brief, he still working because he doesn't really have anything to do but work. He doesn't have any real hobbies that he's into and is not one to sit around and watch TV. So, Bob Three is pretty much still working on autopilot – not to imply that he's not doing a good job but rather he's doing a good job because that's what he's always done.
All three Bobs could have had more of a life than they did/do. Maybe it's too late for them but I feel like Scrooge in a Christmas Carol where I'm looking at the past and future and it's my opportunity to change what the future would be. If you're not as old as Bob two or three, and you are not dead  (which I presume because you're reading this blog) then it's probably an opportunity for you, too.
Maybe you want to try that now, try to imagine what it would be like if you are retired and if you really hate that picture do something to change it.
———–
Would you like to play one of our games? Check them out here – all games run on Mac and Windows.

What about Chromebooks?  Check out Forgotten Trail.