May
20
First of all, what are parcels? Not the little packages your grandma left on the table in the hall when she came back from shopping. Well, not only that.
In factor analysis, parcels are simply the sum of a small number of items. I prefer using parcels when possible because both basic psychometric theory and common sense tells me that a combination of items will have greater variance and, c.p., greater reliability than a single item.
Just so you know that I learned my share of useless things in graduate school, c.p. is Latin for ceteris paribus which translates to "other things being equal". The word "etcetera"  meaning other things, has the same root.
Know you know. But I digress. Even more than usual. Back to parcels.
As parcels can be expected to have greater variance and greater reliability, harking back to our deep knowledge of both correlation and test theory we can assume that parcels would tend to have higher correlations than individual items. As factor loadings are simply correlations of a variable (be it item or parcel) with the factor, we would assume that  – there's that c.p. again – factor loadings of parcels would be higher.
Jeremy Anglim, in a post written several years ago, talks a bit about parceling and concludes that it is less of a problem in a case, like today, where one is trying to determine the number of factors. Actually, he was talking about confirmatory factor analysis but I just wanted you to see that I read other people's blogs.
The very best article on parceling was called To Parcel or Not to Parcel and I don't say that just because I took several statistics courses from one of the authors.
To recap this post and the last one:
I have a small sample size and due to the unique nature of a very small population it is not feasible to increase it by much.I need to reduce the number of items to an acceptable subject to variables ratio. The communality estimates are quite high (over .6) for the parcels. My primary interest is in the number of factors in the measure and finding an interpretable factor.
So… here we go. The person who provided me the data set went in and helpfully renamed the items that were supposed to measure socializing with people of the same culture 'social1', 'social2' etc, and renamed the items on language, spirituality, etc. similarly. I also had the original measure that gave me the actual text of each item.
Step 1: Correlation analysis
This was super-simple. All you need is a LIBNAME statement that references the location of your data and then:
PROC CORR DATA = mydataset ;
VAR  firstvar — lastvar ;
In my case, it looked like this
PROC CORR DATA = in.culture ;
VAR social1 — art ;
The double dashes are interpreted as 'all of the variables in the data set located from var1 to var2 ' . This saves you typing if you know all of your variables of interest are in sequence. I could have just used a single dash if they were named the same, like item1 – item17 , and  then it would have used all of the variables named that regardless of their location in the data set. The problem I run into there is knowing what exactly item12 is supposed to measure. We could discuss this, but we won't. Back to parcels.
Since you want to put together items that are both conceptually related and empirically – that is, the things you think should correlate do- you first want to look at the correlations.
Step 2: Create parcels
The items that were expected to assess similar factors tended to correlate from .42 to .67 with one another. I put these together in a ver simple data step.

data parcels ;
set out.factors ;
socialp1 = social1 + social5 ;
socialp2 = social4 + social3 ;
socialp3 = social2 + social6 + social7 ;
languagep = language2 + language1 ;
spiritualp = spiritual1 + spiritual4 ;
culturep1 = social2 + dance + total;
culturep2 = language3 + art ;

There was one item that asked how often the respondent ate food from the culture, and that didn't seem to have a justifiable reason for putting with any other item in the measure.
Step 3: Conduct factor analysis
This was also super-simple to code. It is simply
proc factor data= parcels rotate= varimax scree ;
Var socialp1 – socialp3 languagep spiritualp spiritual2 culturep1 culturep2  ;
I actually did this twice, once with and once without the food item. Since it loaded by itself on a separate factor, I did not include it in the second analysis. Both factor analyses yielded two factors that every item but the food item loaded on. It was a very nice simple structure.
Since I have to get back to work at my day job making video games, though, that will have to wait until the next post, probably on Monday.
—–
Be more than ordinary. Take a break. Play Forgotten Trail. I bet you have a computer!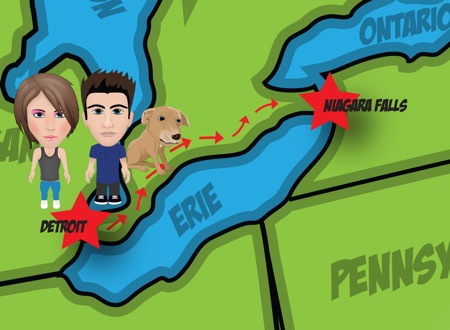 Learn and have fun. More productive than fruit crush, candy ninja or whatever the heck else it is you or your kids are playing.
Jun
14
Last time, we saw how to recode variables to score answers correct or incorrect, on a rating scale and weighted by importance. Today, we're going to look at creating some scales from those variables because for reasons I'm sure I have written about at some point in the past, single items are usually not very reliable. Whether you use SAS, SPSS, R or any other statistical package, you are still going  to need to follow the steps of recoding your variables and creating and validating your scales before you get into MANOVA. Or, at least, you will if you are smart.
First, I want to check that there are no obvious errors or other problems in my data.
PROC MEANS DATA=example ;
VAR gr2A -- gr39 hbs1 --d_gr12a ;
You could type in the variable names but that is a lot of typing. The double dashes mean to include all variables in the data set in order from the first variable to the one that comes after the dashes. How do you know what order the variables are in? Click on the OUTPUT DATA tab at the top and look to the left under COLUMNS.
If you didn't just run a program creating your data and hence don't have an OUTPUT DATA tab, you can find your data file by clicking the MY LIBRARIES tab and then clicking on the library (directory) where your data are kept and clicking on the dataset to open it. You can also use the PROC CONTENTS procedure but today we are being all pointy and clicky with SAS Studio.
Sometimes you will see something like:
VAR item1 – item12 ;
The single dash is used for variables that end in a number and if you don't have item1, item2 all the way through item12, it will give you an error and not run. Then you will be sad.
PROC MEANS will give you the N, mean, standard deviation, minimum and maximum.
Here are a few things to consider.
Is the N substantially less than you had expected? If so, you have a lot of missing data and you should investigate that. The lowest N I have is 37, 814 out of 39, 430 people so not bad, but I might want to look at that one item, since most of the items have close to 39,000 for an N
Is your standard deviation zero? STOP RIGHT THERE!  On just what variable could 39,000 people give the same response? This likely shows a big problem with your data. I did not have that problem, so I continued.
Are your minimum and maximum the minimum and maximum possible scores for the item? Now, this may not always be the case. On a scale of 1 to 10, say, with a sample of 50 people, maybe no one will say 1. However, I have over 39,000 people and the items are 0 or 1, o – 2  or 1- 3, so I should have people from the minimum to the maximum or something is wrong. Nothing is wrong, and I continue.
Are the means about what you expect? Well, I'm not really an expert on social structure and family relations in India, so I can't say. About a third of the women said it was usual for a husband to beat his wife if her dowry was not what was expected. About three-fourths said they would be allowed to visit a family or friend's home alone.
Okay, so my results from the means procedure looks okay. Now what?
Next, I'm going to do a factor analysis to see if my supposition is supported of three scales related to health, beating your wife and autonomy.
Here is the code for my factor analysis.
PROC FACTOR DATA =example SCREE ROTARE= VARIMAX NFACTORS=5;
VAR gr2A -- gr39 hbs1 --d_gr12a ;
This is actually the second one I ran. In inspecting the results for the first, between the eigenvalues and scree plot, I decided that at most I should retain five factors. I've written a lot about factor analysis on this blog previously, so I'm not going to go into detail here.  In short, the decision-making variables mostly loaded on the first factor with factor loadings of .70 and higher. The median communality estimate for those items was about .67.  In short, considerable evidence for a decision-making factor. The wife-beating variables loaded on the second factor. All but one loaded above .67, and even that variable (Beating your wife if she had an extramarital affair – which 84% of the women said was accepted in their communities) loaded at .40. The variables regarding needing permission to go places loaded on the third factor and also had high communality estimates. The variables regarding going places by yourself loaded on the fourth factor and also had high communality estimates.
The health variables were a different story. Four out of six loaded between .47 and .67 on the fifth factor. The other two did not load on any factor.
It is starting to look like at this point that it is okay to retain the wife-beating items as a scale. The various measures of autonomy  – decision-making, going places on your own and needing permission – seem to hang together within factors. I think it would be reasonable to put all three of these together in one scale. I talked about parceling in the past, and I could have done that as a step here, and then re-run the factor analysis to support (or not) my supposed autonomy factor. Since I have limited time and simply doing this analysis for educational and illustrative purposes, I skipped over this to the next procedure, which is reliability analysis.
Since this post is pretty long already, I'll save that for the next post.
When I am not writing about statistics, I'm making games that teach math, social studies and language.
May
16
Someone handed me a data set on acculturation that they had collected from a small sample size of 25 people. There was a good reason that the sample was small – think African-American presidents of companies over $100 million in sales or Latina neurosurgeons. Anyway, small sample, can't reasonably expect to get 500 or 1,000 people.
The first thing I thought about was whether there was a valid argument for a minimum sample size for factor analysis. I came across this very interesting post by Nathan Zhao where he reviews the research on both a minimum sample size and a minimum subjects to variables ratio.
Since I did the public service of reading it so you don't have to, (though seriously, it was an easy read and interesting), I will summarize:
There is no evidence for any absolute minimum number, be it 100, 500 or 1,000.
The minimum sample size depends on the number of variables and the communality estimates for those variables
"If components possess four or more variables with loadings above .60, the pattern may be interpreted whatever the sample size used ."
There should be at least three measured variables per factor and preferably more.
This makes a lot of sense if you think about factor loadings in terms of what they are, correlations of an item with a factor. With correlations, if you have a very large correlation in the population, you're going to find statistical significance even with a small sample size. It may not be precisely as large as your population correlation, but it is still going to be significantly different than zero.
So … this data set of 25 respondents that I received originally had 17 items. That seemed clearly too many for me.  I thought there were two factors, so I wanted to reduce the number of variables down to 8, if possible. I also suspected the communality estimates would be pretty high, just based on previous research with this measure.
Here is what I did next :
Parceled
Parallel analysis
Factor Analysis
I can't believe I haven't written at all on parceling before and hardly any on the parallel analysis criterion, given the length of time I've been doing this blog. I will remedy that deficit this week. Not tonight, though. It's past midnight, so that will have to wait until the next post.
Update: read post on parcels and the PROC FACTOR code here
—-
My day job is making games that make you smarter. Check out our latest game, Forgotten Trail. Runs on Mac or Windows in any browser. Be more than ordinary.