Aug
30
My last post has been a while since I have been in San Jose, Oakland, San Diego and Fort Totten this month. That is just the beginning of what our Chief Marketing Officer has referred to as the 7 Generation Games World Tour.
Perhaps this would be better suited on our 7 Generation Games blog but I started writing it here so damn it, I'm finishing it here!
In addition to work for The Julia Group, like the site visit I just finished in North Dakota, I've been working feverishly on starting up the next phase of game development.
We received a $450,000 grant from the U.S. Department Agriculture Small Business Innovation Research competition for rural development. As you can see from the photo above, the areas where we are working are pretty darn rural. The photo below is the view across the street from the office in Fort Totten. The dirt you see there is the parking lot. They've been promising me for the last three years that it's going to get paved. With the new, proactive tribal council, this time it looks like it might really happen.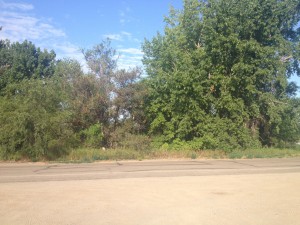 Two things related to this I'm particularly excited about because they pull together both work for The Julia Group and 7 Generation Games ….
The very first Annual Tribal Disability Conference will be held on the Turtle Mountain Reservation on October 3rd with Dr. Longie and I as the keynote speakers. We're giving a talk with the title, "On the Internet, no one knows you're disabled", discussing the great optimism people had twenty years ago about the Internet breaking down barriers and how this hasn't completely panned out. There will be several speakers talking about their personal experiences with disability – my friend and colleague, Willie Davis, who had a spinal cord injury right before his freshman year of college, an individual with a traumatic brain injury –  and lots of other people that promise to be really interesting.
Western Users of SAS Software conference in November, I will be giving a one hour workshop on Exploring Your Data with SAS Enterprise Guide. We'll be using the data from our pilot study as an example so this will be the first actual publication of our data. Yes, we did a final report to USDA but that doesn't really get as much visibility as the WUSS conference and proceedings.
Comments