Three Things I've Learned As I've Gotten Old
The most useful function Facebook has served for me is as a time machine. That is, students, friends and acquaintances I had not seen in 20, 30 or 40 years, who are in my memory as small children or teenagers all of a sudden reappear in my life as young adults with spouses and children, or old, retired people.
It's weird seeing that 8-year-old that I used to coach now 42 years old with adult children of her own. The serious, hard-working 11-year-old boy is now 27, a college graduate and new father. My fellow enthusiastic, naive graduate students are professor emeriti. How weird is that?
The first thing I have learned is that nothing lasts. The kid who was sobbing because she lost in the finals of the Junior Olympics and it ruined her life  has rarely thought about that match in 30 years. The teammate who was so in love with himself in his twenties, who always had at least two girlfriends at a time, and who I thought was an egocentric pain in the ass, now looks back on those days with amusement and embarrassment. What little hair he has left is snow white . He didn't become a movie star as he expected. He ran a Harley Davidson dealership for 30 years and is now retired in Florida.
We can love our children more than life itself, but they are still going to grow up, get jobs and families of their own and live their own lives, as they should.
The second thing I have learned is that family is what brings us the greatest joys in life, if we are lucky, and the greatest sorrows, if we are cursed and a mix of both if we are normal. All of the photos of young parents have that same lovestruck and bewildered expression, as if to say, "I love this baby" and "I have no idea what the fuck  I am doing" both at the same time.
The newly married/ newly engaged couples all have the same phrases about how lucky they are and the divorced/ separated couples mostly sound equally bitter.
When we're young we're mostly focused on careers – because how else are we going to pay for diapers and baby food and tournament entry fees and piano lessons and college tuition for those babies? When we get older, we realize it doesn't matter so much whether we are a retired professor or a retired janitor. Our grandchildren could care less.
The third thing I have learned is how lucky I am to live in the time and place that I do. Lately, in my spare time that I do not have, I have been reading a lot of history. Whether it is hygiene or women's right or economic inequality or violence in society, in the overall scheme of things, we are SO much better off than we have ever been. That's a post for another day, though, since I have to leave for Palm Springs in a few hours.
Support my day job AND get smarter. Buy Fish Lake for Mac or Windows. Brush up on math skills and canoe the rapids.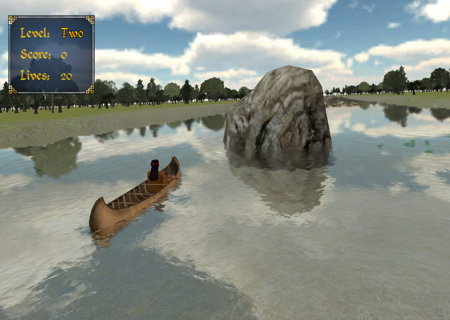 For random advice from me and my lovely children, subscribe to our youtube channel 7GenGames TV