Oct
10
Maybe when I get even older than I am now, my retirement plan will be to go to really beautiful places and learn stuff. I could take a class in Hawaii, attend a workshop in Halifax or visit museums in Venice.
Actually, that's kind of what I'm doing now. Today, I had the opportunity to talk about exploratory data analysis using the data from our pilot study of Spirit Lake: The Game . I also gave two other presentations, on factor analysis and categorical data analysis.
Much better than that, though, (for me, anyway) ,I got to learn about the ODS graphics designer, a drag and drop method of creating statistical graphs.
(Oregon Day, for the uninitiated, is a day when the Portland SAS Users Group and State of Oregon SAS Users group get together. )
After a long walk in Riverfront Park
I dropped into a tapas place nearby – Bar Andaluz for a drink and dinner. Amazingly El Fin del Verano ( a cocktail – translation, the end of summer) tastes exactly like the end of summer, plus lots of alcohol.
Having failed retirement a couple of times already, I'm trying to ease into it by working less than 11 hours a day and only working 27 days a month. Hence the walking in the park today and hiking yesterday.
Any would-be investors in The Julia Group needn't worry. At the current rate it's going to take me another decade to retire.
If you're looking to follow my plan, I can highly recommend Oregon Day to add to your itinerary next year. Even if you don't use SAS, the presentations included a lot of good information on data analysis, statistics, graphics and data mining in general. You can probably deduct the travel costs on your taxes and the event itself is free.
And seriously, there is a lot to be said for going to a place where even the ground is pretty!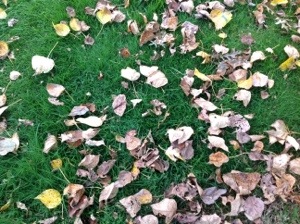 Comments