Mar
18
Let me begin by acknowledging that anyone who can afford to fly to Trinidad and Tobago to learn more about the culture and ends up pitching a reality show is in the extreme of privileged and fortunate people on this planet.
I also realize that anyone who travels as much as I do is bound to have some bad experiences as the law of averages catches up with her.
This is not one of those rants about how Airline X sucks and I will never fly them again. First of all, I fly American a lot and they are usually quite good. Secondly, you are usually lying when you say that because in many cases, you have no choice. If I'm flying into Devils Lake, North Dakota, there is one airline and that's it.
HOWEVER, since we are negotiating for said reality show to be filmed in Tobago, it's likely that my family, my staff and will be flying into Port of Spain on American Airlines a lot in the near future, I want to offer them some specific advice for how not to suck.
1. Don't lie. I don't know when it became your corporate policy to lie, but I highly recommend you stop it. I even suspect lying is making you some money in the short-term. Stop it anyway. Two different American Airlines employees told people they would have to sleep on cots set up in an auditorium because there were no hotel rooms. They gave excuses like there were a lot of festivities in the city. They said they had been trying all day and there were just no hotel rooms. Several people in front of me went off to the auditorium unhappily. I said, "I don't believe it. There is not one hotel room in the city of Miami? There is no fucking way I am sleeping on a cot. I don't believe that it is legal for an airline to have your flight delayed by hours and then tell you to sleep on the floor with no compensation." After I pushed the issue for quite a while, someone finally admitted that, yes, I could get a hotel, pay for it myself and get reimbursed through customer service. After I questioned repeatedly the truth of every hotel room in Miami being booked, they finally admitted that no, it was only the hotels with which American had contracts that were booked. It took me 30 seconds to find a nice hotel 4 miles away using the Travelocity app on my phone. Immediately, 2 other people in line did the same thing. Now, I'm sure that it saved American a lot of money that people slept on cots instead of nice hotel rooms that were not deeply discounted to American. Still, don't lie to people. That's bad.
2. Don't waste people's time. I don't know at what point American ran out of those discounted hotel rooms but there were a lot of people in front of me and behind me getting the same story. We waited in line for over an hour. If they write slow, it would have taken 145 seconds for an American Airlines employee with a marker and a piece of cardboard to put up a sign saying: Out of rooms at contract hotels. Your choices are a) Wait in line for food vouchers and sleep on a cot in the auditorium or b) Get your own room and mail in receipts for reimbursement. Hell, they could have made an announcement. Airlines announce something every 3.3 seconds anyway. All the people who wanted to get their own room could have left at that point and not wasted their time. The people who did want to go for the cot could have saved waiting behind all those other people.
3. Take responsibility. It was 100% the airlines fault that we missed our flights. The flight from Miami to Port of Spain was hours late, so the flight back was hours late. Why did it become MY responsibility to find a hotel room, pay for the hotel room and write American Airlines to get paid back? Why did I have to wait in line for 2 hours in Trinidad to get my ticket re-booked and another hour in Miami to be told to sleep on a cot? Call in extra employees to work. YOU fucked up. Why should your customers who pay you have to wait in line for a total of 3-4 hours? That's not right. Call in more staff to handle customers. Figure out how to pay for people's hotels. Give out visa gift cards. You can buy them at fucking Wal-Mart, for God's sake. As the gentleman in front of me said about himself, "I have money and I'm going to go stay at an expensive hotel, no thanks to you people. What about all of these other people who can barely afford to travel – you have older people, families with small children – they shouldn't be sleeping in a gym. That's not right."
4. Don't get self-righteous when your passengers are angry because you have lied to them, wasted their time and failed to take responsibility. When the American employee told me we would have to sleep on a cot in an auditorium, I told him, "There is no fucking way I'm sleeping in an auditorium. Are you fucking kidding me? I KNOW that the airline can't have passengers delayed overnight and just say that's too bad and I fucking GUARANTEE you that there are hotel rooms in Miami." He told me not to swear and he threatened call security on the gentleman in front of me. If your job is to deny responsibility, waste people's time and lie to them, don't be surprised when they get mad at you.
On the other hand Travelocity and your app, you rock. Hotel Colonnade in Coral Gables, we will be back for more margaritas and we loved the family loft.
And American, you can do better. I'm counting on you. We have a lot of travel coming up for that reality show and me launching myself at the next lying bastard would make good reality TV but probably not look to good on my permanent record.
Oh, and by the way, I was supposed to get in last night and I'm still sitting on the plane waiting for a gate at LAX.
Jan
17
I have several ideas for blog posts I haven't written. One is for this blog on simple statistics that answer useful questions. Three others are for my 7 Generation Games blog, on various features and functions in Javascript.
I haven't written any of them.
Instead, I wrote an annual report that was due for one project, worked on a grant proposal due soon and a final report for another project (all of these things bring me money) , attended a few meetings and worked A LOT on development of a new mobile game to teach decision-making and a major update of Spirit Lake, which teaches multiplication and division.
While I was doing this, I did not do nearly enough on promoting our games like Fish Lake
(awesome and available everywhere – Steam, Amazon and  our website)
or Making Camp (free for iPad and Android).
You know, it doesn't really matter.  The fact is that every day you will end up with some things you didn't get around to doing. There is never going to be a day when I walk into my office and say,
"That's it. I have completed all the programming. Yes, done. There is no more code to be written. Marketing, finished. Everyone has been completely managed. All budgets are completed forever. Now,  I must ride off into the sunset on my unicorn."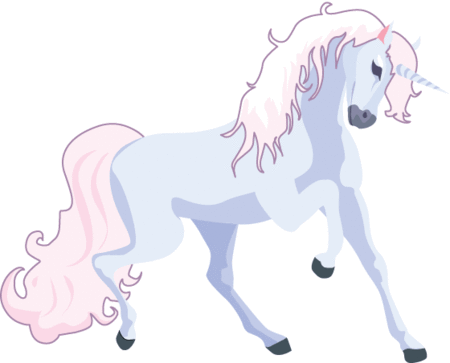 It wasn't that I wasn't interested in writing those blog posts – I was  – but at the moment, it seemed more pressing, potentially profitable and/or , to be honest, fun, to do those other things.
The older I get, the more of a long view I have and I can see that those grants get funded, contracts get done, articles get published and if you don't get it done today, at the end of the day, there's another day, because that's how time works.
As long as you are moving forward, you are making progress.
I can hear you saying, though, all the way here in Santa Monica,
Sure, that's easy for you to say, but what about those things you definitely do not want to do, like filling out your tax returns? If you just do your happy-happy programming and don't send in your 1040 then you get massive fines, go to jail and have other bad unicorn-less things happening. What about THAT?
I have two answers to that.
First of all, it is possible that you can make enough money from your other endeavors that you can pay someone to do that stuff. I am not entirely sure if 1040 is the form or the thing you put in your oil – I think that's WD40. Anyway, 15 years or so ago, I hired an accountant whose job it is to keep me out of white collar prison. She is batting 1,000 so far.
Secondly, for those things that you do have to do yourself, like renew your drivers license or attend some boring-ass required training on sexual harassment or email that person you really meant to answer or read that article or write that blog, really, the world will not implode if you didn't get it done today.
Too often, we make ourselves crazy acting as if whatever it was we didn't get done today was THE crucial element that would determine our success. Trust me, it's not.
As for me, since it is actually tomorrow, since it is almost 1 am, I'm going to have a glass of Chardonnay, read something with zero redeeming social or educational value and not worry about what I didn't get done today at all.
Jan
4
Well, it's been a minute. In fact, it's been over two weeks. I started this blog NINE YEARS AGO. That is pretty amazing. According to some guy named Patrick, who cited 'research' the average blog lasts only 100 days.
Actually, when I backtracked this statistic, I came to an Atlantic article that said the average WEB PAGE sticks around for 100 days, which seems awfully short to me.
I recall years ago reading that the average blogger persisted for about 31 days. That statistic only stuck with me because of the comment that the average blog has the lifespan of a fruit fly. I probably read that 9 years ago. Now, when I searched to find that statistic, all I came up with was blogs on the life expectancy of a fruit fly.
I did search in the university library database for a bit to find the average blogger persistence but all I found was some blogs on persistence. Humph.
When I started this blog, I wrote a lot about SAS, data analysis and statistics. I also wrote a bit about math and educational games. I am still really interested in all of those things and have far more idea for blog topics than time to write them. One topic students always struggle with, for example, is finding the area under a normal curve between two z-scores.
However, there is not enough time in the day to do everything I want to do.
If you wonder what I have been up to, lately I've been writing a series of posts on making JavaScript games using impact.js
You can read the first six posts starting here, and tomorrow, time permitting, I'm writing the seventh one on making a character.
I didn't get to it today because I just got back to work and had to debug some PHP scripts and start wading through > 2,600 emails. Almost down to 1,000.
Back to work I go.
Still, I'm pretty happy with everything I am doing and the new year is starting out well. How about you? How is your 2017 shaping up?
You can check out the games we make here.
Dec
16
I've hardly blogged, answered emails or talked to anyone these past few months. We just received funding for two games and I have been working night and day, crisscrossing the country recording voices, demonstrating prototypes, contracting for art and animation, reviewing designs and fixing bugs. 
Ah, the bugs. We have arrived at the level of complexity in our games where improving one part almost inevitably breaks some other part. After months of revision, Fish Lake will be released on Steam TODAY (not a Steam member ? You can get it on our website, runs on Mac or Windows).
Is it finished?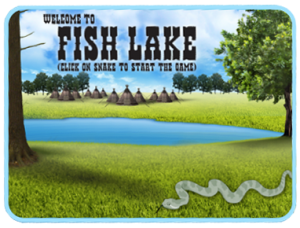 Well, as a wise man once told me, games are never finished, they're just abandoned. There are a thousand enhancements we're still planning, but we have fixed all of the bugs, tested it a hundred times, passed review, for sale on Amazon .
Now what?
Last night, I read Michael Raethel's book "It only hurts when I hit enter". It's a humor book about life as a programmer. I can guarantee that if you have spent years as a programmer you will find it funny – and familiar. I had to read aloud to my husband the prank on the guy who always claimed credit for solutions from the consultants. Maybe you wouldn't find it funny if you hadn't been there, but we had both been there. Everyone has worked with a Henry.
Reading the book made me realize how LONG I have been at this whole program endeavor. When he mentioned COBOL, I smiled and said to myself, "I remember that".
The description of the green and white lined computer paper stacked up everywhere was another memory that took me way, way back.
Then, there's yesterday when I was writing JavaScript code to have a math problem replaced with an animated rabbit when you get the right answer.
It's been a good run. I'm inside, dry and warm in my nice place by the beach while it pours down rain. If you have always had a house with heat and a roof that doesn't leak  then you probably don't appreciate that in the same way. We have plenty to eat and more toys than we need.
Still, there are times when it feels as if I have done all of this before. When I look in a filing cabinet or on my computer for a contract for consulting services, I'll find a dozen more contracts, going back a dozen years. Looking for a review of a grant, I'll come across four others, three of them funded, one of them not.
Don't get me wrong, I like programming and I like research. It's pretty amazing that I can get paid to sit and type numbers into a computer and even more amazing that those numbers can turn into a game that kids play and it raises their math scores.
And yet … In our nice building by the beach, there is a white-haired man with an office on the 12th floor, overlooking the ocean, filled with very nice furniture. He's a very successful attorney, I hear, and he is in the office every day unless he's in court. If he isn't 90 years old, he's damn close. 
Now, some people say,
"That's just what I want when I'm 90 years old – to be in full possession of my faculties, still be in demand, productive."
That is NOT what I want. Well, I want the possession of my faculties part, I mean, I don't want to be drooling on myself. However, I don't want to drop dead at my desk after having killed one last bug. 
I'm not sure what I do want but I'm sure I DON'T want to keep running like a hamster on a wheel. 
An angel investor once asked me what I planned to do once I got 7 Generation Games where I wanted it to be, played by millions of people. I said I might just sell the company and go on to whatever the next chapter in my life might be. He didn't like that answer. He said they were looking for people who were going to go off and start another company after that. He said they were looking for "serial entrepreneurs". That's a whole 'nother post , like, if you made a billion dollars the first time, you wouldn't need to be a serial entrepreneur.
Frankly, I thought mine was a perfectly fine answer. The thing about a series is that at some point it ends. Yes, Dennis, even The Simpsons will some day end.
Nov
2
When I was in my twenties, nearing the end of my competitive years, Dr. James Wooley dropped by the club to visit. If you aren't into judo, you probably don't recognize his name as a two-time Olympian. By the time I was competing on the international scene, he had retired from competition, married and was in private practice in Orange County.
I asked whether he missed competition and he shook his head,
"Oh, lord, no!"
(Did I mention he was from Texas?)
"It was great but now I'm finally finished with school, seeing patients, I have a wife and we're looking to start a family. It was great but I don't miss it at all."
From the wisdom of my twenty-something years, I did not believe him for one second. At the time, winning was the most important thing in my life. I thought about it the second my eyes opened in the morning, as I dropped to the floor and did 50 push-ups and 50 sit-ups to start the day. I dreamed about winning. I thought Jimmy was just putting a good face on being old and depressed.
Fast forward a decade or so, the first time it was the end of April and I had not even realized the national championships were happening until they were over. That used to be part of the calendar of my life – start training in January for the Nationals, win those in April. Take a break. Win whatever was the summer event – U.S. Open, Panamerican Games. Take a break.
I retired from competition, married, had more kids, earned a Ph.D., started businesses. Jimmy was right – I didn't miss it and life did not suck.
Now the kids are adults. I have to send the absentee ballot for the youngest express mail to Boston so she can vote. I'm on the fourth business. Life is good.
I'm closer to 60 than 50 now and if you had asked me to imagine that when I was in my thirties, I'm sure I would have thought it would be depressing.
I still teach judo but after several surgeries on my knees and one on my hand, I don't do it nearly as well as I once did. I have wrinkles, grey hair and investors who don't want to talk to me because we all know that innovative ideas are the monopoly of young people.
Let me tell you some of the things that DON'T suck about being old.
1. I don't have to worry about whether I will have saved enough for retirement, gotten an education, been reasonably successful in my career, raised children who were decent people. The answer is, "All of the above". Much of the anxiety I had as a younger person is gone because those questions have been answered.
2. I wear what's comfortable and I don't give a damn what anyone thinks. My feet don't hurt from wearing high heels. I don't walk around cold because wearing a sweater would cover up my girlish figure. Both of my daughters, when they got married, felt the need to tell me that jeans and a hoodie were not acceptable wedding attire.
3. I know a lot of things – from how to make banana bread from scratch to how to code a game in JavaScript to how to interpret results for ordinal logistic regression. All that 'fake it until you make it' bullshit is in the past. I'm not faking it. I really do know what it means when my estimates fail to converge or when the knife doesn't come out clean. I don't worry about anyone finding me out because there's nothing to find.
4. I like my husband and he likes me. Yes, we're both old and wrinkled and grey. He's lost 50 pounds in the last year, which shows a pretty damn impressive display of will power. He's brilliant, a great father and makes a good martini. He can help The Spoiled One with her calculus homework and our junior developers with their C# code. He's not a jerk (women in tech realize having a brilliant guy who is not a jerk is worth something in a lot of ways).
5. Life is easier. One of the advantages of being around a long time is that people get to know you. When you are young, you need to submit proposals to speak at conferences, submit articles to journals, apply for jobs. As you get older, people ask you to work/ write/ speak for them because they know from your previous work that you probably aren't going to suck. You don't have to prove yourself because you already did. (Except in the Opposite World of Silicon Valley where education and experience aren't valued – but that's a post for another day.)
Sometimes, I look at my mom, or older friends of mine, and wonder what it is like to be retired, to not have your calendar filled six months, or even 6 days, in advance. I wonder whether it sucks to have nothing you have to do in the day, to have not only your kids but your grandkids safely launched .
I'm guessing that it's probably just fine.
I'm not just sitting around getting older. I'm also making games. You can buy them here.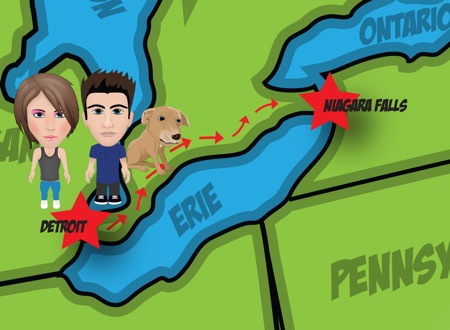 Or,
you can download a free app, Making Camp, for your iPad here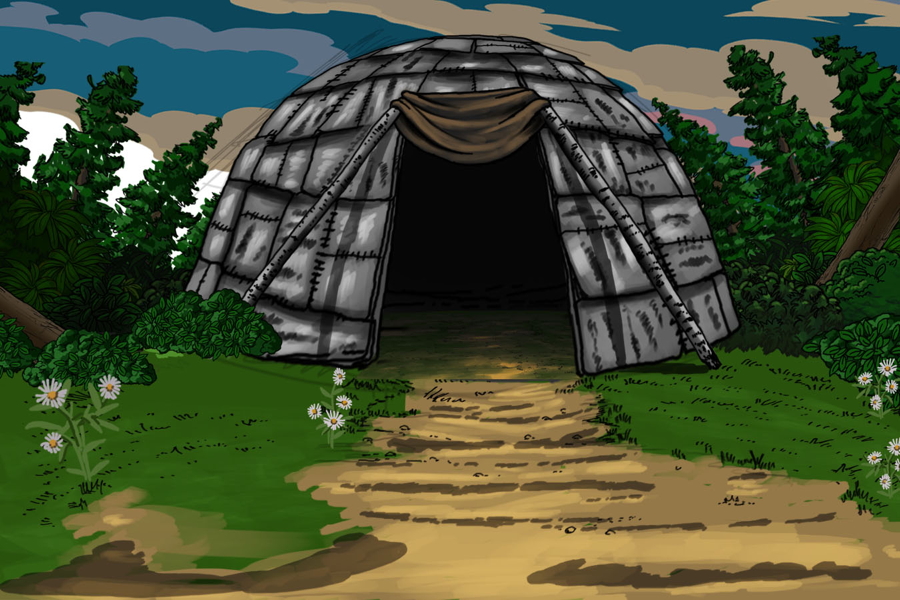 Oct
30
All of my life, I have been a woman in a "man's field". I was the first American to win the world judo championships back in 1984, one of the few women majoring in business at Washington University in St. Louis in the 1970s. I had a professor tell me and the two other women in his class that we were 'taking a spot that was needed by some man who would have to support a family'.
I was an industrial engineer at an aerospace company in the early 1980s, where there were so few women on the factory floor that it made for an interesting pregnancy as I was always trying to find where the heck was the women's bathroom and all of my co-workers, being male, had no idea.
I started a company – The Julia Group – that did customized software development, creating databases, statistical analyses for on-going evaluations.
I started another company – 7 Generation Games – that makes educational video games that teach math, social studies and language.
You know what all of these have in common? At every single level, I was subjected to standards different from men. I won the world championships and came home to have people say, "Oh, you think you know judo? Do you know this technique?"
I WON THE FUCKING WORLD CHAMPIONSHIPS! YES, I KNOW JUDO!
When I applied for my first engineering job, I was asked if I had a masters degree in engineering. I did not. I had an MBA. However, I could program in the languages required, had the math and statistics courses stated in the job requirement, oh, and did I mention that the man I replaced in that job didn't have a masters degree in engineering either nor did any of the men in my department?
How did I get the job? Well, there were some relatively esoteric languages they used, and I knew that, so I learned those on my own time and then when an opening came up and they needed someone right away, I was there. Unlike the man I replaced, who was hired on his potential and learned the languages on the job, I had to prove I could do it before they hired me.
I have run into these attempts at disqualification at every turn.
"It's not that we won't hire a woman but …"
Do you have a degree? Master? Ph.D. ?
Um, well, you do, um  , did you have a year of calculus, at least 4 years of statistics, publish articles in academic journals?
You did? Oh, well, did you present at scientific conferences? How about software conferences?
Yes, well, we see you started a company but do you have a product? Paying customers? Investors?
When I answer yes to all of that – well, is it available on Chrome, Windows, Mac, Android, in the App Store?
You see where I'm going with this. After a life time of being subjected to standards that don't apply to the men around me, I find the experience of Hillary Clinton oh so familiar.
I never voted for Hillary Clinton before but I'm going to do it now.
Seriously, if you went through every email I ever wrote, every action of mine and you couldn't find anything to nail me on so you are now going through the emails of my associates hoping to find something, you are pretty damn desperate to disqualify me.
Let's be honest for a minute, shall we? We all know that these allegations against Clinton are pretty much bullshit. She deleted 30,000 emails? So fucking what? I delete 30,000 emails A MONTH and I'm pretty sure the Secretary of State gets a lot more emails than me.
Someone on her team said something not nice about Bernie Sanders? They discussed methods to beat Sanders and Trump?
That's shocking? As Bernie Sanders, who is one of the few lights in a dark political year has said, "I bet if you looked through my staff emails you'd find some unkind things said about Hillary Clinton."
Let's address Benghazi. People died in Benghazi and that is an undeniable tragedy. People in our military and embassies have died throughout history and it is always a tragedy for their families. Why is this one instance different from all the others? Because no one ever made mistakes before?
No, it is because Hillary Clinton is a woman and there is a substantial minority in this country, male and (shockingly) female, who resent women who refuse to accept 'their place'.
The venom spewed at Hillary Clinton is familiar to me. I have had people HATE me and I would wonder, "Why? What the heck have I ever done to you?"
What I have done is defy their prejudices, that they are 'better' because they are men, even if they are pretty mediocre at what they do. That they were right to swallow their own ambitions because 'women can't do things like that'.
Honestly, if someone went through every one of your private emails, every private paper of yours, reviewed every one of your actions for the past 30 or 50 years, then went through all of the correspondence of every one you knew and THEN they only selected out whatever was most negative, how would YOU look?
I swear. I've bailed people out of jail. I've applied for grants I didn't get. I've had prototypes that were pretty buggy. Like most people, I think I'd come out looking pretty damn awful.
Be honest, it's true for you, too.
If you have taken a microscope to Hillary Clinton for the past few decades and you have to resort to now scrutinizing everyone she ever did business with in your desperation to find an excuse not to give her the job, she must be pretty damn good.
I'm tired of the witch hunt.
Check out our latest game. You can download Making Camp free for your iPad. Play with your children, hand them your iPad to do something productive or take a little break yourself (you deserve it)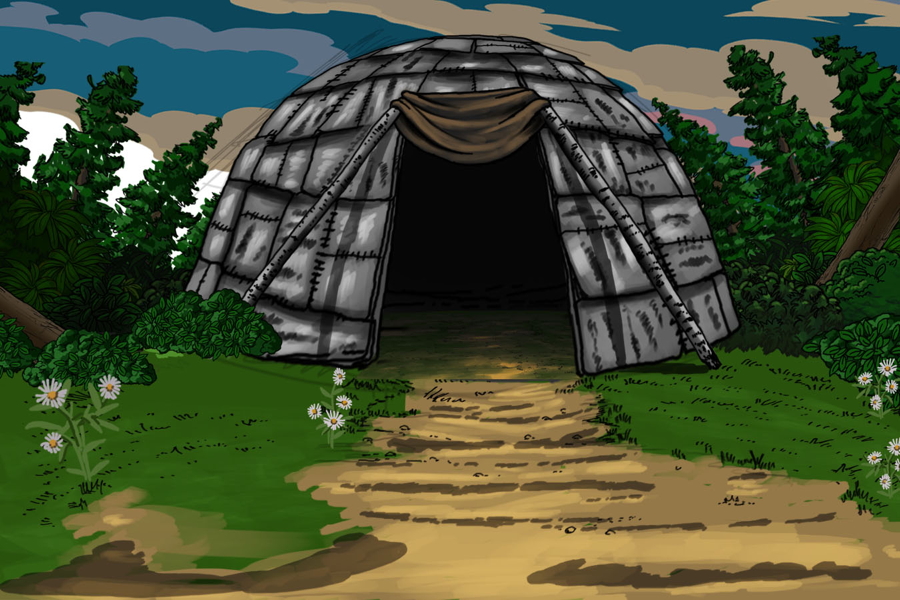 Oct
23
Gather around the fire, young and old. By my observations in social media, TV and just eavesdropping on some of you youngsters, hipsters and – I don't know what the hell to call you people hollering over there on the corner – there are some facts and experiences with which you are unfamiliar.
Let's start with 'inner cities' .
This week, I dropped someone off after a late meeting and ended up driving through Watts (known as south Los Angeles to some people – you know who you are) after 9 pm at night. It was dark, not because it is always dark in the 'inner city' but because it was night.
I stopped at a fast food place where there were a lot of men hanging around outside. All of the men were African-American or Latino. I ordered a burrito and gave the woman at the window ten bucks.
Here is what happened next ….
… She gave me the correct change and an enormous, delicious carne asada burrito. I drove away, eating my burrito, which was so gigantic my husband ate the other half when I got home.
What did you expect? I expected if there were that many people waiting for their order at that hour of night the food would be good, and I was correct.
Incidentally, on my way to dropping off my colleague at her house – yes, she has a degree, a professional job and lives in the city – we drove through downtown and were commenting on how much we both love the skyline and the main branch of the Los Angeles Public Library and wish we had time to go there more often. I mentioned that many of my co-workers when I worked at USC lived downtown and took the train in to work.
I've spent a whole lot of hours in my life in cities, mostly St. Louis, Tokyo, Minneapolis, Riverside (does that count as a city?), San Diego and Los Angeles. I've had a gun pulled on me three times in my life, two of those times by people I knew (yes, I should have a better choice of acquaintances ). Twice it happened when I was in a house in a rural area (different states, 20 years apart) and once when I was walking in the suburbs of St. Louis to visit a friend.
My point – and I do have one – is that the cities are not "hell holes" where African-American and Latino voters have it so bad that they have "nothing to lose" as a certain presidential candidate and his followers have characterized them. Yes, people do get shot in Los Angeles, including some people I have known, but people are not hunkering down in their houses, only leaving to replenish their supplies of food and bandages in some type of Mad Max scene as they barrel through the streets dodging bullets.
There are certainly problems, starting with inadequate funding for schools that desperately need maintenance, a lack of after school and recreational programs , not enough parks. There are also people sitting outside eating delicious burritos.
When I'm not eating burritos, I'm making games. You can buy them here.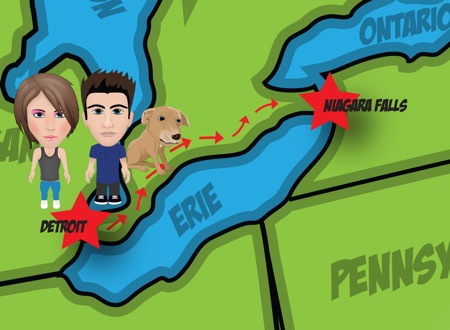 Or,
you can download a free app, Making Camp, for your iPad here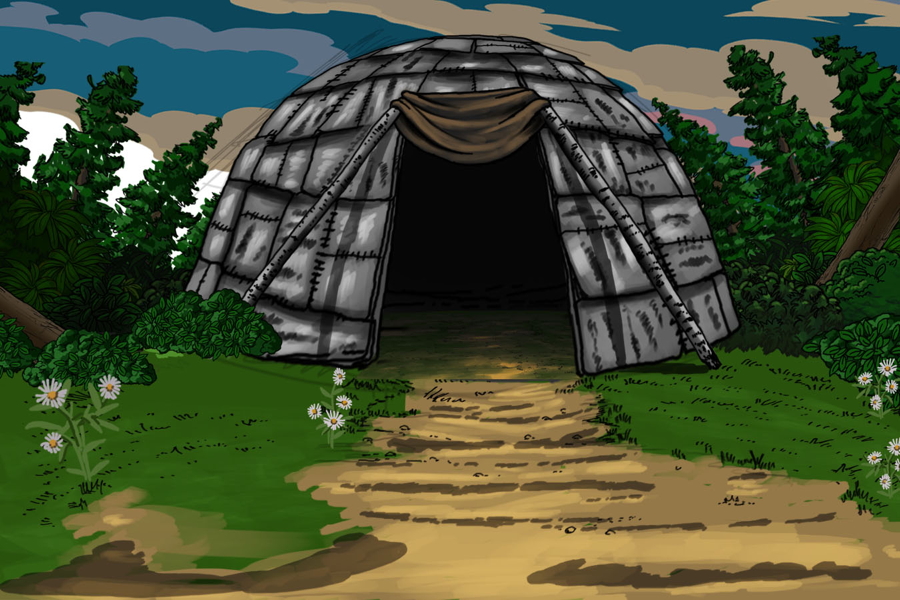 Sep
28
I've decided on my new career after we get 7 Generation Games into the hands of millions of players. I'm going to take some time off and become a travel blogger.  I'm not going to be your typical travel blogger though. You won't be reading posts from me about backpacking because that involves sleeping in the dirt and not taking showers both of which, as The Invisible Developer frequently tells me, show great  lack of appreciation for  our ancestors hard work in creating a civilization where we have houses and running water.
I'm also not going to be one of those people writing about exotic, fantastically expensive vacations all around the world. For one reason, those vacations generally entail 20 hours or more of flying, which is only considered a good time if you're really, really into masochism.
Nope, Random Travel Blog is going to be just like this blog where I basically ramble on about whatever the hell I feel like that day. In practice for that, I thought today I would talk about what you got for a roughly 972% increase in hotel costs. Just randomly, I happen to have stayed in a lot of hotels lately that ranged in price from under $60 to nearly $600 a night. Those at both ends of the spectrum were less and more, respectively, than I would have chosen to pay but happened to be the only options available in the cities where I needed to be at the time. Having a lot of experience staying in hotels across the spectrum I got to thinking about what you get when you  pay one-third as much as usual or 3 times as much and whether it is worth it. So, here are my random observations.
If a hotel is really expensive you can bet  that the location has something to recommend it. It may be a beautiful place or in a place where you need to be to do business. I recently stayed in a hotel in San Jose and the area wasn't particularly beautiful but it was close to where it needed to be early in the morning.
The inverse isn't always true. For example, here is the view a few steps from the hotel I recently stayed at in Pierre, South Dakota.
 It was actually really beautiful. However, my guess is that Pierre  is not a major travel destination. The hotel was very cheap.
If you are staying at a very expensive hotel they will have room service and the food will be good. Is that worth an extra 400 or $500? Also, of course, you're paying $50 or $100 for the food on top of the hotel room cost. Well, since I like to work late and I eat food, being able to get room service late at night is worth something to me.
Interestingly, it's the cheaper  hotels that tend to offer free breakfast. Is that worth anything to you? It's not worth much to me because I don't usually get up early enough to eat breakfast and the cheaper the hotel is the worse the breakfast, so I often wouldn't eat it even if I did get up early.
A really expensive hotel will have good service. People at the front desk won't be rude. Your room will be clean. If you ask for anything within reason, whether it is to have someone bring you a toothbrush you forgot or extra peanuts for the minibar they will bring it to you, and pretty quickly too. Expensive hotels have good security. You won't get robbed or sexually harassed.
Here's a funny thing that I have found – the things that I want most are not correlated with price – except for the not getting robbed part.
For example, I want coffee in the morning. All the cheapest hotels where I have ever stayed had a coffee maker. Some of the really expensive hotels had really nice coffeemakers and really nice coffee and others did not because they expected you to use the restaurant order coffee from room service. I find that very annoying.
Another thing that I personally need to have is good Internet access. Cheaper hotels tend to provide pre-free Internet access and it is often not terrible. Expensive hotels often charge for Internet access, I guess because they figure if you're staying there you can afford an extra $15 or $25 a day to use the Internet. Whether it is free or paid, I've generally found that my personal hotspot on my phone is faster – and yes, that includes paying for the "premium" high-speed Internet in hotels.
So, am I saying that you should stay the cheapest hotel that you can find? No. Often, really cheap hotels are in really bad parts of town where you don't want to hang out. Someone suggested to me that at our last meeting where we had to stay at a hotel that was very expensive it would have been cheaper if we got a rental car and drove into our meetings.  I disagree with that there were 2 of us who would have spent an extra 2 hours each in traffic every day. Often, whether it is flights with 3 stops or hotel rooms an hour from your destination these things are only good deals if your time has no value.
If you stay at a nicer hotel you are pretty much guaranteed good service where the cheaper ones you take your chance. This might be why you find older people more likely to stay at the higher end hotels because they need more assistance with bags or getting around the city. Also older people have more money.
Personally, I like to have a nice view and I don't mind paying extra to have a view of the city or the Bay or whatever. Sometimes, though I'm getting in somewhere after midnight and have to be up before 9 AM to get to a meeting.   In that case, I may as well stay the cheapest hotel there is – and it's pretty certain to have coffee.
Based on a whole lot of experience, I see a very large difference between most hotels that cost under $100 and hotels that cost $200 and $300 I don't see a lot of difference between hotels that cost $300 and those that cost $600 other than the latter tend to be in higher-priced cities or during events when prices get jacked up.
In short, if you have spent every one of your vacations staying at the Hilton or the Marriott and you are wondering if you are really missing out not staying at some really high-end chic location, I think you can quit worrying.
–
Sep
20
You may not know, if you only read this blog for the statistics content or the snarky comments, but I was the first American to win the world judo championships.  I sometimes ponder the value of all of those years spent training on the mat and all of the years coaching after that. It's not as if judo brought me any great fame and fortune. When I think about it though,  I often see parallels  between sport and business – or life in general.
Today, The Invisible Developer and I were discussing employees. In a startup, you can't always hire highly paid experienced staff – the budget just isn't there. Here's one of the things I've learned from all those years of judo. It's not the kid who is winning the junior national championships who is always going to be your Olympic medalist. Look for the kid who is training harder, who is willing to learn and doesn't think that he or she knows it all already. Look for the kid who is willing to make mistakes and admit those mistakes. One person may be winning all of the trophies today but if some other kid is in the gym training harder and longer that kid will eventually catch up. Maybe not this year and maybe not next but as my lovely daughter Julia says,
Life is long.
The same thing applies now when I look at employees. Someone may not know every single programming language in which I would like him/her to be proficient  or how to code a macro or use some application. However, if that person is willing to admit ignorance and eager to learn, that's a good sign.
80% of success in life is just showing up
That's what Woody Allen said but I think it's an overestimate. I think half of success is just showing up  and 30% is 
being willing to admit what you don't know,  acknowledge your mistakes and learn from them. If you find people who are what some  term "un-coachable", is because they aren't willing to learn for one of 2 reasons.
 They think they already know it all and no one could tell them anything.
 It's just too much effort to be bothered. They just don't care about getting better.
You see the exact same 2 types in business. I've told this to students, colleagues and employees:
No matter how great you are at what you do, there is a line across which it is not worth the pain in the ass of putting up with you.
If you aren't a superstar at coding or whatever it is but I see you coming in day after day and trying your best, what I have learned from judo is you are going to come out ahead of the person who is too good to bother to consider anyone else's opinions and pass up sleeping Joe over there in the corner who is just doing the minimum to get by.
Sep
7
A couple of weeks ago, I wrote a post that showed student achievement was not what made a difference in whether students persisted in playing our games. With the exception of a few students who were very low achieving, e.g., non-readers in fourth-grade and up, there was little difference in the pretest scores of students who gave up at the first math problem and those who persisted.
What did make the difference, then? My next hypothesis was that it was the teacher that made a difference. To test this hypothesis, I did an Analysis of Variance with SAS using PROC GLM. The WHERE statement was used to eliminate extreme observations from the analysis – students who had attempted more than 50 problems. Complete code is shown below.
PROC GLM DATA= teach ;
CLASS teacher ;
MODEL prob_correct_N = teacher ;

LABEL prob_correct_N = "Problems Completed" ;
WHERE prob_correct_N < 50 ;
The teacher variable explained 22% of the variance (F = 9.79, p < .0001). When grade level (grades 4-7 were included in the analysis) was added to the model, the additional explained variance was trivial – about 0.5%.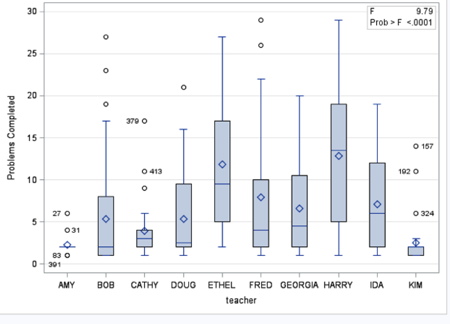 In the figure above, produced by default for this analysis when ODS GRAPHICS is on, a box and whisker plot is given for each teacher, showing mean, median and outliers (note the numbers on the plot are observation number for outliers and not a value for the dependent variable).  There are clear differences among the teachers in mean number of problems completed.
The next step (thank goodness this is a longitudinal study) is to see what those teachers are doing that explains persistence.
---
Shameless plug #1 :
I will be giving a talk at the Western Users of SAS Software conference tomorrow (Thursday, September 8, 2016) at the Grand Hyatt in San Francisco that includes a lot more detail about the use of SAS for program evaluation.
Shameless plug # 2:
You can buy the games that are the basis of these data here. Fun and educational. Run on Mac or Windows.
« go back
—
keep looking »