Is anyone out there? Tracking blog statistics
Heidi Cohen gives a lot of good advice on getting your blog noticed, very little of which I follow. For one thing, she does not begin by suggesting you have someone bring you a glass of cognac, which is how this particular post started, proving that she may know more about blogging but I'm a whole lot more fun to hang out with.
One bit of advice she did not give, though, probably because it is so obvious, is that you should track your blog statistics.
As a public service, and because I have some fingers free, now that my glass is empty, here are a few really basic suggestions for statistics to track your blog. It constantly amazes me when I run into people who have no idea how many people read their blog, when they read it or how it relates to – well, anything.
First of all, just plot the number of visits per month, as shown below. At the very least, it will let you know if the number of visits to your site is going up, going down or staying the same.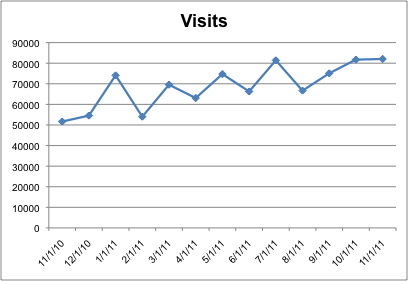 Next, you ought to know WHEN people are reading your blog. Below are a couple of graphs of my blog statistics for January and February.
A pretty clear pattern is evident. People read my blog more during the week than on weekends. Also, apparently, no one's New Year's resolution was to read my blog. In general, fewer people read my blog on Monday and Friday compared to other weekdays. That doesn't surprise me. I presume a lot of the readers are people like me, who begin Monday morning with a lot of work that came in over the weekend and don't have time for more leisurely activities like reading blogs. On Friday, of course, we're trying to get work done so we don't have to worry about it over the weekend.
I thought perhaps I had written a really good post on January 11, since there seemed to be a jump in visits that day. It was on using SAS On-Demand to teach statistics. I have no idea why that seemed to be of interest to so many people. Slow news day?
On the other hand, when I look at the OTHER blog I write, on judo, which generally gets less than one-sixth the traffic of this blog. On March 4th, I see a big jump.
March 3rd was the day my daughter won the Strikeforce World Title fight and the next day, people checked out my blog to see what I had to say about it. I know that was the reason, and not just random searches on her name on Google because another blog statistic I check is the referring sites. Most of the visits came directly to my site, NOT as a result of a link from somewhere else.
Here is another interesting chart. This is from my statistics blog – this one – for March
You might say that there was no effect of the fight – and why would there be? You certainly don't see a big peak as with the judo blog. Think back to what I said a few paragraphs back, though. Usually, Saturday and Sunday are the low visit days, followed by Monday. Instead, Sunday and Monday had the most visits that week. The fact that Monday's post was on statistics applied to predicting Ronda's fight might have helped.
Whatever your reason for blogging, here is my advice to you – look at your blog statistics.
I write my blog for two reasons,
a.) the hell of it
b) to have a record of ideas, problems, solutions in statistics and programming.
Even though fame and fortune is not on that list, because I like statistics, I look at statistics for everything. Even if you don't like statistics (SHREAK!) I can still think of a lot of reasons why you ought to be monitoring your blog data, ESPECIALLY if you are seeking fame and fortune.
If you don't know if your blog traffic is rising, how many visits you receive, when, and what affects those numbers, why, you're just wandering in the fog.