Oct
14
I will be the first to admit that I'm not the warm fuzzy type. Maybe you're like me, you'd like to do good for your community but you just can't see yourself as a physician.
Maybe your bedside manner is to snap at someone to quit being a whiner.
Or maybe you really are a sweet kind person but you are not very extroverted. You just can't see yourself looking someone in the eye and asking them to tell you about their problems at home. Perhaps you really genuinely care about children in your community and really would like to help them succeed in school but the thought of speaking in front of the 30 people makes you break out into a cold sweat – even if the 30 people are all under 13 years old.
Maybe, like me, you really like math. To be specific, maybe you really like analyzing data, looking for correlations, inspecting distributions. Maybe, you really like programming. Or that's what we called it in my day – now all the cool kids call it coding.
Does that mean that we are condemned to be a bunch of Silicon Valley dwelling, Soylent swigging, soulless drones with nothing to keep us warm at night but our stock options? In fact, quite the opposite! These last few years I have been having a lot of fun working with statistics in two very different ways.
First of all, I've been working with our team at 7 Generation Games to make adventure games that teach statistical concepts.
Let me give you an example. Some items are more valuable than others. Why? Try to figure  it out by looking at this distribution.
Players can click on this interactive graph for help reading it. They have a sentence written with blanks to fill in to model academic language.
Once a student answers one or two questions in the game correctly, the reward is being able to play a related game – in this case, collecting items in the jungle. As you might guess, the more common items are worth less in the game.
Here is a second example. Below, we have a section of our 3D game where the player is building a pyramid.
To build your pyramid fast enough that the Emperor doesn't decide to chop off your head, you want to get stronger than average workers. What is an easy way to determine if you have stronger than average workers? Find the median!
Players can also click a button to switch the page to an explanation in Spanish.
Just because we were all out last night at the Latino Tech meet-up to celebrate Hispanic Heritage Month, don't assume everything we make it is focused on Latinos.
Here is yet another example of teaching statistics in a game, this one re-tracing the Ojibwe migration.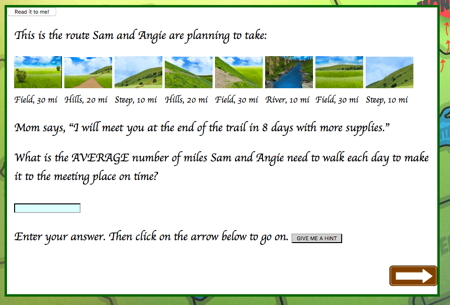 In this case, the player computes an average to figure how many miles need to be walked per day to get to the end of the trail in eight days.
Get this question right and you can play the next level, where you canoe down the river to meet up with your old uncle who will – surprise – pose another statistics problem before you can move on to the next level.
So, there you have it! You can apply your knowledge of statistics to create adventure video games that teach students. As you can see, you also can apply knowledge of programming to meet the special needs of students whether it is to have a page read to them (did you notice the read it to me button in the page above?) Or to have it translated into a second language.
I'll bet that you thought I was going to talk about using statistics to evaluate whether the games worked. That, is a post for another day.
_______
You can buy Forgotten Trail now. Only $4.99 . Yep, under five bucks. Runs on Mac, Windows or Chromebook.
Oct
13
To be honest, when I first began studying statistics social justice never entered the equation. Like most people in America, I think, I was concerned about problems like crime, poverty, low educational attainment of minority groups. Like most people, my concern didn't translate into much actual effort on my part.
No, I took my first statistics course because it seemed really interesting. I made a C+ in it because it was Monday, Wednesday and Friday afternoons and the fraternity parties started on Friday afternoon, so I missed every third class. When later research of mine showed a negative correlation between absenteeism and grades I was not surprised. I had personal experience. I mentioned this too, because I have seen too many women and minority students discouraged from science and technical fields when they were not at the top of the class right away.
It's a very long journey for my first statistics class in 1978 to now. Although I started learning statistics because I was just very interested in what I would call "messing around with data" and I like programming a lot, along the way I learned something interesting.
A lot of money is allocated based on statistics. Maybe not directly so, not very often does someone say to you,
"That's a very interesting statistic. Have $9 million!"
Statistics do come into play. About 1/4 of a century ago, I realized that grant money often did not go to the program where the funds were needed most or the staff were most effective. No, they went to the programs that would best at writing grant proposals. These proposals included statistics on needs assessment and evaluation of prior efforts. Often, people who were really good at helping low income students raise their academic achievement or getting people with substance abuse disorders off of drugs were nowhere near as good at writing grant proposals.
For all of those proposals, statistics were required. What proportion of students in the target schools are achieving below grade level? What was the distribution of test scores of students in the previous three years and how does that compare to the state or national average? What evidence is there that the proposed program for academic enrichment will have any impact on the students at all?
Often, my very well meaning colleagues disagreed with the necessity for this type of analysis, even while they appreciated me doing it and made good use of the grant funds. Their point of view was that they knew what worked in their classrooms or clinics.
Personally, I feel that if all I had done in my career was bring tens of millions of dollars in grant money to programs that apply those funds to do good in their communities that would have been a satisfactory accomplishment. However, I'd like to argue that I did a little bit more good than that because I disagree with some of my esteemed colleagues that, "I know it when I see it",  is adequate for determining program effectiveness.
I can give you many many reasons why statistics are essential. First of all, something I have seen over and over in my career is that what gets measured gets done. If you are measuring the number of tutoring sessions or the number of times students play your games or the duration of those sessions, that allows you to correlate the "dose" of treatment your students received with the "response" in terms of increased achievement.
Many times, I have seen programs that were initially judged ineffective because everyone who came through the door was lumped together whether they were seen 10 times, once or not at all, having left before they ever saw a tutor counselor or whatever. Tracking your interaction with people allows you to determine whether you are effective for people who spend some substantial amount of time with your program. It also lets you tell what percentage of the people fall through the cracks that is who come in, fill out a form to be part of your program and then drop out almost immediately.
In brief, effective application of statistics cannot only help you obtain money but also see that money from federal agencies, foundations, etc. is intelligently applied.
If you are interested, I will be speaking at the Society For the Advancement Of Chicanos And Native Americans In Science annual conference in Long Beach on  Saturday , Discovery and Societal Impact with Statistical Science. You can come to hear much more on this topic (or just read my next blog post).
———
Check out our latest game we will soon be using to collect data. You can download Making Camp free for your iPad. Play with your children, hand them your iPad to do something productive or take a little break yourself (you deserve it)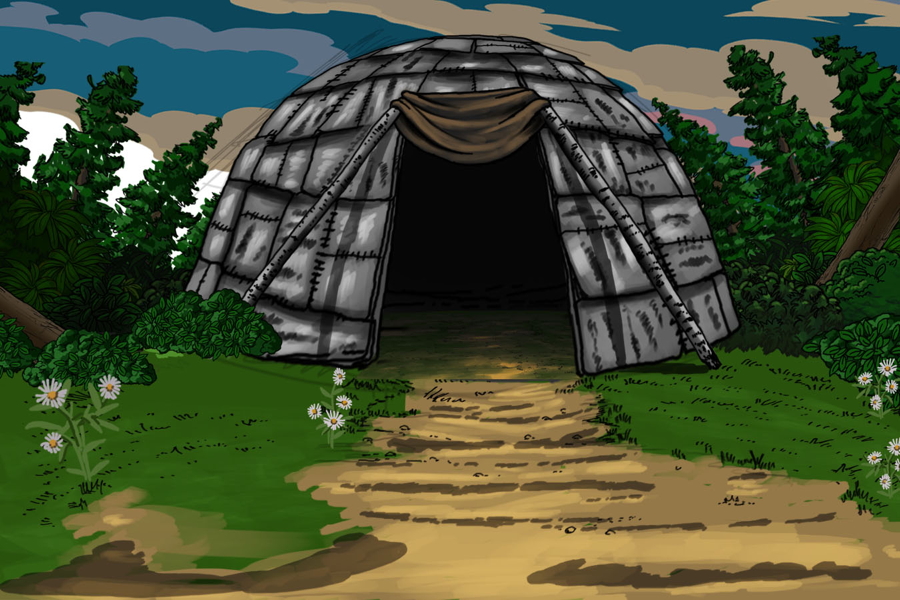 Jul
20
If I were to give one piece of advice to a would-be program evaluator, it would be to get to know your data so intimately it's almost immoral.
Generally, program evaluation is an activity undertaken by someone with a degree of expertise in research methods and statistics (hopefully!) using data gathered and entered by people's whose interest is something completely different, from providing mental health services to educating students.
Because their interest in providing data is minimal, your interest in checking that data better be maximal. Let's head on with the data from the last post. We have now created two data sets that have the same variable formats so we are good to go with concatenating them.
DATA answers hmph;
SET fl_answers ansfix1 ;
IF username IN("UNDEFINED","UNKNOWN") or INDEX(username,"TEST") > 0 THEN OUTPUT hmph;
ELSE OUTPUT answers;
PRO TIP : I learned from a wise man years ago that one should not just gleefully delete data without looking at it. That is, instead of having a dataset where you put the data you expect and deleting the rest, send the unwanted data to a data set. If it turns out to be what you expected, you can always delete the data after you look at it.
There should be very few people with a username of  'UNDEFINED' or 'UNKNOWN'. The only way to get that is to be one of our developers who are entering the data in forms as they create and test them, not by logging in and playing the game.   The INDEX function checks in the variable in the first argument for the string given in the second and returns the starting position of the string, if found. So,  INDEX(username, "TEST") > 0 looks for the word TEST anywhere in the username.
Since we ask our software testers to put that word in the username they pick, it should delete all of the tester records. I looked at the hmph data set and the distribution of usernames was just as I expected and most of the usernames were in the answers data set with valid usernames.
Did you remember that we had concatenated the data set from the old server and the new server?
I hope you did because if you didn't you will end up with a whole lot of the same answers in their twice.
Getting rid of the duplicates
PROC SORT DATA = answers OUT=in.all_fl_answers NODUP ;
by username date_entered ;
The difference between NODUP and NODUPKEY is relevant here. It is possible we could have a student with the same username and date_entered because different schools could have assigned students the same username. (We do our lookups by username + school). Some other student with the same username might have been entering data at the same time in a completely different part of the country. The NODUP option only removes records if every value of every variable is the same. The NODUPKEY removes them if the variables in the BY statement are duplicates.
All righty then, we have the cleaned up answers data, now we go back and create a summary data set as explained in this post. You don't have to do it with SAS Enterprise Guide as I did there, I just did it for the same reason I do most things, the hell of it.
MERGING THE DATA
PROC SORT DATA = in.answers_summary ;
BY username ;
PROC SORT DATA = in.all_fl_students ;
BY username ;
DATA in.answers_studunc odd;
MERGE in.answers_summary (IN=a) in.all_fl_students (IN=b) ;
IF a AND b THEN OUTPUT in.answers_studunc  ;
IF a AND NOT  b THEN OUTPUT odd ;
The PROC SORT steps sort. The MERGE statement merges. The IN= option creates a temporary variable with the name 'a' or 'b'. You can use any name so I use short ones.  If there is a record in both the student record file and the answers summary file then the data is output to a data set of all students with summary of answers.
There should not be any cases where there are answers but no record in the student file. If you recall, that is what set me off on finding that some were still being written to the old server.
LOOK AT YOUR LOG FILE!
There is a sad corner of statistical purgatory for people who don't look at their log files because they don't know what they are looking for. 'Nuff said.
This looks exactly as it should. A consistent finding in the pilot studies of assessment of educational games has found a disconcertingly low level of persistence. So, it is expected that many players quit when they come to the first math questions.  The fact that of the 875 players slightly less than 600 had answered any questions was somewhat expected. As expected, there were no records where
NOTE: There were 596 observations read from the data set IN.ANSWERS_SUMMARY.
NOTE: There were 875 observations read from the data set IN.ALL_FL_STUDENTS.
NOTE: The data set IN.ANSWERS_STUDUNC has 596 observations and 11 variables.
NOTE: The data set WORK.ODD has 0 observations and 11 variables.
So, now, after several blog posts, we have a data set ready for analysis ….. almost.
---
Want to see these data at the source?
Check out our game, playable on Mac or Windows. Download Spirit Lake or Fish Lake  to play, or for Forgotten Trail, just click on the link provided, no download required.
You can also donate a copy of the game to a school or give as a gift.
Further Reading
For more on SAS character functions check out Ron Cody's paper An Introduction to Character Functions, an oldie but goodie from WUSS back in 2003.
Or you could read my last post!
This paper by Britta Kelsey from SAS Users Group International in 2005 will tell you more than you want to know about the NODUP and NODUPKEY.
Jul
10
Occasionally, a brave student will ask me,
When will I ever use this?
The "this" can be anything from a mixed model analysis to nested arrays. (I have answers for both of those, by the way.)
I NEVER get that question when discussing topics like filtering data, whether for records or variables, because it is so damn ubiquitous.
Before I headed out to be, literally, testing in the field (you can read why here) , I was working on an evaluation of the usability of one of our games, Fish Lake.
I had expected to find a correlation between performance and persistence but it didn't quite turn out that way because the players who had 100% of the problems correct skewed the results.
My next thought was that many students played the game for a very short time, got the first answer correct and then quit. I decided to take a closer look at those people.
First step: from the top menu select TASKS, then DATA, then FILTER AND SORT
Second step:  Create the filter. Click on the FILTER tab, select from the drop-down menu the variable to use to filter, in this case the one named "correct_Mean" , select the type of filter in the next drop-down menu, in this case EQUAL TO and in the box, enter the value you want it to equal. If you don't remember all of the values you want, clicking on the three dots next to that box will bring up a list of values. You can also filter by more than one variable, but in this case, I only want one, so I'm done.
Third step:  Select the variables. Steps two and three don't have to be done in a particular order, but you DO have to select variables or your procedure won't run, since it would end up with an empty data set. I do the filter first so I don't forget. I know the filter is the whole point and you're probably thinking you'd never forget that but you're probably smarter than me or never rushed.
If you click the double arrows in the middle, that will select all of the variables.  In this case, I just selected the two variables I wanted and clicked the single arrow (the top one) to move those over.
Why include correct_mean, since obviously that is a constant?
Because I could have made a mistake somewhere and these aren't all with 100% correct. (Turns out, I didn't and they were, but you never know in advance if you made a mistake because if you did then you wouldn't make it.)
I click OK and now I have created a data set of just the people who answered 100% correctly.
For a first look, I graphed the frequency distribution of the number of questions answered by these perfect scorers.  To do this,
Go to TASKS > GRAPH > Bar Chart
2. Click on the first chart to select it, that's a simple vertical bar chart

3. Click on the DATA tab and drag correct_N under column to chart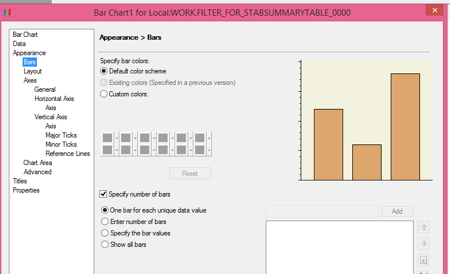 4. Under APPEARANCE click the box next to SPECIFY NUMBER OF BARS. The default here is one bar for each unique data value, which is already clicked. Caution with this if you might have hundreds of values, but I happen to know the max is less than 20.
I thought I'd find a bunch answered one question and a few answered all of the questions and maybe those few were data entry errors, say teachers who tested the game and shouldn't be in the database. When I look at this graph, I'm surprised. There are a lot more people who had answered 100% correctly than I expected and they are distributed a lot more across the number of questions than I expected.  That's the fun of exploratory data analysis. You never know what you are going to find.
SO, now what?
---
Want to see the game that generated these data? Canoe rapids, catch fish and learn fractions.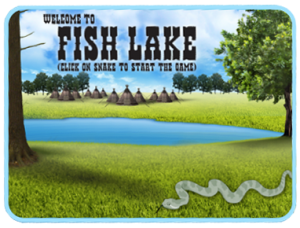 ---
So, now what?
I want to find out more about the relationship among persistence and performance. To do this, I'm going to need to merge the answers summary data set with demographics.
I'm going to go back to the Summary Data Set I created in the last post (remember that one) and just filter variables this time, keeping all of the records.
Again, I'm going to go to the TASKS menu, select DATA then FILTER AND SORT, this time, I'm going to have no filter and select the variables.
Since the pop-up window opens with the VARIABLES tab selected, I just click the variables I want, which happens to be "correct_N"," correct_mean" and "username", click the single arrow in between the panes to move them over, and click OK at the bottom of the pop-up window. Done! My data set is created.
You can always click on PROGRAM from the main menu to write code in SAS Enterprise Guide, but being an old dinosaur type, I'd like to export this data set I just created and do some programming with it using SAS. Personally, I find it easier to write code when I'm doing a lot of merging and data analysis. I find Enterprise Guide to be good for the quick looks and graphics but for more detailed analysis, the old timey SAS Editor is my preference.  If you happen to be like me, all you need to do to output your data set is click on it in the process flow and select EXPORT.
You want to export this file as a stand-alone data set, not as a step in a project. Just select the first option and you can save it like any file, select the folder you want, give it the name you want. No LIBNAME statement required.
And it's a beautiful sunny day in Santa Monica, so that's it on this project for today.
—–
Jun
26
In the last post, I used SAS Enterprise Guide to filter out a couple of 'bad' records that came from test data, then I created a summary table of the number of questions answered and the percentage correct. Then, I calculated the mean percentage correct for the  around 84%. That seemed a bit high to me.
Having (temporarily) answered the first question regarding the number of individual subjects and the average percent of correct answers from the 424 subjects, I turned to the next question:
Is there a correlation between percentage correct and the number of questions attempted? That is, do students who are getting the answers correct persist more often?
Since I had both variables, N and the mean correct (which, since this was score 0= correct, 1= incorrect gave me the percentage correct) from the summary tables I had created in the previous step, it was a simple procedure to compute the correlation.
I just went to the TASKS menu, selected MULTIVARIATE and then CORRELATIONS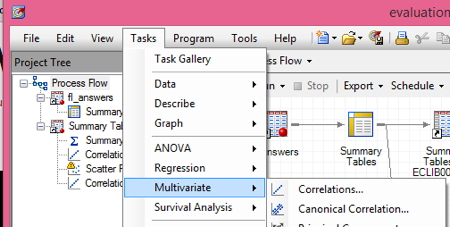 Under ANALYSIS VARIABLES correct_ N for the 'correct' variable, which is a variable that holds whether the  student answered correctly, 0(= no) or 1(=yes).  Under CORRELATE WITH I dragged correct_mean, which has the percentage each student answered correctly.
Since it is just a bivariate correlation and the correlation of X with Y = the correlation of Y with X , it would make absolutely no difference if I switched the spots where I dragged the two variables.
I click run and I get a somewhat unexpected result, you can see here, with a correlation of -.07.
I also note that the minimum number of answers attempted is 1. Now, I have done (and published) analyses of these data elsewhere, as this is an on-going project.
---
Other analyses from this same project can be found in:
Telling Stories with Your Data and
---
Because of these analyses of 'Fidelity of Implementation', that is the degree to which a project is implemented as planned, I am pretty sure that these data include a large proportion of students who only had the opportunity to play the game once.
So … I decided to run a scatter plot and check my suspicion. This is pretty simple. I just go to the TASKS menu and select GRAPH then SCATTER PLOT.
I selected 2-D Scatter Plot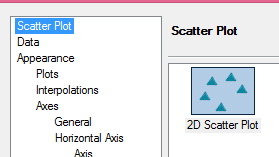 Then, I clicked on the DATA tab, dragged correct_Mean under Horizontal and Correct_N and vertical, then clicked RUN.
This produced the graph below.
Now, this graph isn't fancy but it serves its purpose, which is to show me that there IS in fact a correlation of mean correct and the number of problems attempted. Look at that graph a minute and tell me that you don't see a linear trend – but it is pulled off by the line of 1.0 at the far end.
This did NOT fit my preconceived notion, though, that the lack of correlation was due to the players who played once, and so there would be a bunch of people who had answered 1 or 2 questions and got 100% of them correct. Actually, those 100-percenters were all over the distribution in terms of number of problems attempted.
This reminds me of a great quote by Isaac Asimov,
The most exciting phrase to hear in science, the one that heralds new discoveries, is not 'Eureka!' (I found it!) but 'That's funny …'
Well, we shall see, as our analysis continues …
---
Want to see these data at the source?
Check out our game, playable on Mac or Windows. Download Spirit Lake or Fish Lake  to play, or for Forgotten Trail, just click on the link provided, no download required.
You can also follow the link above to donate a copy of the game to a school or give as a gift.
Jun
20
The government is extremely fond of amassing great quantities of statistics. These are raised to the nth degree, the cube roots are extracted, and the results are arranged into elaborate and impressive displays. What must be kept ever in mind, however, is that in every case, the figures are first put down by a village watchman, and he puts down anything he damn well pleases.
Josiah Stamp
Any time you do anything with any data your first step is to consider the wisdom of Sir Josiah Stamp and check the validity of your data. One quick first step is using the Summary Tables task from SAS Enterprise Guide. If you are not familiar with SAS Enterprise Guide, it is a menu driven application for using SAS for data analysis. You can open a program window and write code if you like, and I do that every now and then but that's another post. In my experience, SAS Enterprise Guide works much better with smaller data sets – defined by me, as the blog owner, of less than 400,000 records or so. Your mileage may vary depending upon your system.
How to do it:
Open SAS Enterprise Guide
Open your data set – (FILE > OPEN > DATA)
From the TASKS menu, select DESCRIBE and then SUMMARY TABLES. The window below will pop up
Drag the variables to the roles you want for each. Since I have less than 450 usernames here, I just quickly want to see are there duplicates, errors (e.g. 'gret bear' is really the same kid as 'grey bear' , with a typo). I also want to find out the number of problems each student attempted and the percent correct. So, I drag 'username' under CLASSIFICATION VARIABLES and 'correct'  under ANALYSIS variables. You can have more than one of each but it just so happens I only have one classification and one analysis variable I'm interested in right now.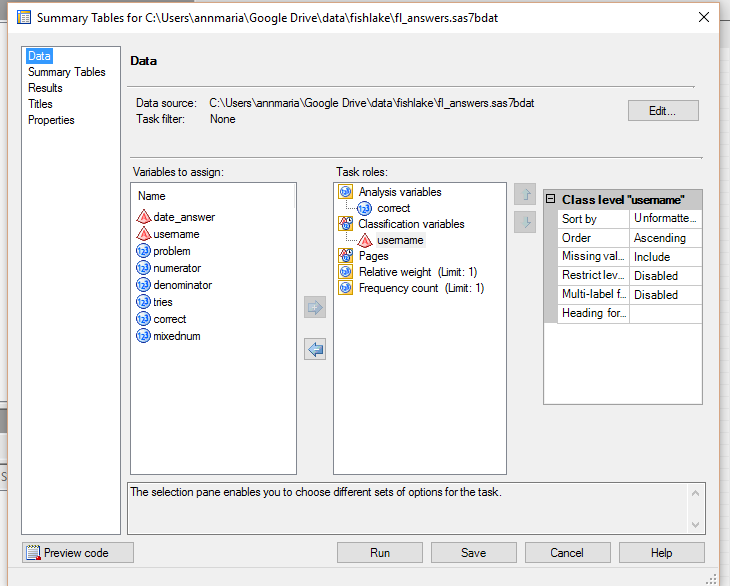 5. Next click on the tab at left that says SUMMARY TABLES and drag your variables and statistics where you want them. I want 'username' as the row, so I drag it to the side, 'correct' as the column, N is already filled in as a statistic if you drag your classification variable to the table first. I also want the mean, so I drag that next to the N. Then, click RUN.
Wait a minute! Didn't I say I wanted the percent correct for each student? Why would I select mean instead of percent?
Because the pctN will simply tell me what percent of the total N responses from this username make up. I don't want that. Since the answers are score 0 = wrong, 1= right, the mean will tell me what percentage of the questions were answered correctly by each student. Hey, I know what I'm doing here.
6. Look at the data! In looking at the raw data, I see that there are two erroneous usernames that shouldn't be there. These data have been cleaned pretty well already, so I don't find much to fix.
Now, I want to re-run the analysis deleting these two usernames.
7. At the top of your table, you'll see an option that says "Modify Task". Click that.
8. You'll have the summary tables window pop up, this time with your data filled in.  Click on the edit button at the top right of this window. You are about to create a task filter.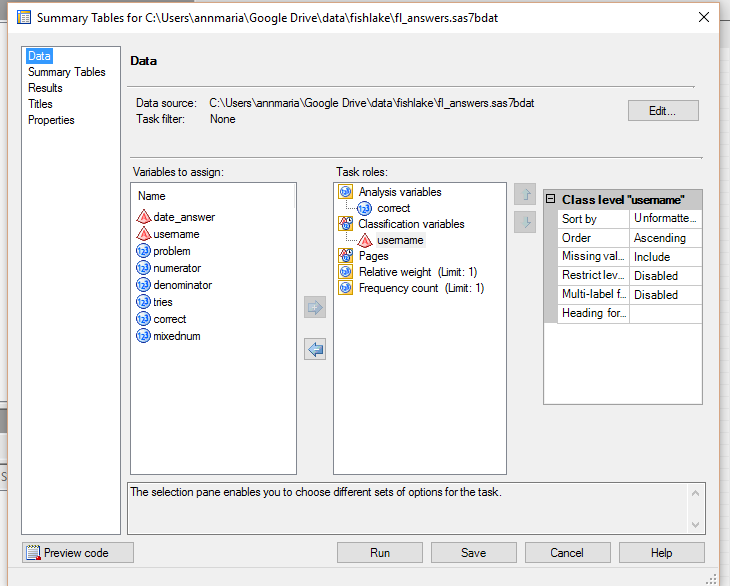 8. Under TASK FILTER pull down the first box to show the variable 'username'. Pull down the second box to show the option NOT EQUAL TO and then click the three dots next to the third box. This will pull up a list of all of your values for usernames. You can select the one you want to exclude and click OK.  Next to the three dots, pull down to select AND, then go through this to select the second username you want to delete. You can also just type in the values, but I tend to do it this way because I'm a bad typist with a bad short-term memory.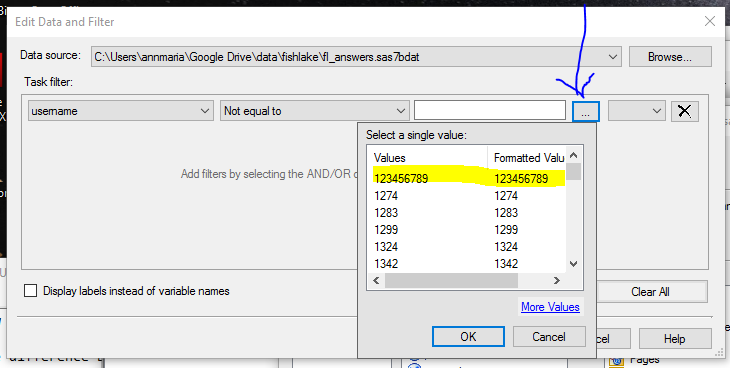 9. Create a SAS dataset of the output. It's super easy. Click on the RESULTS tab to the left and in the window that pops up click SAVE RESULTS TO A DATA SET. Then, click RUN.
   10. The most recently created data set should be your default data set for analysis but click on it in your process flow diagram to activate it just in case.
11. From the DESCRIBE menu again select SUMMARY STATISTICS
12. Drag 'correct_mean' under ANALYSIS VARIABLES and click RUN.
The resulting table gives me my answer – the mean is .838 with a standard deviation of .26 for N=424 subjects.  So … the average subject answered 84% of the problems correctly. This, however, is just the first step. There are couple more interesting questions to be answered with this data set before moving on. Read the next step here. 
————–
Want to play the game that produced these data? Own a Mac or Windows computer? Have ten bucks?
May
26
Where we left off, I had created some parcels and was going to do a factor analysis later. Now, it's later. If you'll recall, I had not find any items that correlated significantly with the food item that also made sense conceptually. For example, it correlated highly with attending church services but that didn't really have any theoretical basis. So, I left it as a single variable. Here is my first factor analysis.

proc factor data= parcels rotate= varimax scree ;
Var socialp1 – socialp3 languagep spiritualp spiritual2 culturep1 culturep2  food;

You can see from the scree plot here that there is one factor way at the top of the chart with the rest scattered at the bottom. Although the minimum eigen value of 1 criterion would have you retain two factors, I think that is too many, for both logical and statistical reasons.  The eigenvalues of the first two factors, by the way, were 4.74 and 1.10 .
Even if you aren't really into statistics or factor analysis, I hope that this pattern is pretty clear. You can see that every single thing except for the item related to food loads predominantly on the first factor.
The median factor loading was .79, and the factor loadings ranged from .49 to .83 .
These results are interesting in light of the discussion on small sample size. If you didn't read it, the particular quote in there that is relevant here is
"If components possess four or more variables with loadings above .60, the pattern may be interpreted whatever the sample size used ."
Final Communality Estimates: Total = 5.845142
| | | | | | | | | |
| --- | --- | --- | --- | --- | --- | --- | --- | --- |
| socialp1 | socialp2 | socialp3 | languagep | spiritualp | spiritual2 | culturep1 | culturep2 | food |
| 0.67438366 | 0.72223020 | 0.64287274 | 0.80080260 | 0.34260318 | 0.46790413 | 0.70885380 | 0.69821549 | 0.78727573 |
These communality estimates are also relevant but it is nearly 1 am and I have to be up at 6:30 for a conference call, so I'll ramble on about this some more next time.
May
20
First of all, what are parcels? Not the little packages your grandma left on the table in the hall when she came back from shopping. Well, not only that.
In factor analysis, parcels are simply the sum of a small number of items. I prefer using parcels when possible because both basic psychometric theory and common sense tells me that a combination of items will have greater variance and, c.p., greater reliability than a single item.
Just so you know that I learned my share of useless things in graduate school, c.p. is Latin for ceteris paribus which translates to "other things being equal". The word "etcetera"  meaning other things, has the same root.
Know you know. But I digress. Even more than usual. Back to parcels.
As parcels can be expected to have greater variance and greater reliability, harking back to our deep knowledge of both correlation and test theory we can assume that parcels would tend to have higher correlations than individual items. As factor loadings are simply correlations of a variable (be it item or parcel) with the factor, we would assume that  – there's that c.p. again – factor loadings of parcels would be higher.
Jeremy Anglim, in a post written several years ago, talks a bit about parceling and concludes that it is less of a problem in a case, like today, where one is trying to determine the number of factors. Actually, he was talking about confirmatory factor analysis but I just wanted you to see that I read other people's blogs.
The very best article on parceling was called To Parcel or Not to Parcel and I don't say that just because I took several statistics courses from one of the authors.
To recap this post and the last one:
I have a small sample size and due to the unique nature of a very small population it is not feasible to increase it by much.I need to reduce the number of items to an acceptable subject to variables ratio. The communality estimates are quite high (over .6) for the parcels. My primary interest is in the number of factors in the measure and finding an interpretable factor.
So… here we go. The person who provided me the data set went in and helpfully renamed the items that were supposed to measure socializing with people of the same culture 'social1', 'social2' etc, and renamed the items on language, spirituality, etc. similarly. I also had the original measure that gave me the actual text of each item.
Step 1: Correlation analysis
This was super-simple. All you need is a LIBNAME statement that references the location of your data and then:
PROC CORR DATA = mydataset ;
VAR  firstvar — lastvar ;
In my case, it looked like this
PROC CORR DATA = in.culture ;
VAR social1 — art ;
The double dashes are interpreted as 'all of the variables in the data set located from var1 to var2 ' . This saves you typing if you know all of your variables of interest are in sequence. I could have just used a single dash if they were named the same, like item1 – item17 , and  then it would have used all of the variables named that regardless of their location in the data set. The problem I run into there is knowing what exactly item12 is supposed to measure. We could discuss this, but we won't. Back to parcels.
Since you want to put together items that are both conceptually related and empirically – that is, the things you think should correlate do- you first want to look at the correlations.
Step 2: Create parcels
The items that were expected to assess similar factors tended to correlate from .42 to .67 with one another. I put these together in a ver simple data step.

data parcels ;
set out.factors ;
socialp1 = social1 + social5 ;
socialp2 = social4 + social3 ;
socialp3 = social2 + social6 + social7 ;
languagep = language2 + language1 ;
spiritualp = spiritual1 + spiritual4 ;
culturep1 = social2 + dance + total;
culturep2 = language3 + art ;

There was one item that asked how often the respondent ate food from the culture, and that didn't seem to have a justifiable reason for putting with any other item in the measure.
Step 3: Conduct factor analysis
This was also super-simple to code. It is simply
proc factor data= parcels rotate= varimax scree ;
Var socialp1 – socialp3 languagep spiritualp spiritual2 culturep1 culturep2  ;
I actually did this twice, once with and once without the food item. Since it loaded by itself on a separate factor, I did not include it in the second analysis. Both factor analyses yielded two factors that every item but the food item loaded on. It was a very nice simple structure.
Since I have to get back to work at my day job making video games, though, that will have to wait until the next post, probably on Monday.
—–
Be more than ordinary. Take a break. Play Forgotten Trail. I bet you have a computer!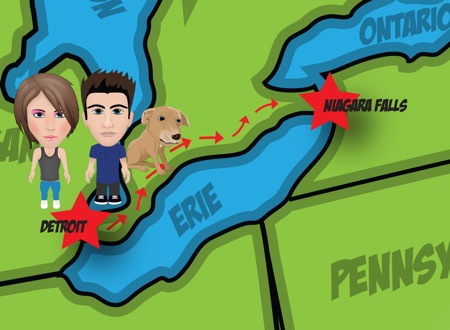 Learn and have fun. More productive than fruit crush, candy ninja or whatever the heck else it is you or your kids are playing.
May
16
Someone handed me a data set on acculturation that they had collected from a small sample size of 25 people. There was a good reason that the sample was small – think African-American presidents of companies over $100 million in sales or Latina neurosurgeons. Anyway, small sample, can't reasonably expect to get 500 or 1,000 people.
The first thing I thought about was whether there was a valid argument for a minimum sample size for factor analysis. I came across this very interesting post by Nathan Zhao where he reviews the research on both a minimum sample size and a minimum subjects to variables ratio.
Since I did the public service of reading it so you don't have to, (though seriously, it was an easy read and interesting), I will summarize:
There is no evidence for any absolute minimum number, be it 100, 500 or 1,000.
The minimum sample size depends on the number of variables and the communality estimates for those variables
"If components possess four or more variables with loadings above .60, the pattern may be interpreted whatever the sample size used ."
There should be at least three measured variables per factor and preferably more.
This makes a lot of sense if you think about factor loadings in terms of what they are, correlations of an item with a factor. With correlations, if you have a very large correlation in the population, you're going to find statistical significance even with a small sample size. It may not be precisely as large as your population correlation, but it is still going to be significantly different than zero.
So … this data set of 25 respondents that I received originally had 17 items. That seemed clearly too many for me.  I thought there were two factors, so I wanted to reduce the number of variables down to 8, if possible. I also suspected the communality estimates would be pretty high, just based on previous research with this measure.
Here is what I did next :
Parceled
Parallel analysis
Factor Analysis
I can't believe I haven't written at all on parceling before and hardly any on the parallel analysis criterion, given the length of time I've been doing this blog. I will remedy that deficit this week. Not tonight, though. It's past midnight, so that will have to wait until the next post.
Update: read post on parcels and the PROC FACTOR code here
—-
My day job is making games that make you smarter. Check out our latest game, Forgotten Trail. Runs on Mac or Windows in any browser. Be more than ordinary.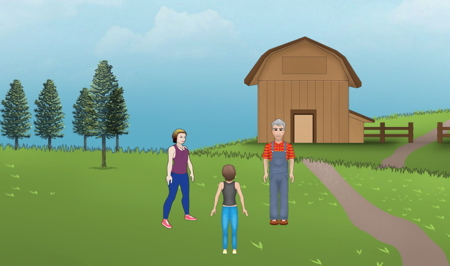 May
2
At first, I was thinking it wasn't right to have a favorite paper, but then I realized that was idiotic. It's not like these papers (or their presenters) are my children.
My favorite paper was,
Statistical modeling for large complex data: Five new directions from SAS/STAT software
If you're not a statistician, props to you for reading after that first sentence, especially since some of the lessons apply to any conference.
You don't always have to present or attend presentations on whatever is shiny and new. The techniques he presented, like GLMSELECT, a method for selecting the best model is not brand new. I remember when it was first added to SAS/STAT and thinking it was a way cool idea I should use – but, then, I didn't. As you can see from the graph above, it can be pretty easy to select the best model. Looks a lot like a scree plot, doesn't it?  This also further supports my point that visual displays of data, like the one above, are everywhere and taking over. Now that I have been reminded of its existence, I'm looking for a use for it so I can really remember it. Unfortunately, this is a method for general linear models and what I am most interested in right now has a binomial outcome, whether a player finished a game or not.
Don't stop learning when you go home. I remembered that there was also an example in this paper that used HPGENSELECT for generalized linear models, including binomial distributions. So, I am going to try that out with this dataset. One of the areas where I am improving is actually reading all of those papers I mean to get around to when I get home. Whether it is a paper you attended, but is now jumbled around in your brain with the other 25 sessions, or one you could not attend because it conflicted with something else, when you get home, you should read it. Conferences can be expensive and you want to get the most out of that time and money you spent.
Of course, I learned about sparse regression, quantile regression, classification and regression trees and more, which you can, too if you follow my advice from #2.
Okay, well there is a lot more to say about SAS Global Forum and my adventures with HPGENSELECT but we have a new game, Forgotten Trail, coming out for sale tomorrow, so back to work.
———-