May
17
Many people have commented how ironic it is that I'm writing computer games these days because I'm one of the least playful people you'll meet.
I have a confession to make, although confession is perhaps the wrong word because I don't feel the least bit bad about it.
Playing with small children bores me.
Don't get me wrong – I love my children and grandchildren and I would do anything for them. I taught my children to read, took them to soccer/ judo/ track/ swim practice , to piano/ bassoon / guitar/ drum lessons and ballet / tap/ hip-hop classes. I worked thousands of hours of overtime to pay for camps in Europe, in marine biology, private universities.
And yes, I went to the park, played with my little ponies, pushed children on swings, threw them up in the air (and caught them – any problems they have are NOT because they were dropped on their heads at a young age no matter how much their behavior during adolescence might lead you to believe otherwise). I read The Perfect Jennifer her favorite book – Where the Wild Things Are – so many times that I still have it memorized years after she finished graduate school.
AND YET …. when I hear those women rave about sitting down with their children and eating carrot sticks while they played with my little ponies together were the most fulfilling moments of their lives, I think to myself,
What? Are you fucking kidding me?
And apologies to the nice man at SAS Global Forum who reminded me that some people read my blog at work and asked me if I could not swear quite so much. I did post four days in a row on factor analysis and no swearing was involved, so I made a good faith effort, I really did.
Seriously, though, that's what fulfills you? My little ponies?
Because as I was listening to my granddaughter talk about my little ponies what was going through my head was how I could use a statistical test for the difference in sample proportions to prove that a set of data I was asked to analyze was fraudulent. I'll probably post about that next week. I was also intrigued by the very simple way the Muthuens had demonstrated comparison of competing factor solutions by using a table showing the chi-square, RMSEA and presence/ absence of Heywood cases.
When my four-year-old granddaughter told me she wanted to be a princess when she grew up I told her,
Princesses suck and I hate princesses. They're useless and they don't DO anything.
To which my darling daughter number one responded that "we" don't say "hate" and "we" don't say "suck" and I believe she muttered under her breath something about it being a wonder that she turned out normal with a mother like me. Obviously, this is a new meaning of the word "we" that doesn't include the other person.
I am certain that I muttered under my breath, "Well, it's true. They DON'T do anything useful."
As penance I was forced to go to Disneyland and visit the Pavilion of Princesses. My granddaughter ADORED it. I was bored out of my mind by the princesses but the radiant look on her face DID make it worth taking a day away from work and paying Disneyland the equivalent of the median annual income in many countries for seven of us to eat churros and buy random pink crap bearing the stamp of useless women a.k.a. princesses.
The truth is, as much as I truly loved my children – and I had three under age five while working on my PhD – at the end of each day, when they were all asleep, I sighed deeply, sat down and read books on multivariate statistics and matrix algebra and was satisfied with life. I did NOT wish they would wake up so we could dress up like princesses.
There you have yet another of the 55 things I have learned in (almost) 55 years – you can be bored to death by Curious George, Strawberry Shortcake and every other thing designed to appeal to people with the mind of a three-year-old and still be a good mother.
It reminds me of a story I heard about someone who had a son who was crazy about baseball. The father bought season tickets, attended every home game and when the team made the World Series he flew to whatever city it was being held in to attend the games. When someone said to him,
I never knew you loved baseball so much.
He replied,
I don't. I think baseball is the most boring game ever invented. But I love MY SON that much.
May
15
Being able to find SPSS in the start menu does not qualify you to run a multi-nomial logistic regression.
This is the kind of comment statisticians find funny that leaves other people scratching their heads. The point is that it's not that difficult to get output for some fairly complex statistical procedures.
Let's start with the confirmatory factor analysis I mentioned in my last post. Once you get past the standard stuff that tells you that your model terminated successfully, the number of variables and factors, you see this:
Chi-Square Test of Model Fit
Value                              8.707
Degrees of Freedom                 8
P-Value                           0.3676
The null hypothesis is that there is no difference between the patterns observed in these data and the model specified. So, unlike many cases where you are hoping to reject the null hypothesis, in this case I certainly do NOT want to reject the hypothesis that this is a good fit. As you can see from my chi-square value above, this model is acceptable.
Another measure of goodness of fit is the root mean square error of approximation (RMSEA).
RMSEA (Root Mean Square Error Of Approximation)
Estimate                           0.011
90 Percent C.I.                    0.000  0.046
Probability RMSEA <= .05           0.973
An acceptable model should have an RMSEA less than .05. You can see above that the estimate for RMSEA is .011, the 90 percent confidence interval is 0 – .046 and the probability that the population RMSEA is less than .05 is 97.3%. Again, consistent with our chi-square, the model appears to fit.
…………………………………………………………Two-Tailed
…………………Estimate       S.E.  Est./S.E.    P-Value
F1       BY
Q1F1               1.000      0.000    999.000    999.000
Q2F1               1.828      0.267      6.833      0.000
Q3F1               1.697      0.235      7.231      0.000
F2       BY
Q1F2               1.000      0.000    999.000    999.000
Q2F2               1.438      0.291      4.943      0.000
Q3F2               1.085      0.191      5.687      0.000
Here are the unstandardized estimates. By default the first variable for each factor is constrained to a value of 1, so, of course, there is no real standard error, probability or standard error of estimate. It isn't really an estimate, that was set. Let's look at the other two. Since they are unstandardized the more useful measure for us is the estimate divided by the standard error of the estimate, for example 1.828/ .267 . This is done for us in the column under Est. / S.E.  and in that case comes out to 6.833. You interpret these values in the same way as any z-score, with 1.96 as the critical value, and you can see in the last column that all of my variables loaded on the factor hypothesized with a p-value much less than .05.
The next thing I look at is the residual variances. At this point my only concern is that I *not* have a residual variance that is negative. It makes no sense that you would have a negative variance because (among other reasons) variance is a sum of squares and squares cannot be negative. Also, in this case, the commonality is greater than 1, meaning you have explained over 100% of the variance in this variable by its relation to the latent construct. This also makes no sense. These are referred to as Heywood cases and explained beautifully here (even though the linked documentation is from SAS it applies to any confirmatory factor analysis).
The final thing I want to look at, for right now, anyway, is the R-squared
R-SQUARE
Observed                                        Two-Tailed
Variable        Estimate       S.E.  Est./S.E.    P-Value
Q1F1               0.142      0.032      4.473      0.000
Q2F1               0.475      0.065      7.256      0.000
Q3F1               0.438      0.061      7.123      0.000
Q1F2               0.174      0.045      3.883      0.000
Q2F2               0.376      0.078      4.827      0.000
Q3F2               0.179      0.044      4.057      0.000
You can see that the r-square is pretty decent overall. These are interpreted just like any other R-square values. I didn't show the standardized factor loadings here but just take my word for it that the R-squared values are the standardized loadings squared. So this is the variance in q1f1, for example, explained by factor 1.
I started this whole thing working with Mplus to do a factor analysis and overall, I'd have to call it a pretty painless experience.
May
14
Here are four more of Dr. De Mars 55 things I have learned in (almost) 55 years, and that is that there are four thing students should have learned in school but often didn't.
1. Say what you mean. I don't know who those teachers are who reinforce students for using longer words, longer sentences and writing more pages but I hope someone finds them and beats them senseless with The Elements of Style , which nearly a century after it was first published I still think is one of the best books on writing out there. When you write,
In the experiment under discussion we utilized two conditions in the manner such that one group of the subjects referred to in the preceding paragraph received no treatment, that is, they were what is referenced as the control group. The other group, that is the second group, which was the group receiving our treatment described in the section under procedures which follows is hereafter referred to as the treatment group. A treatment group is defined by Academic-Guy (2012) as …
instead of,
Subjects were randomly assigned to either a treatment or control group.
You may think the first example makes you sound intelligent and well-educated but it doesn't. It makes you sound like you learned English by watching the Power Puff Girls and imitating Mojo Jojo. People – clients, your boss – are busy, and grant applications have page limits.
2. Don't be a pain in the ass. I wrote a post about this, Why the cool kids won't hang out with you. In brief, no matter how smart you are, if you constantly run down your co-workers, flaunt the policies of your organization and are rude to your boss, at some point they will replace you with an equally smart person who is less of a pain. This may sound hypocritical because if you have been reading this blog for long you are well aware that I swear, don't do mornings and, if I have to wear a suit, I charge extra. However, I work with clients that are cool with that.
Really points 1 & 2 generally reveal a person trying to prove that he or she is smarter than the other people in the room. That usually reflects an underlying insecurity. I have met some absolutely brilliant scientists and businessmen/women. None felt the need to try to impress me. I was already impressed when I met them, and I'm sure that was the reaction they got from almost everyone.
3. Mean what you say. If you say you will be in the office at 8 a.m., be in the office at 8. I tell clients I will be in by 9:30 or 10 if necessary because I know there is no way on God's earth I am dragging myself out of bed at 7 a.m. It's not happening. On the other hand, they know that if I say I will be in by 10, I will. If you say you can write programs in Perl or are experienced creating multi-media PowerPoint presentations, then when I ask you to do that, you should be able to do it. [I don't really need anyone to do either so if you are applying for our summer intern position, you don't need to mention these. It was just an example.]
4. Learn to code. It doesn't matter what language. It's absolute bullshit that once you know one programming language you know them all, but it is certainly true that once you have the idea of loops, arrays, properties, methods, classes, extend, functions and a few dozen other key concepts, it will be much easier for you to pick up a second, third or fourth programming language. The Perfect Jennifer is an amazingly great history teacher and she is in one of the minority of fields where you can not do any programming and have a decent, stable job. Did I mention she is amazingly great, and works an enormous amount of extra hours? However, if you are planning on going into consulting, management or a large number of other fields, knowing how to code will help you immensely. Even our Chief Marketing Officer, who only focuses on marketing, has done a little coding and has some idea of the constraints of developing a new product. I'm so convinced of the personal and professional value of learning at least a little bit of programming that I have gone back to requiring it in my statistics courses. Often students don't learn to code because they underestimate themselves. They believe programming is done by people who are smarter, more focused or in some way better than them. That's simply not true and learning to code will give them both more skills and more confidence.
So, those are four more things I have learned in (almost) 55 years and that I think any student graduating should learn as well.
May
11
There are, or so I have heard, people who are energized by parties, meet-ups and social events. I am not one of those people.
If I had my choice, I would never go to any gathering larger than our family dinners for the rest of my life. It's not that I don't enjoy talking to intelligent people nor that I don't appreciate all of the great people that I get to work with in the course of the year – I really do. However, I have to confess, that is a fringe benefit. What I am most interested in doing is sitting at my computer solving problems. If there was some way to get anyone else to go to the meet-ups, demos, conferences and pitches, I would do it.
Most of our staff at The Julia Group is like that. When meet-ups or other networking opportunities there is more whining than taking a kindergarten class to church.
"Oh, man, do I *have* to go?"

"I just went last time."

"Can't I go next time?"

"Isn't it somebody else's turn?"
In fact, we DID hire someone, our new Chief Marketing Officer to handle these responsibilities because I got so tired of hearing the whining from everyone, including me. Now I only go when she tells me that I have to – and I still whine.
In my experience, most meet-ups will have from zero to one good point that  is worth knowing. Usually that comes from whoever they have as a speaker, but not always. You'll meet, if you are lucky, one interesting person with whom you wish to follow up, several people who want to sell you stuff and a couple of people who have an idea and are looking for someone to give them money so they can pay someone else to make it. Yet, I still go because that one point is worth hearing and the one person is worth knowing.
Here are five points I have learned from start-up meet-ups. Since you read my blog you can tell your CMO that you get to skip the next five (she probably won't buy it, but it's worth a try).
1. Cash is more than king. – From Jenny Q. Ta , founder of sqeeqee.com This advice from a highly successful founder confirmed what I have thought for years. At one point our company rented an office because I thought we should have one to look like a "real company". Almost no one ever went there. Most of us work at home and we have people in several states. Now we Skype, FaceTime , email or meet in the office downstairs in my house. If we need a conference room, I rent one at the business center a half-mile away. Sometimes people are unimpressed that we still haven't permanently moved out of the downstairs, but what we save on renting offices for a dozen people goes a long way to making sure we are in the black every month. If you have a healthy cash flow, you can get by without investor money for a long time.
2. Put off taking investor money as long as you possibly can – This is another good tip from Jenny Q. Ta The sooner in the game that investors come in, the more of a risk they are taking and the larger percentage of your business they are going to want.
I find it ironic that the two things that might impress a casual observer – paying for office space and getting angel investor money are the exact points that she argued against. (She's not the only one, check Paul Hawken's wonderful book Growing a Business). We have people putting in considerably more hours than they are getting paid for a share of the business – those are co-founders and that is the best investment we can get because not only is it equivalent to funds but it brings the talent with it.
3. Don't believe everyone knows more than you. I heard this at a General Assembly start-up event and it is worth repeating. There was a time when I thought all of these people spouting so confidently that the target market for their product was in the hundreds of millions (it isn't) or that the best choice for an application was Ruby (it wasn't) knew so much more than me. Now I realize that many of them are just posturing. They're either trying to sound confident for investors, or they just have a different world view than me. I'm a statistician. If I tell you we'll make $5 million on a product I believe there is a greater than 50% chance based on the facts at my disposal. Others, if they say they'll make $500 million are basing it on an assumed 5% chance and convinced they'll make it with the right strategy.
4. Find a co-founder or two. I believe the optimal number of co-founders is three. More than that, you dilute decision-making too much. Less, and you probably haven't covered all of the key skills.
The fifth and most important thing I have learned and I have heard it several times – most of success is just keeping working even when it's hard and frustrating.
Speaking of which, I was taking a break from revising our first game to write this post but now I'm going to get some sleep and hit it in the morning.
(And there you have five more things I have learned in almost 55 years.)
May
6
Two questions I get asked occasionally are:
Do I get paid to write nice things about software?
Why don't I write more about things I DON'T like?
1. No. The only one who pays for my blog is BlogHer – which is the ads you see – and they don't seem to care what I write as long as people read it. The checks from them pretty much cover my Chardonnay bill. Incidentally, they pay WAY better than Google AdSense.
2. My original reason for writing this blog was to remind myself of stuff. Ever see that comic where the kid raises his hand and asks the teacher
"May I be excused from class? My brain is full."
Well, my brain is like that a lot. At any given time I may go from javascript to jquery, impact.js, SAS, PHP, SQL to giving a lecture on logistic regression. I forget stuff. That terrific site, really cool application, a function that allowed me to do exactly what I wanted, so I write it down here to remember the next time I need to know something like that.
Here is a fact: A lot of stuff sucks.
There are over 1,000,000 books on Amazon. It's a lot more productive to write about a book I read that was good than the 867,345 books on Amazon that are mediocre or worse. You'll find something good much faster by looking for stuff that's good than ruling out everything that sucks.
Whether you're talking about a mobile app, a new suite of software or added functions or formats, there will be a lot that are boring, useless or just plain suck. It just seems really inefficient to waste my time writing about them unless the rise to a truly notable level of suckiness – and most things don't, they don't even excel at sucking and will fade out of the general consciousness, sinking under the weight of their own mediocrity.
I honestly don't understand people who spend a lot of time writing about the stuff they DON'T like.
May
6
I highly recommend, The Dip,  a short book by Seth Godin that lauds the value of quitting. I wrote about this at greater length on my other blog on judo and life, under the topic, "Know when to hold 'em and know when to fold 'em." where, being the horrible mean old woman that I am, I suggested that giving up trying to make the Olympic team, going back to school and getting a real job might be a better path for some people.
Or in the words of not one, but two of my professors in graduate school, at two different institutions thousands of miles apart, the 19th thing I have learned in (almost) 55 years is
"Never play with a stacked deck."
The deck might be stacked against you for a number of reasons. One of the professors who told me that was an African-American woman and at the end of the academic year, she left for another university. She was right that she would probably never get the job she wanted at that university. Her research wasn't African-American studies – it was policy analysis, and she taught not multi-cultural something or other but statistics. She could have stuck around hoping to get tenure and make them see that she really was just as good, just as smart – or she could have gone to another university where they already knew that.
The other professor was white, male and vice-president of a major corporation who had come to teach in the MBA program for a year because he felt like it and he was rich and important, so there. We were glad to have him. He was a great professor. He pointed out there are times that you are not going to get what you want, because, say, the company was a family business and the owner's son was going to end up as president no matter how wonderful you are. It could also be that there is an entrenched group and they are not going to support you in your job no matter what you do. They've worked together for twenty years and you just came in here because the boss hired you over them. One of the students asked,
"Isn't that letting them win if you just give up and leave?"
The professor answered,
"Or, you could stay there for five years and fight them and maybe after five years, bring them around to recognize your contribution to the team and support you. In the meantime, you've wasted five years when you could have been working somewhere else where people got behind you and got the job done and been five years further ahead in your career. So tell me, what did you win?"
Sometimes, it's not people that have stacked the deck against you. Maybe you have had too many injuries to come back and compete. That may sound hypocritical since I won the world championships with a knee missing all the cartilage and 2/3 the ligaments. The fact is, I was lucky and if I had taken one more shot that took out that last ligament, I would have been done not just competing but probably walking.
So, that brings me to my 20th thing,
Know what you are willing to risk.
In the case of competing, I was willing to risk never walking again without crutches. Thank God for the medical advances in knee replacements or I'd be on crutches now. Right now, I'm making half the money I could be making because I'm spending a lot of time on starting up 7 Generation Games and not taking any new consulting clients.
This might sound hypocritical again, because isn't doing a start-up something for only young people? As Vivek Wadhwa said, isn't it true that the average venture capitalist portfolio consists solely of white and Asian males barely old enough to shave? So isn't this playing with a stacked deck?
Not at all. We may not get $10 million in venture capital but I'm okay with that (really). We have learned not to trade our lives for stuff. We're pretty happy with life because we've learned not to want too much what we haven't got.
We're willing to risk some of our own funds and half (or more) of our time for two or three years to make this game happen. Looking at the progress we've made so far, the people we have working with us and the work we are all doing, I am pretty optimistic, but it's a risk. If it doesn't succeed, I will be disappointed, we all will. Then, we'll pick ourselves up and after some swearing and possibly a martini or two, we'll go on to the next idea, because we have learned that failure is never permanent and neither is success.
See how it all fits together – it's like Legos.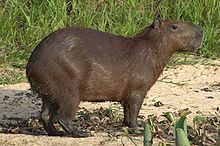 I know that's actually a picture of a capybara and not Legos, but you see, I didn't have a picture of Legos and I had this one of a capybara and I really do like capybaras.
Which brings me to my twenty-first thing I have learned …
You'll be a lot happier in life if you don't  take yourself too seriously.
Apr
28
Okay, well, I lied (sort of). I have no idea what will happen at the SAS Academic Reception tomorrow except that it will be from 2-4 pm and I will be there. Also, there is a panel where people (including me) will be answering questions from the audience about how they use SAS in teaching.
Also, there is usually free food, so if you are at SAS Global Forum, you should come, especially if you are a graduate student because
a> You may learn something useful to your future academic career,
b> If you are a graduate student, you are probably broke and hey, free food.
My notes on things I want to mention  ….
SAS web editor
Can run on any device (almost) – windows, pc , ipad
tip: can use your phone as a personal hotspot if you only have the wifi enabled ipad.
can upload SAS files into the project directory with just the upload
can also upload excel files (I think you need to code the PROC IMPORT )
Much faster than the enterprise guide version & doesn't require Windows
Can run enterprise guide on the mac but need to use bootcamp, not a virtual machine (unless it has changed since the last time I tried it)
Advantage of Enterprise Guide – process flow gives visual representation of logic of project.
MAJOR (dis)advantage is no need to learn programming
Tasks with specified roles for dependent variable, independent, nesting etc. is helpful in teaching statistics
for both the web editor and enterprise guide i extend class time by making movies of how to install (in the case of EG) and how to use the products for specific assignments. This gets around problems of slow wireless in the building or even uncertainty of wireless availability
Originally began making videos available on-line before and after class at the request of two students for whom English was a second language but since then many other students have downloaded the videos and now I just do it as a matter of course.
SAS has a lot of instructor material available. Unlike much documentation which is only read as a last resort, I HIGHLY recommend that you read theirs.
With all of these positives being said, I have two points to add, one plus and one minus
Using SAS whether it is in a wired desktop computer lab or on an iPad with a personal hotspot from your iPhone takes prep time and quite a bit of it. If I was teaching statistics along with three other completely different courses, I don't think I would have time for it.
I strongly recommend if you are planning on using SAS with your class (& I recommend it) that you start in the summer. Decide what problems you want to do to and run the solutions (I had a teaching assistant for this). If using open data, which I also recommend, select the data sets you want, then clean up the data and create a code book (I had a teaching assistant for some of this as well)
It's fabulous when your students have their own interests and want to do a project that is original research – but that usually means you are going to help them find, download, clean and upload the data.
The plus you may not considered is using SAS in teaching even when you are not teaching statistics, or when your students are not quite to the point of doing programming themselves. I get asked from time to time to speak at elementary and middle schools on what statisticians do, on statistics in general, and SAS is great for producing graphs and tables matched with the interests of the students in the classes. Sometimes, I have them send me questions ahead of time and show up with the answers
Apr
21
Several years ago, I was fortunate enough to attend a lecture by Albert Bandura, arguably the greatest living psychologist. To almost anyone who ever took an undergraduate psychology course, he is best remembered for his Bobo doll study, where he found that young children who observed aggressive behavior being reinforced (on a doll), were more likely to be aggressive themselves – that is, modeling and vicarious reinforcement contributed to aggression.
This talk wasn't about that. It was about happiness.
Dr. Bandura was talking about one of his studies on happiness and I remember him saying that one of the strongest predictors of happiness in the subjects in his study was, "an absence of self-ruminative thoughts."
I've always thought rumination was slightly disgusting. It's what cows and other ruminants do, defined as "to chew again what has been slightly chewed and swallowed". Turns out, not only is the physical kind of rumination a bit yucky but the mental kind is particularly bad for you.
We all do it sometimes – wonder what that cute guy in physics class thinks of me, did he notice I wore a particularly nice outfit today or that I got the answer right to that especially difficult question the professor asked, does he think maybe I'm too pushy calling out the answers in class, maybe that answer really wasn't perfect even though the professor said it was correct. Maybe there was a more complete answer and I left out part of it. Would it have been better if I mentioned how it related to the section we just read on forces? And on and on.
I'm pretty happy most of the time and I attribute a lot of it to having missed home economics class on the day they brought all of the girls together and told them that they needed to evaluate themselves constantly and in parts. I have never, ever understood the women and girls I meet who say, "I think my nose is ugly. My butt is just too big. I'd be so much happier if I could just lose a few pounds. My hair looks awful like this."  And on and on.
Here is what I think when I get up in the morning and look in the mirror.
I look fine.
Then I brush my teeth and my hair and go on with my day. The world of full of people both prettier and uglier than me. I'm over it.
What Bandura said is that the happiest people were focused outward. Mihaly Csikszentmihalyi said something very similar, that we are happiest when we are absorbed in an activity. When I am happiest is when I'm working – designing a program, reading research, writing code. When I was young, what made me happiest was when I was doing judo, running track, or yes, writing code which we called programming back then because we weren't cool enough to call ourselves software developers.
I went to a start-up event a couple of weeks ago, and the very best comment I heard from any of the speakers was this,
"Quit telling  yourself that everyone knows more than you. First of all, they don't and secondly it doesn't matter. If you keep working at whatever it is you're doing, you'll get better."
Quit thinking about you and start thinking about the task at hand. It's probably the secret to success and it's definitely the secret to happiness.
And that's #18 of 55 things that I've learned in (almost) 55 years.
Apr
19
While I agree with  much of what entrepreneur/ professor/ author Vivek Wadhwa writes, I think his latest article in the Wall Street Journal is a little off target. He says,
Why would any company pay a computer programmer with out-of-date skills a salary of say $150,000, when it can hire a fresh graduate — who has no skills — for around $60,000?
This is the kind of mind-numbing question usually asked by managers who don't want to pay what top programmers are really worth. What on earth makes you acquaint older and experienced with out-of-date? Most of the people I know (assuredly not a random sample), progressed from FORTRAN years ago to C, Objective C, C#, Ruby, JavaScript, Python, Perl and PHP. We didn't all just stick with COBOL for decades, for crying out loud.
I'm heading up to the SAS Global Forum on Saturday with thousands of other people who will be learning about  everything from data visualization to random forests to high performance computing. I haven't been sitting around running one ANOVA after another on BMDP for the past thirty years. (For those of you who think SAS is old hat, you might be surprised. If they are successful in their moves into web-based products from Enterprise Guide to data mining, the people who thought SAS would be decimated by R might end up looking like the people who said Apple should sell its assets and give the money back to the shareholders. See, that's the thing about us older people – we DO have experience and sometimes it's applicable.)
Perhaps Los Angeles is different than Silicon Valley, where I hear people in their forties get Botox and other "work done" so they could appear younger to venture capitalists. The irony of LA being LESS youth-obsessed is certainly not lost on me.
This next line in the article made me laugh out loud, really.
Even if it spends a month training the younger worker, the company is still far ahead. The young understand new technologies better than the old do, and are like a clean slate: They will rapidly learn the latest coding methods and techniques, and they don't carry any "technology baggage."
A MONTH?!! I don't make any apologies or pretensions about my age. I'm 54. I've done a hell of a lot – started four companies, earned a Ph.D. , turned a profit for 28 straight years, written grants funded for over $30 million, won a world championships in judo, published scientific articles, designed and developed a computer game to teach math, written one hell of a lot of SAS code, some in JavaScript, PHP and Ruby  - as well as languages I don't use any more. I've made a lot of mistakes in design and development and the result of that is that I don't make them any more. I really wasted a lot of time getting those degrees and taking all of those courses and attending all of those sessions at software conferences over the last 28 years to learn something that could be trained in a month. Gee, if only I had known.
I'm married to someone a few years older than me and he is brilliant.  I guarantee you that he is worth triple any fresh graduate – and he was getting that, too, until he decided that he would rather work at home with me on 7 Generation Games doing programming with Unity 3D
Although Wadhwa makes the comment with which I wholeheartedly agree
To be writing code for a living when you're 50, you will need to be a rock-star developer and be able to out-code the new kids on the block. Top developers are always in demand and companies will readily pay top dollars for them.
My gripe with him is that it is buried far down in the article after spending two-thirds of it equating older with obsolete. Again, my experience is undoubtedly not typical. A very large proportion of the people I know do fall into that rock star category. Truly, I often mention on twitter how blessed (and that is the most accurate term) I am to be surrounded by brilliant people in my daily life. I'm sure my experience is disproportionately filled with those rock stars and I am truly grateful for that. If his point is that it's hard to retire in place with mediocre skills, well, that is true, but I think it has probably always been true in every field.
Where Wadhwa is correct is that
Prominent Silicon Valley investors often talk about youth being an advantage in entrepreneurship. If you look at their investment portfolios, all you see are engineers who are hardly old enough to shave. They rarely invest in people who are old.
Part of that may be due to the other alternatives older entrepreneurs have.  We have investments from the past 28 years of income so we don't need to give up equity in the company at this point. Also, I'm cool with not working with anyone who thinks they could hire someone without the skills our team has and teach them to be equivalent in a month. Good luck with that. Maybe that explains why such a large percentage of start-ups in your portfolio fail.
Apr
14
It has been pointed out to me that when other people take two days off in a row, it is called "The Weekend". However, I don't really have any hobbies except for judo, which I teach a couple of times a week. I like hiking in the mountains, but that only takes a couple of hours since we live less than a half hour from the Santa Monica mountains.
So, for example, on Wednesday I walked up to the graduate library at the top of the Pepperdine campus in Malibu, passing this deer on the way, but it didn't take that long and there was still the rest of the day to work.
While I'm perfectly happy with my life, unfortunately, the last few weeks of trying to fix everything on the game has taken its toll and my elbow hurt ALL of the time. The Invisible Developer insisted that we take off somewhere and I leave my computer at home. So, we went wine-tasting in the Ojai valley for two days.
Here is the funny thing, though. Without my computer, I worked on the game a lot and made huge progress. I sat out in the backyard of the cottage and wrote (yes, with pen and paper) out several of the math challenges, several parts of the game, sketched out the logic for the program and even wrote a bit of the code by hand. Without twitter, Facebook, email or blogs to distract me, I got an amazing amount done. Since we were near The Spoiled One's school, she came in the evening to relax and do her homework away from the dorms.
She thought it was a great idea and that we should do it every week. While that may be a bit much, and I'm pretty certain the wine cannot be deducted as a business expense, we're planning another computer-less weekend this summer.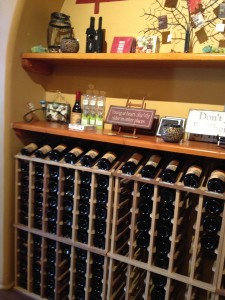 There is just one thing I haven't figure out, though?
Why DO they knit sweaters for the trees in Ojai?