Nov
19
I've been busy my whole life. Right now, I'm finishing the last week of a course I'm teaching on biostatistics, writing a lecture for a course on multivariate statistics that starts next week, fixing bugs in our next game, Fish Lake, working on a new project for free resources for teachers, and working on a final grant report. Writing this, I just remembered a couple of things I needed to do.
Driving 90 miles to take The Spoiled One back to school and then turning right around and driving 90 miles home seemed like a waste of time that I did not have. The Invisible Developer pointed out that he had work to do also on the spear fishing part of the game and that he had picked her up on Friday.
So … away we went, and since she recently got her learner's permit, The Spoiled One drove on the freeway for the first time. This was interesting in itself, since the 101 regularly makes the list of 10 most congested freeways in America.
Not only did she get nearly two hours of practice in driving, but I also got filled in on all of the latest news on her soccer team, college fairs, the campuses she was interested in visiting and life in general. If your child is 16 and still talks to you in a civil tone for two hours straight, count yourself among a lucky minority of parents.
Having raised four daughters, I know whereof I speak.
When we got to the school, she immediately began complaining (she's not called The Spoiled One for nothing).  According to her, she is living in "hell".  (See picture below for what hell looks like. It is surprisingly more scenic than I had imagined.)
What is so infernal about her school, I asked. They make her study. Even on Sundays. There is a study hall from 7 to 9 pm and she has to walk across the yard to get to the building. Yes, like prison.
Just as she was telling me this, I saw something in front of her dorm. It was a deer! I said we should go take pictures of it and she said we'd never be able to get close enough, and besides we were wasting time. She had to get to study hall and put away her clothes and books in her dorm room. Besides, her religion teacher had told the students to stay away from the deer because coyotes track them and students who got too close could get attacked by coyotes. (You would think a nun wouldn't just go around making shit up, now wouldn't you? Having spent a good bit of the last twenty-five years in North Dakota, I'm justifiably skeptical of the deer-coyote-mauled prep school student triumvirate.)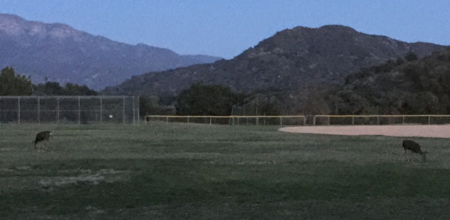 Just then, the deer walked through the gate on to the baseball field and I spotted a second one in there. So, we sneaked up on them and took pictures.
That's when it occurred to me that sometimes the best use of my time is to "waste it". Really, what better way to spend my time than talking to my daughter and watching deer grazing as the sun sets in the mountains.
But now, I really do need to finish that lecture.
=======
If you want to see what I'm wasting my time on the rest of the time, check out 7 Generation Games
Nov
5
Lately, I've seen a lot of examples of this …
Malicious obedience is discussed on the englishstackexchange page (who even knew this existed) as
"….when people set their boss up to fail by doing exactly as he or she says even though they know in their hearts that their actions are incorrect or not optimal."
I would add that it also  includes taking zero personal responsibility. For example, let's say you are the administrative assistant in an organization and you have been running lots of personal errands during work hours. The boss tells you that you need to stay at your desk. However, part of your job is to take the mail to the post office and in today's mail is a major grant proposal that needs to be postmarked today. You don't mail it and when the company loses out on a huge amount of money you protest self-righteously that you were told to stay at your desk.
In this case, as very often happens in the work place, you had two conflicting directives – one to stay at your desk and a second to take the mail to the post office.
Of two conflicting orders, you CHOSE to do the one that caused the company harm.
I have seen this sort of thing played out over and over. Never once have I seen the individual involved accept any responsibility.
An article in Infoworld gives  a great way to discuss this with an employee , I quoted them here because I could not have said it better myself
"I don't know what you think you're going to accomplish, but what you are going to accomplish is finding yourself another position – this isn't acceptable, and I really don't care how good you are at loopholing policies and guidelines to prove you didn't violate any of them. What I care about is getting the job done well, and that isn't what you're doing. …You'll need the documentation because employees who act this way are brilliant at denial – both to you and to themselves. And know in advance that the odds aren't all that good – mostly, you're putting yourself through this to satisfy yourself that you did the right thing. "
I really don't know what other people who are maliciously obedient are trying to accomplish. As others have written, I think they are trying to sabotage their bosses because they are unhappy in their positions. As I have said before, if you are that unhappy in a job – quit.
In my youth, I have been that pain in the ass employee who did not work up to their potential due to being unhappy for a variety of reasons – not being paid enough, not having my own office, not having an expense account, working for a boss who was technologically illiterate – you get the idea. The point is,  I was at fault – yes, even in the one position where my boss was an idiot (I've usually been amazingly lucky when it comes to bosses, but there will always be that one).
I had taken the job at that salary, with those benefits, with that boss (okay, in that case I might say the truth in advertising rule was violated because the boss did not announce during the interview, "I AM AN IDIOT," but it was also my fault for not asking more questions.)
I can tell you what I was trying to accomplish and it is embarrassing to admit – I was trying to prove I was smarter than my boss.  (Even the smart bosses I had – and that was all but one of them – I thought would have been smarter to have paid me more money, given me an expense account, etc. )  I was acting stupid. The time I spent hanging around trying to prove I was smarter than my boss was wasted.
My point, which you may despaired of me having by now, is that the right thing for me to have done was either do the job to the best of my ability or quit.
Since I have written today about being a dumbass as an employee, in the interest of fair time, I guess I will have to write next about being a dumbass as a boss.
===================
Speaking of bosses and business - check out Spirit Lake: The Game version 4.0 
Nov
1
Last year, I went from teaching in classrooms in a pretty building with a library on the ground floor to teaching on-line. I also went from the semester system to teaching the same content in four weeks. This has led curious friends of mine, used to teaching in the traditional format, to ask ,
How does that work? Does it work?
Initially, I was skeptical myself. I thought if students were really serious they would make the sacrifices to take the class in a "regular" setting. Interestingly, I had to take a class on a new system and had the option to sign up for a session held on a local campus or on-line. After looking at my schedule, I chose the on-line option. No one has ever accused me of being a slacker – in fact, it may be the only negative thing I've not been called. Still, I thought it was possible I might have conflicts those days, whether meeting with clients, employees or investors. The option of taking the course in smaller bits – an hour here or there – was a lot more convenient for me than several hours at a time. To be truthful, too, I didn't really want to spend hours hanging out with people with whom I didn't expect I would have that much in common. It wasn't like a class on statistics that I was really interested in.
So … if we are willing to accept that students who sign up for on-line, limited-term classes might be just as motivated and hard-working as anyone else, do they work? I think the better question is how they work or for what type of students they work.
National University, where I teach, offers courses in a one course one month format. Students are not supposed to take more than one course at a time and , although exceptions can be made, I advise against it. The courses work for those students (and faculty) who can block off a month, and then, during that month DEVOTE A LOT OF TIME TO THE COURSE.  Personally, I give two-hour lectures twice a week. If a student cannot attend – and some are in time zones where it is 2 a.m. when I'm teaching – the lectures are recorded and they can listen to them at their leisure. Time so far – 16 hours in the month. Normally, a graduate course I teach will require 50-100 pages of reading per week. Depending on your reading speed that could take you from one to four hours.
I just asked our Project Manager, Jessica, how long she thought it took the average person to read 75 pages of technical material she said,
"Whatever it is, I'm sure it's a lot more than you are thinking!"
Talking it over, we agreed it probably took around 3-5 minutes per page, because even if some pages you get right away, others you have to read two or three times to figure out wait, that -1 next to a capital letter in bold means to take the inverse of a matrix while the single quote next to it means to transpose the matrix. These are things that are not second nature to you when you are just learning a field. Discussing this made me think I want to reduce the required reading in my multivariate statistics course. Let's say on the low end, then it takes five hours to read the assigned material and review it for a test or just for your own clarity. Now we are up to 20 hours a month + 16 =  36 hours.
I give homework assignments because I am a big believer in distributed practice. We have all had classes we crammed for in college that we can't remember a damn thing about. Okay, well, I have, any way. So, I give homework assignments every week, usually several problems like, "What is the cumulative incidence rate given the data in Table 2?" as well s assignments that require you to write a program, run it and interpret the results. I estimate these take students 4-5 hours per week.  Let's go on the low end and say 16 + 20 + 16 =  52 hours
There is also a final paper, a final exam and two quizzes. The final and quizzes are given 5 hours total and it is timed so students can't go over. I think, based on simply page length, programs required and how often they call me, the average student spends 14 hours on the paper. Total hours for the course  52 hours plus another 19 =  71 hours in four weeks.
IF students put in that amount of time, they definitely pass the course with a respectable grade and probably learn enough that they will retain a useful amount of it. The kiss of death in a course like this is to put off the work. It is impossible to finish in a week.
My personal bias is that I require students actually DO things with the information they learn. It is not just memorizing formula and a lot of calculations because  I really do think students will forget that after a few weeks. However, if they have to post a question that is a serious personal interest and then conduct a study to answer that question, the whole time posting progress and discussions on line with their classmates , then I think they WILL retain more of the material.
So, yes, students can learn online and they can learn in a compressed term. It IS harder, though, I think, both for the students and the instructor, and takes a lot of commitment on the part of both, which is why I don't teach very many courses a year.
Oct
19
Since it is the weekend, I decided to blog about weekend stuff. Look for more statistics tomorrow. For most of the past quarter-century, I have been roped into being a volunteer for one organization or another. Here is a very, very partial list:
American Association on Mental Retardation
National Council on Family Relations
United States Judo Federation
Community Outreach Medical Services
American Youth Soccer Organization
I've been everything from Chair of the Board to chaperone. I've spoken at more conferences than I can count, certainly giving a few hundred presentations. I've raised hundreds of thousands of dollars.
Given that experience,  I've concluded that volunteers fall into three broad categories. Recognizing that fact is probably key to having a successful non-profit organization, because for most non-profits, volunteers are essential.
Category 1: People who are very excited to be a volunteer. These individuals derive a lot of their self-esteem from their position in the organization. Their enthusiasm may stem from a genuine passion for the mission of the organization, be it youth sports, individuals with disabilities or health care. Alternatively, the volunteer position may be an exciting departure from a boring day job, an opportunity to use more of their talents. Generally, it is both reasons. They are willing to do a lot of work. They are also willing to put up with authoritarian and unprofessional interactions with the organizations, because they are so enthusiastic and often, they are accustomed to being bossed around and devalued on their "day jobs". There is a limit to their tolerance, though.
Category 2: People who are not at all excited to volunteer but have skills and talents your organization needs. These individuals are there out of obligation – they have a child on the team, a friend on the staff, or they really care deeply about the mission of the organization. These people do valuable work for the organization like raising money, providing free legal or accounting services. They have very little tolerance for authoritarian and unprofessional interactions with the organizations, because they would rather be somewhere else in the first place and they are accustomed to being the boss or highly valued on their "day jobs".
Category 3: People who show up and don't do any real work.
It seems pretty clear to me that organizations need both of the first two categories, and the more the better.
Not everyone sees it that way, obviously. Let me give you just a few examples, and again, this is a very partial list. I have witnessed
Volunteers told how to dress for an event,
Week-long required continuing education classes costing several hundred dollars,
Required training held hundreds of miles away,
Required drug testing (this was after I had been asked to coach for free at an event and pay my own way. My response was "Are you fucking kidding me?"),
"Two-hour" meetings running six hours late,
Volunteers told to "Show up at 7 a.m. , don't be late and be sure you don't leave early",
Volunteers chastised, yelled at, berated by a board member or staff member
Do's and don'ts
Well, first of all, don't do any of those things above.
Second, say "Thank you." A lot.
Think of these individuals just like donors who are giving you thousands of dollars, because they are. It would costs you a lot of money to replace their services. Treat them as you would professionals providing services for you. Would you ask your accountant to take a drug test? Would you tell your attorney to be sure he dressed professionally when he represents you in court? Don't assume just because someone is working for free that he is a degenerate or an idiot.
It's funny that most organizations seem to think what volunteers want is an engraved plaque or a certificate printed out from PowerPoint. Really, a little common courtesy goes a long way.
Oct
9
I find it weird when I make people nervous. I've had people shake and stutter so much that I thought they had some sort of disability, only to find out later that it was a reaction to meeting me!
My family and friends say I'm intimidating, which I also find bizarre. I am, literally, a little old grandma.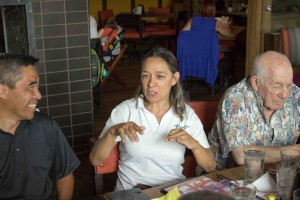 I said this to a friend who responded,
Are you kidding? You're just amazing! Do you think we forget that you were the FIRST American to win a world judo championship, have a Ph.D. , published a book last year, started a company that made a million dollars in less than two years, then started another company to make games, came out with your first game this year,  published scientific articles. Oh, and you raised four successful kids, one of whom is also a world champion and making movies.
He went on to an embarrassing degree about a lot more stuff. I'm not one of those fake humble-brag people, like the super-models who claim to be "so fat".
It's just that …. it's not like that when it's happening. Even to me, if I stopped and piled it all up like that, it sounds impressive, but day to day, it's not really like that at all.
Whether it's winning a world championship, earning a Ph.D., building a company or making computer games, it's not amazing when you're in the middle of it.
For example, I spent the last week fixing up our next game, Fish Lake. I improved the graphics, added gravity so that when a character walks off a hill, it falls down instead of walking around on the air. I added artificial intelligence to make the animals run around at random instead of just stand there. I modified the css  so that the input boxes for the math problems stand out better. All of those are minor fixes in the grand scheme of things. The purpose of the game I was working on is to teach fractions, which are a super important part of understanding math, but if it's not a fun game, kids aren't going to play it.
Tomorrow, my day starts with reviewing the quizzes one person wrote, followed by reviewing a PowerPoint and video clip someone else wrote to teach about reading graphs and then testing some software for podcasts.
Hopefully, enough days like this piled on top of one another and we'll have an amazing game.
It's just like in my judo competition time, when I trained three times a day, every day. Looking back, winning a gold medal and being best in the world was amazing.
In the middle of it, though, it's just getting up and working hard all day. Repeat a few thousand times.
Oct
7
Every day, every week, I face the same question that all entrepreneurs ask themselves –
"How do you know when you are done?"
Most days, I start work around 10 am and finish about 14 hours later. Usually, I take off an hour for lunch and an hour for dinner, or take a few hours in the middle of the day to get away from the office. Sunday, it was taking my grandchildren to the Natural History Museum and the park.
I average 10-11 hours a day, seven days a  week. Even then, there is no end in sight to the tasks I want to accomplish, goals I want to achieve. When there's no time clock to punch, no boss looking over your shoulder, how do you decide when it's time to hang it up for the day?
One answer is when you are just exhausted and making more mistakes than you are progress. Frankly, the prospect of just working every night until I fall asleep from exhaustion  isn't very appealing. I did that in the year after my husband died, and even though it was probably a preferable (and more profitable) way of coping than drinking myself into a stupor every night, I can tell you that  it's not a lifestyle I would recommend. The reality is that there is never, ever going to be a day at the office when I say,
Okay, that's it. No more work to do here. Time to head to the beach.
Some people (who are not me), would say that you should take off to celebrate achievements. For example, last week, I
 found out that a project we had worked on for a client had been wildly successful,
submitted a grant proposal to create a game for English language learners, including receiving written agreement from teachers in three school districts in three different states to assist with development,
finished 1/4 of the lectures for a course I will be teaching soon,
made major improvements in one level of the Fish Lake game, which we will be able to use for Spirit Lake as well,
found out that a huge school district is now using Spirit Lake,
renewed a consulting contract,
created css to improve our web pages in the Fish Lake game,
did the usual stuff of meetings, approving payroll, answering email, reviewing staff tasks on basecamp, updating a few things in the company wiki, approved a couple of employment contracts.
And all of this was accomplished with having spent all of Monday in airports and on planes flying back from Kansas City where I had been as coach for a judo team of seven students from Gompers Middle School. So … did I take off early? No, because I still needed to
submit a revised budget for a contract,
submit another revised budget for a grant,
rewrite the PHP for a client database,
get ready for an investors' meeting,
figure out what is wrong with the gravity in one level where the player is literally walking on air.
My unhelpful point here is that I DON'T necessarily take off to celebrate and I definitely don't take off when I have something that could be very important to our company, like a meeting with a potential investors during which I want to get as much information (and not look like an idiot) for that time down the road when we do need to bring in outside investors.
What I DO try to to do is stop working by midnight every night. There just seems to be something dysfunctional about not leaving the office the same day you came in, even if you come in at 10 a.m. I don't take off to celebrate so I can take off when I feel that I need a break.
One thing I can guarantee you for an absolute fact is that you will be less effective if you don't get enough sleep. You'll make mistakes you never would have made if you were not so tired. Knowing this,  another reason that I try to quit working at midnight so I can be asleep by 2 a.m. That gives me 8 hours to sleep before I get up and hit it again at 10 a.m.
Staying up until 5:30 a.m. as The Invisible Developer sometimes does strikes me as counter-productive. You're just going to sleep later  the next day, so why not just go to sleep now and start up again when you are rested enough to be more effective. Even if I do say so myself, this post I wrote about doing one more thing before you go to bed is worth reading. Often, that one more thing will be to make the list of the things that are a priority for tomorrow. I then can knock off with confidence that I'll get on those things first thing the next day.
I work hard, I work a lot, but I have learned not to make myself crazy trying to get everything done, because … at the end of the day, there's another day. That's how time works.
Oct
6
Following a discussion using matrix algebra to show computation in a Multivariate Analysis of Variance, a doctoral student asked me,
"Professor, when will I ever use this? Why do I need to know this?"
He had a valid point. I'm always asking myself why I'm teaching something. Is it because it interests me personally, because it is in the textbook or because students really need to know it.
Let's take some things about matrix algebra we always teach students in statistics.
What conformable means and why it might matter
Two matrices are conformable if they can be multiplied together. When you multiply two matrices, the row of the first matrix will be multiplied by the column of the second matrix. You sum the products and that is the first element in the matrix. You repeat this until you have multiplied all of the rows in the first matrix by all of the columns in the second.
So — you can multiply a 2 x 3 matrix by a 3 x 2 matrix but not vice versa.
Multiplying a matrix of dimension a x b and a matrix of dimension c x d will give you a resulting matrix with a rows and d columns, that is, of dimensions a x d .
This can give you results that sometimes seem counter-intuitive, like that the product of a 1 x 3 matrix and a 3 x 1 matrix is a 3 x 3 matrix.
It may seem weird that the result of matrix multiplication can either be a larger matrix than both of the matrices you multiplied, or smaller than both of them, but there it is.
If both matrices are square, that is, of dimension n x n, then the resulting product will also be an n x n matrix.
And, of course, any matrix can be multiplied by its transpose because the transpose of an m x n matrix will always be n x m .
If a square matrix is of full rank, it means that none of the rows are linearly dependent. If you DO have linear dependence, it means you have redundant measures. Now, I could go on to prove this mathematically and all of it is very interesting to me.
I question, though, whether you really need to know anything about matrix algebra to understand that redundant measures are a bad thing.
Do you need matrix algebra to explain that we are going to apply coefficients (do you even need to refer to it as a vector?) to the values of each variable for each record and get a predicted score such that
predicted score = b0 + b1X1 + b2X2  …. b.Xn
When I was in graduate school, calculators that did statistical analyses, even as simple as regression, cost a few hundred dollars which was the equivalent of three months of my car payment. Computer time was charged to your department by the hour. So … my first few courses, I did all of my homework problems using a pencil and paper, transposing and inverting matrices – and it was a huge pain in the ass.
Then, I got a job as a research assistant and one of the perks was hours of computer time. I thought I'd died and gone to heaven. It  took me less than half an hour to get all of my homework done using SAS (which ran on a mini-computer and spit out printouts that I had to walk across campus to pick up).
My students are learning in a completely different environment. So … do they need to learn the same things in the same way I did? This is a question I ponder a lot.
Oct
3
I'm pretty certain that I'm a woman in technology.
Last night, I was using SAS on a virtual machine through a remote desktop connection to prepare data from the National Hospital Discharge Survey for use in examples of MANOVA and multinomial logistic regression.
Today, I was working on improving animation in the Javascript for a browser-based game that leads into the 3-D portion of an adventure game I designed to teach fractions.
Next week, I will start on a contract to completely re-do the PHP/ MySQL database for a client to bring it to something more secure and up to date.
Oh, and I also was reviewing my notes for the graduate courses in biostatistics and advanced multivariate statistics that I'm teaching this fall.
Pretty certain that by any standard – writing code, founding companies, graduate degrees, university appointment, successful Kickstarter – I am definitely a woman in tech/ STEM whatever the day's buzzword.
I read SO many articles, blog posts, tweets about the need for women in tech, women-led start-ups, women entrepreneurs.
If you ask me, the U.S. Department of Agriculture is the greatest proponent of women in tech that there is, because they have actually put up money and funded us to do a prototype of an adventure game that teaches math.
When results from that were positive, they funded us again with a Phase II Small Business Innovation Research award to develop the games for commercialization.
I have written here before about the troubling nature of the Black Girls Code, Latina Girls Code emphasis that seems to completely overlook the grown women who are here now. I am NOT saying those aren't good programs. I assume they are but I have no personal experience. What I am saying is pretty much what I said in January.
It seems to me that when people are looking at minorities or women to develop in their fields, they are much more interested in the hypothetical idea of that cute 11-year-old girl being a computer scientist some day than of that thirty-something competing with them for market share or jobs. If there are venture capitalists or conference organizers or others out there that are sincerely trying to promote WOMEN who code, not girls, I've never met any.
(Since then, I have met a couple of conference organizers.)
I suppose Ada Lovelace was cool – my two-year-old granddaughter has a shirt with her picture on it. Still, I don't think a trending hashtag of #fuckyeahadalovelace did anything for me as a woman in tech.
You know what helped me as a woman in tech? Seed money from the USDA. You can see what we did with it here at our 7 Generation Games site.
One thing Sheryl Sandberg got right in her book, Lean In, was that women tend to be judged on their accomplishments where men are judged on their potential. Of course, you also don't want to be "too old" to be an innovator so by the time women have those accomplishments, they are past their prime as entrepreneurs according to those VCs who believe that people over 30 are too old to do a start-up.
It's hard for me to complain about my life when my morning starts out with reading technical books with lines like, "Figure 1 shows the sprite with the red and green blood particles for player and zombie".
My point is that our company is in the situation we are in not because of any "help minorities code" program but because USDA and our backers on Kickstarter gave us cold, hard cash to develop our products.
Want to help women in tech? Back them on Kickstarter. Buy their products. Tweet about their products and companies to help their marketing. Invest in their companies.
USDA got it right.
Thank you.
Sep
20
Yes, I do realize that I'm probably far more excited about our new website coming on line than is normal. Several points here on a Friday night:
I completely disagree with those entrepreneurs who say, "You sell the sizzle not the steak" when what they mean is that they really don't have a good product but just a good story a.k.a. a line of bullshit.
I think we have benefited from never hiring anyone in our company who has experience as a middle manager.
You're better off having a great product and a lousy website than the other way around.
Not having too much money can be a benefit when starting a business.
Thanks to Jon Sullivan for the yummy steak photo
Back in the paleolithic era when I was in undergraduate marketing classes, they drilled into us the four P's – product, price, promotion and place. There were lots of things I learned in business school that I disagreed with, but one I have found to be true to this day is that the most important of those four P's is product. If your product is terrible, you may get people to buy it once if it's cheap enough, they live close enough or you advertise it enough, but they aren't going to buy it again.
Since we began 7 Generation Games, our priority has been making math awesome. Our first game had a lot of problems, many of them due to incompatibilities with web browsers, being stopped by school district firewalls. Ever call technical support and the person on the other end of the line says to you,
"Well, it works on my computer."
Yeah, it was like that.  So, we have been working like crazy to add every feature, correct every bug reported by our infinitely patient and wonderful alpha and beta testers (we love you guys). We still have, literally, hundreds of improvements we want to make, and I expect we always will.  I work on them every day. Spirit Lake: The Game works. It doesn't crash, it has lots of math and kids like to play it. Fish Lake is in process. Making a good game was our highest priority and still is. We just hired another developer (yay!) to help us out, are ramping up the artwork for the next two games, hired people as testers, an audio engineer …
Now that we have more people working in our company we have started to implement some actual policies and procedures. We have a git repository, use a source management system, an issues tracking system, file sharing system. We signed up for Amazon Web Services, Google Apps for Work, basecamp, some payroll system Donna manages – a lot of stuff I thought would be useless for us at the beginning. This is why I am glad we never hired anyone who had been a middle manager – because I was right. That stuff would have been useless for us at the beginning. It would have wasted our time and kept us from doing the most important work of making a good product. When do you add that layer of management? When you find yourself swearing,
"Damn it, we NEED a way to make sure you're not copying over the changes I just made!"
When you only have two people working, and both in the same house, one can holler upstairs to the other,
"Hey, I'm working on level 4 today, okay? So, don't touch it."
At that point, you don't need version control. Now, we do. When we did hire a project manager, we hired someone who had run a small business for ten years who shared our idea of having the degree of management you absolutely need and no more.
Finally, finally, finally, we are updating the 7 Generation Games website which, I believe, Maria originally put together in four hours one afternoon. It isn't as if we didn't know it needed a huge improvement. We believed our less than infinite time was best spent improving the game, meeting with customers, getting their feedback, designing more levels. We're a small company. At Unite 2014, I attended a session where a developer mentioned they had 50 people working on their game for 2 1/2 years and it still wasn't finished – that's 125 person-years!  That's just people making the game – not managers, marketing, accounting. We've spent something more than 2.5 person-years developing ours, which explains why we constantly feel like we need to put every spare second into development.
Having the luxury to worry about the website says something about how we have matured as a company. With new people hired to take the non-development work off of us and additional people picking up some of the development work, we no longer can say,
"Having a spiffy new website is the least of our problems."
In fact, it's been bugging the hell out of me for a few months now. Did I feel bad about it? Yes. Like the source management system, when it got to the point where it felt like,
"Damn it, we need this!"
instead of,
"Brother, I got 99 problems and that aint one of 'em"
that it was time to get it done.
I've had people tell me that we should have been working on our website with bells, whistles and gold tassels before now because "VCs won't be impressed if you don't have a professional website."
Hmm. Not sure VCs will be impressed if you don't have a product, either. I know companies that started about the same time as 7 Generation Games and had terrific website, brochures, every social media account you can imagine,  unbelievably honed pitches – and they evaporated because they were all sizzle and no steak.
I've written before about Paul Hawken's recommendation that in growing a business that you do as much for yourself as possible. That's a whole post in itself, but to cut to the point – you keep your overhead low, which means you don't require external funding in the short run. You are more viable in the long run not just because you have low debt and low operating expenses, but you also have the asset of everything you have learned yourself.
But we still hired someone else to update the website (-:
Sep
15
It's still technically the weekend so I'm not blogging about statistics until tomorrow.  After some debate, I do think I have a multivariate stat textbook selected, though, so that's good.
I got an invitation to go to a luncheon an old friend of mine sets up every few months for a bunch of us that used to work out together back in the 1980s. Almost all of those who attend are retired and three of the guys (they are all guys except for me) passed away in the past year or so. We're getting to "that age".
Ten or fifteen years ago, it was everyone's parents that were dying. I competed in judo for 14 years, and taught it for another 30, so I have a lot of friends and acquaintances who are Japanese. At Japanese Buddhist funerals, at least here in Los Angeles, there is a song they always sing in Japanese. One day, after a half-dozen or more of our friends' parents had passed away in a pretty short period of time, my friend, Hayward, leaned over to me during the service and said,
You know, I'm getting a little worried. I'm starting to know all of the words to that song.
Now, though, it is our friends and acquaintances who are dying, not their parents. That's the sort of thing that gives you pause. Every time I go to one of those luncheons, we are talking about the people who we miss who aren't there any more.
I've been working a lot of hours – as always. The Spoiled One talked me into going out with her twice this weekend,
once to have dinner at the end a pier in Malibu at sunset, and once to go hiking in the Santa Monica mountains. She can be a good influence sometimes. She goes to boarding school during the week and she asked,
I'm only home on the weekends. You have all week to work. Why do you have to work while I'm here?
I didn't have a really good answer to that.
The Invisible Developer said to me,

You know, I think we're getting to that age where I don't think we should have to do much other than what we want to do.
Ignoring the fact for a moment that a) he may be correct and b) that does reflect that we have a privileged life that most people in the world don't attain, I spent Sunday until midnight writing the budget justification for a grant which was decidedly something I did NOT want to be doing. I have made an adjustment now that at midnight, I try to quit working, no matter what.
I made a major decision to write, at most, one more grant. If we get the Phase I that I'm writing now, I'll write the Phase II. Other than that, I'm done. Over it. Seriously, after you've brought in $30 million or so, is getting $30,100,000 going to make  a difference in your overall accomplishments? That's why I quit keeping track of grants funded after the first $30 million and just put down the latest ten or so. No, I don't get to keep that money, either. It gets paid out over the years in salaries, rent, supplies, student scholarships and all of the other stuff the grants were written to do.
Once this grant is done, I will be working on the games and doing nothing else in September and October. Then, there are a few months of teaching classes and another six months after that of just working on the games.
I'm saying, "No" a lot.
No, I am not interested in another consulting contract.
No, I don't want to work on a journal article with you.
No, I'm not writing another grant.
No, I'm not teaching any more classes.
No, I will not present at your conference.
I'm throwing all of my eggs in one basket, working on making our games better and better. We're taking a risk, focusing just on this and hiring more people to work on the games to boot. There is actually a lot of statistics in it, too, both analyzing the data we're in the middle of collecting and in our next game, under design, which teaches statistics.
Maybe someone else would retire and lay on a beach, but I've tried that a few times and I'm a completely failure at it.
The Invisible Developer said that someone asked Bob Dylan why he was still making music and playing shows when he didn't need the money and Dylan replied,
What else would I do? This is what I do.
It seems like a good answer. As for me, what I do is game design, coding, statistics. I'm just going to do that. It occurs to me that I have just written either the last or next-to-last grant budget I am ever going to write. And that makes me very, very happy.